It's no doubt that Android is right now the best and most popular mobile operating system. Compared to every other mobile operating system, Android provides users with more features and customization options.
Apart from that, Android is always known for its massive app ecosystem. Just take a brief look at the Play Store; you will find apps for every different purpose. The same thing goes for the scrolling screenshot apps as well.
Although smartphone makers like Samsung, LG, Huawei, etc., offer a built-in feature to capture scrolling screenshots, the feature is not available on every Android device.
Steps to Take Long Scrolling Screenshot on Any Android
There are third-party apps that do the job perfectly. Hence, in this article, we will share a few best Android apps that would let you capture long scrolling screenshots on any Android. So, let's check out how to take a long scrolling screenshot on any Android.
1. Using Google Chrome
Well, the latest version of Google Chrome browser for Android also can capture long screenshots.
However, the long screenshot is still under testing, and you need to enable the Chrome flag.
We have shared a step-by-step guide on how to capture long screenshots in Chrome for Android. You need to follow that guide to capture the entire webpage in the Chrome browser.
2. Using LongShot
This app is specially made for the only purpose of capturing long scrolling screenshots. The process is simple, open the app and then select the Capture option. Start by selecting the screen and move it slowly as the app stitches the screenshots.
1. First of all, download and install LongShot on your Android device from the Google Play Store.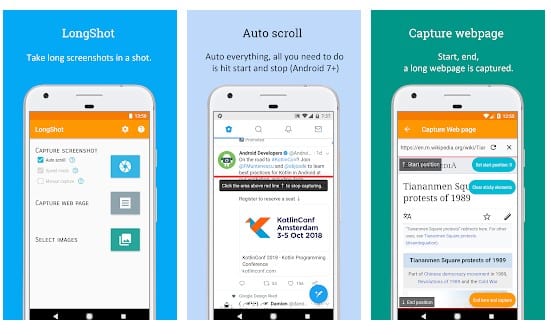 2. Now open the app and grant all the permissions. Now you will see the main page of the app where you need to enable the option Auto capture.
3. Now you will see a Start button on your home screen. Now you need to browse the page where you want to take the screenshot and then tap on the start button.
4. After tapping on the Start, you need to scroll the page slowly to the point you want to take a screenshot. Once done, tap on the Done button.
5. Now the app will show you the individual screenshots. Just tap on the Join button, and the app will combine the screenshots for you.
So, this is how you can use LongShot on your Android smartphone to take long scrolling screenshots.
Other Apps to Capture Long Screenshot
Like the above apps, many other apps are available on the Play Store that captures long screenshots. Below, we have listed a few best Android apps to capture a long screenshot.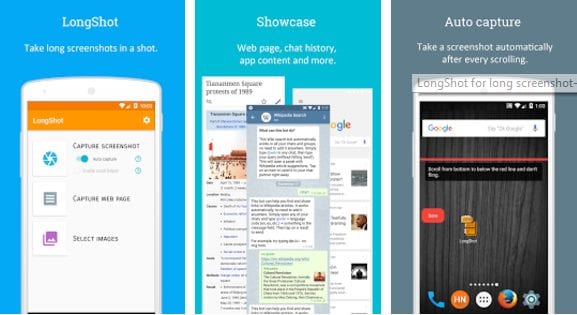 For taking screenshots of the web pages, this app excels. Open your website for which you wish to take a screenshot and then click on the capture icon for this app. You will be able to take the screenshot within a few instants.
Like the above apps, numerous other apps can help you capture scrolling long screenshots on any Android device.
It is another unique Android app that allows users to take long screenshots. The app provides users with three modes to capture long scroll screenshots – Automatic Capturing, Combine Screenshots, and Combine Images.
So, you can either capture the entire screen or combine multiple images to make a single screenshot. So, Stitch and Share is another best app that you can use to take long scrolling Screenshots on Android.
Well, Web Scroll Capture is another best Android app that allows users to take long scrolling screenshots on Android. The Web Scroll Capture offers three modes to capture screenshots: save a web page, capture as PDF, and capture as an image.
For long scrolling screenshots, users need to select 'Capture as Image'. The great thing is that it can also capture web pages for offline viewing. Not just that, but you can also turn any webpage into a PDF file with Web Scroll Capture.
If you are searching for a free and easy-to-use Android app to capture long scrolling screenshots, then you need to give Screen Master a try.
Guess what? It offers a wide range of screenshot features like a floating button to capture screenshots, multiple capture mode, annotation features, etc. The app works on both rooted and non-rooted Android devices.
So, these are some of the best Android apps to take long scrolling screenshots on Android. I hope this article helped you! Please share it with your friends also.