Over the past few years, we have seen many evolvements in communication. For example, social media and instant messaging apps are slowly changing the way we communicate with others.
These days, people rely more on text messaging and video calling instead of personal meetups. Texting or calling people at odd hours can be considered rude, but waiting until morning and the risk of forgetting it is even worse.
To deal with such timing issues, scheduling apps for Android exist. Many Android scheduler apps on the Google Play Store can let you Schedule WhatsApp text messages, Emails, and SMS.
Also read: 5 Best Apps To Hide Messages On Android
10 Best Text Message Scheduler Apps For Android
So, in this article, we will share a list of the best text scheduling apps to help you schedule messages sent via WhatsApp, Messenger, email, Twitter, etc.
Do it Later is one of the best Android productivity apps you can use now. You won't believe it, but the app allows users to schedule text messages, emails, phone calls, social network status updates, etc.
Not only that, but Do it Later offers users multiple scheduling delay options. In addition, the app is lightweight and has a minimalistic interface, making it super easy to use.
If you are searching for a simple and easy-to-use scheduling app for your Android smartphone, then you need to try SKEDit Scheduling App.
Guess what? With SKEDit Scheduling App, you can easily save time by scheduling WhatsApp messages, SMS, and emails automatically sent later. The app is massively popular on the Google Play Store and is now used by millions of users.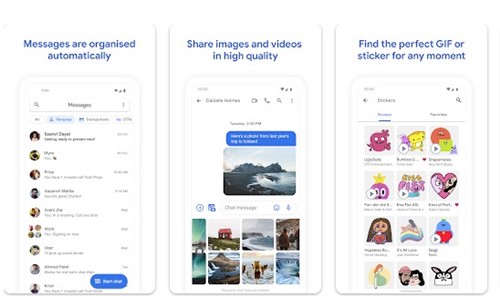 Google Messages comes built-in on most Android smartphones and has a message scheduling feature. Being the official texting app for Android, it also supports Chat (RCS) options.
While the message scheduling feature is less talked about, it still exists. To schedule a message on Google Messages, you need to type the message and long-press the send button. Google Messages will show you the message scheduling options.
Advance SMS is one of the best text message scheduler apps that you can use on your Android device. It's an SMS app that's fast and simple.
With Advance SMS, you can easily schedule SMS at a specific time. Not only that, but you can customize the delay time to send the SMS.
Handcent Next SMS is one of the list's best stock SMS app alternatives. It's a full-fledged SMS app that provides users with a wide range of features to make texting easier.
The great thing about Handcent Next SMS is that it easily syncs with the computers and allows text message exchange. Apart from that, Handcent Next SMS can also be used to schedule text messages and MMS.
Well, Auto Message is one of the best scheduling apps for Android available on the Play Store. With Auto Message, you can easily schedule text messages, set automated replies, set auto answer call function, etc. Apart from the SMS, Auto Message also lets you schedule emails.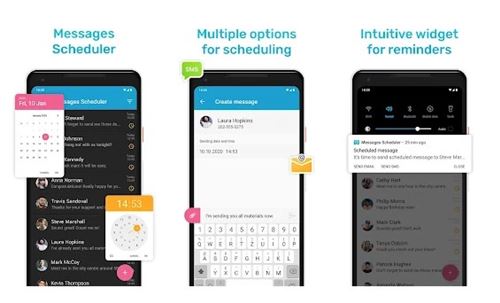 If you are looking for an easy-to-use message schedule app for your Android, give Messages Scheduler a try. This app allows you to create scheduled messages with reminders on selected times and dates.
Apart from SMS, it also supports MMS. That means you can schedule SMS or MMS with text, pictures, video, or GIF to send at a later time or date.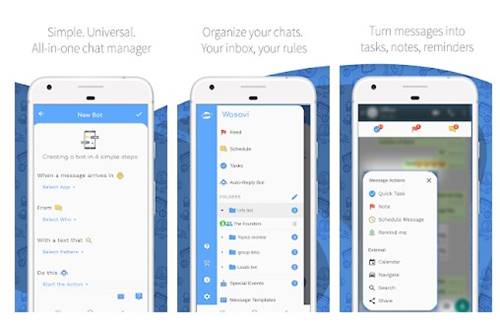 Wasavi is slightly different from all others listed in the article. It doesn't schedule text messages; it works with WhatsApp, WhatsApp Business, Viber, and Signal Private Messenger.
So, if you use any of these instant messaging apps, you can use Wasavi to schedule messages on these platforms.
AutoResponder for WhatsApp is very similar to the Wasavi app listed above. Like Wasavi, AutoResponder for WhatsApp doesn't work with SMS or MMS; it works only with WhatsApp or WhatsApp Business accounts.
The app offers you many automation tools like you can set up an auto-reply on WhatsApp, schedule messages, etc.
It's a full-fledged messaging app for Android, which replaces the stock Android SMS/MMS app. chomp SMS offers many great features like passcode lock, privacy options, SMS scheduling, etc.
Besides that, chomp SMS offers customization options like changing the notification LED colors, ringtones, and vibration patterns.
So, these are the best Android apps for scheduling SMS, emails, and WhatsApp message. All apps on the list are free to download & use and available in the Google Play Store. If you know of other such apps, let us know in the comment box below.