TikTok's rating moved to 4.4 Stars in Google Play after Google removes negative ratings in mass. The ratings had dropped to 1.2 stars after people rated the application negative in huge numbers.
TikTok's Ratings Moved to 4.4 Stars in Google Play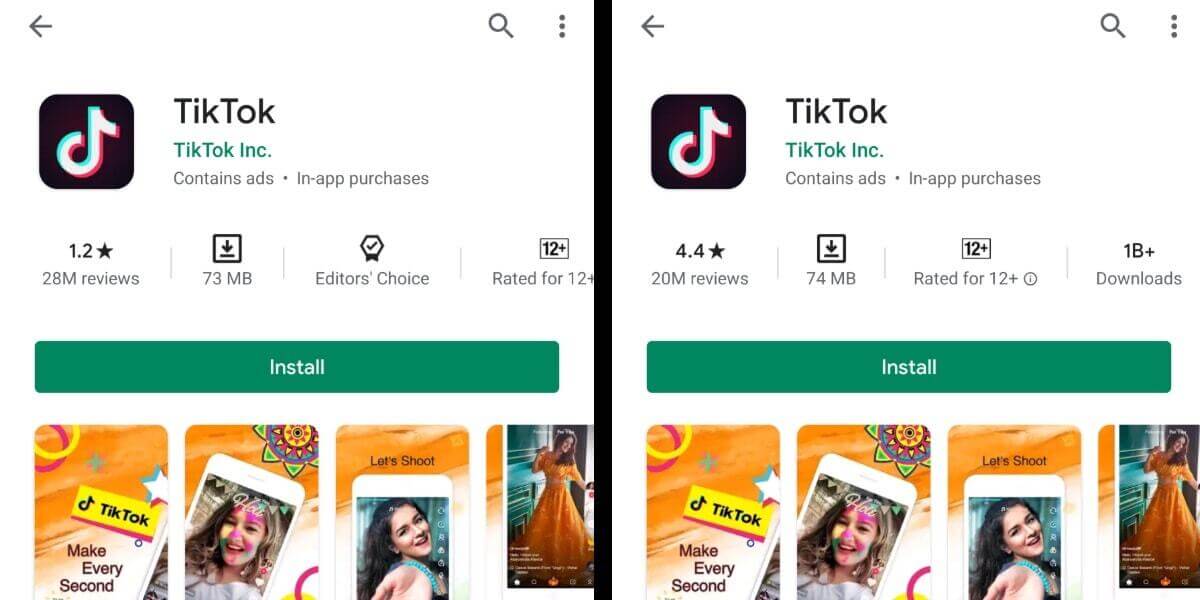 TikTok's rating moved to 4.4 stars in Google Play after Google removed the negative ratings that were made by many Indians. This backlash came towards the application after a video posted on the application with # IndiansAgainstTikTok hashtags surfacing on social media.
The backlash started when a Youtuber named CarryMinati released a video called YouTube vs TikTok – The End which roasted many TikTok users and the video was removed after it violated Terms of Service of Youtube. After that, a famous user named Faizal Siddiqui posted a video glorifying violence against women which led the video being removed and his account being suspended. People long ago have been criticizing the application being of Chinese origin and also hosted Pedophilia and videos of animal abuse.
After this, Indians and many people around the world started rating the application 1 Star which dropped the rating of the application to 1.2 Stars. A Google spokesperson said that almost 80 lakh ratings were removed after it was considered as spam abuse and has also removed inappropriate comments. In a statement, they said, "Play Store ratings enable users to provide helpful feedback about their experience with apps and content, for the benefit of others to make informed decisions".
The graph showed that there was a huge surge of 1 Star ratings last week and now those ratings are no longer live. As per the guidelines of the Google Play platform, users are not allowed to make inappropriate ratings against an application. These were the guidelines that made Google rule in favor of TikTok.
The ratings on Apple's Appstore has not changed since the last week and has dropped to 3.4 Stars. This shows that Apple iOS users have not been in the horde to defame TikTok.