T

op 20 Penetration Testing Linux Distributions 2019: Today we are here with the list of top 20 pentesting Linux distributions as Linux is well know as a OS for hackers and lots of its distributions that are specially made for pentesting. So have a look on all these distributions below.
P
enetration means to penetrate any security system and this is mainly used to check the vulnerability of the bug in the network security. And mainly these testing is done with some pro-security tools. But today there are many tools that have been developed which can be used as the pen-testing tool. These tools will be really helpful and can be used by a limited knowledge about security and its vulnerability.
Also Read: How To Get Red Hat Enterprise Linux (RHEL) OS For Free
Top 20 Penetration Testing Linux Distributions 2019
Also Read: Top 10 Reasons to Switch from Windows to Kali Linux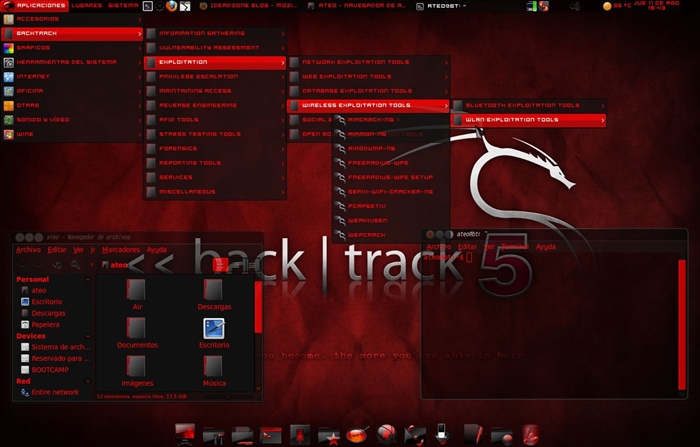 BackTrack is one of the best known Linux pentesting distros. It gives you a "The quieter you become, the more you are able to hear." BackTrack is usually based on the ever-popular Ubuntu. It is used to be only available within a KDE environment but to the added version Gnome was added with BackTrack v5. Its too popular pentesting distros that can run on any live CD or flash drive. The distribution is absolute for wireless cracking, exploiting, web application assessment, learning.
Also Read: Top 10 Best Hacking Tools For Linux 2019
#2 BackBox Linux
Nowadays, Backbox is getting more popular. Similar to BackTrack, BackBox Linux is an Ubuntu-based distribution designed basically to perform penetration tests and security assessments. It was designed by developers with an idea to create a penetration test as fast and easy to use. It includes a very pretty short looking desktop environment and is updated to the latest versions of most used and best-known tools through repositories.
BackBox provides all suspects for Forensic Analysis, Documentation and Reporting and Reverse Engineering with John, nmap, Social Engineering Tool etc.
Also Read: How To Install Kali Linux On Any Android
The name clearly defines that it is yet another distro that is based on Ubuntu. It comes wit many pentesting distros as Information Gathering, Network Mapping, Vulnerability Identification, Penetration, Maintaining Access, radio Network Analysis, Reverse Engineering. The list is heavy too but the tools defined are different to the other distros.
Also Read: How to Install Linux On Android Phone Without Rooting
#4 Samurai Web Testing Framework
This is one of a live distro that is pre-configured with some open-source tools that aims only on testing and attacking websites. The main purpose of Samurai Web Testing Framework is it is based on attacking websites. The four steps are outlined by developers to carry out a web pen-test. These steps are incorporated within the distro and includes tools to complete up the task:
Reconnaissance – Tools include Fierce domain scanner and Maltego.
Mapping – Tools include WebScarab and ratproxy.
Discovery – Tools include w3af and burp.
Exploitation – Tools include BeEF, AJAXShell and much more.
Also Read: How to Create A Linux Bootable USB/Pendrive
Knoppix STD is based on Debian and was originated in Germany. The architecture of Knoppix StD is i486 and it runs on platforms like GNOME, KDE, LXDE. It was introduced from a long time. Basically, It was designed to be used as a live CD and can be installed on a hard disk. The STD stands for Security Tools Distribution. Knoppix provides you a full scenario for cryptography.
Pentoo is based totally on security live CD on Gentoo. "Pentoo is Gentoo with the pentoo overlay". The best distro to use is Pentoo. The homepage lists some of their customized tools and Kernel that includes a Hardened Kernel with aufs patches, Back ported Wifi Stack and even Cuda/OPENCL cracking support with all the development tools.
Also Read: Top 10 Best Tips To Protect Your Gmail Account From Hackers
This distro is built from Debian Squeeze and uses Fluxbox for its desktop environment. This penetrating distro is adjusted for Wifi hacking as it contains many wireless tools. Categories of WEAKERTH4N are SQL Hacking, Cisco Expoitation, Password Cracking, Web Hacking,Networking ans Shells.
Also Read: Ways To Secure Your Facebook Account From Hackers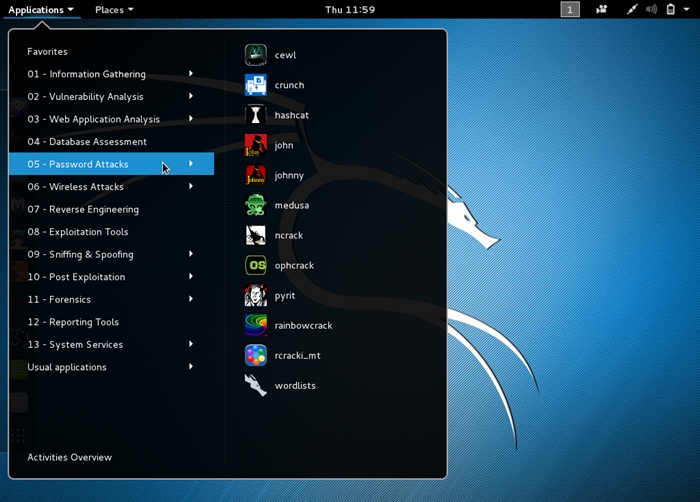 Kali Linux is an Advanced Penetration Testing Linux distribution used for Penetration Testing, Ethical Hacking and network security assessments. This is one the best pentesting distros that you will surely love to use. Must try this out as this is the tool packed with lots of hacking tools.
Also Read: How To Protect Wifi Network From Hackers
#9 Bugtraq
Bugtraq is one another reader penetration distro. This distro offers you a wide range of penetration and forensic tools. Bugtraq is harder to install but runs as a live DVD or from a USB Drive. It claims to be updated for kernel's better performance and is configured too but importantly it can recognize more hardware. The team of Bugtraq seems to be solid as they have put full efort to get the kernel work best with more hardware.
Similar to BackTrack, NodeZero is also an Ubuntu based distro for pentesting using repositories. Following the way, Ubuntu releases a patch for its bugs, notifications for the system updates or upgrades are always present. It has become famous due to its inclusion of THC IPV6 Attack toolkit that includes tools like alive6, dnsdict6 etc.
Also Read:Best Android Hacking Apps 2019
Well, Parrot Security Os by Frozenbox's team is one of the best Linux distribution which you can use for pen testing, computer forensics, and ethical hacking. Compared to all the other listed in the article, Parrot Security OS is very lightweight and it's highly efficient. With Parrot Security OS, you will get many recognized tools which help to work and surf anonymously.
Pentoo Linux is based on Gentoo Linux and it's available on 64 bit and 32 bit installable CD. The great thing about Pentoo Linux is that it can be run from a USB stick. Talking about Pentoo Linux, the distribution brings a wide range of tools under categories like Database, Scanner, Cracker etc.
DEFT or Digital Evidence and Forensic Toolkit is the best open sources Linux distro which you can use today. Well, the distro is based on Ubuntu and it comes with lots of tools which are very much useful for pen testing. The distribution is highly used by ethical hackers because it brings some wide range of tools.
Caine is another security focused distro which is based on Ubuntu. Caine is also available as a live disk and it also comes with some wide range of tools under the category of forensics, memory, database and network analysis.
Network Security Toolkit is one of the best and easy to use Linux distro which you can use today. Well, the operating system is based on Fedora and it's available as a live CD. The operating system houses some great tool for network traffic sniffing, network packet generation, network/host scanning and much more.
ArchStrike is another best Linux distro used by pentesters and security professionals. Well, ArchStrike is previously known as ArchAssault and its a project based on Arch Linux. The great thing about ArchStrike is that it houses lots of Arch Linux tools and it also brings a wide variety of tools for penetration testing and cyber security.
Fedora Security Spin is another best Penetration testing Linux distribution which you can use in 2019. The distribution is specially designed for security auditing and testing. Fedora Security Spin is well-suited for beginners who want to learn security methodologies on information security.
Well, it's another best security researching and penetration testing distribution which you can use in 2019. BlackArch is built on the top of Arch Linux and it has its own repository. The great thing about BlackArch is that it provides users tons of tools that can help a lot in penetration testing. So, BlackArch is another best Linux distribution which you can use.
Cyborg is another best Ubuntu-based Linux distribution on the list which is widely used by security experts and pentesters. The great thing about Cyborg is that it packs around 700 open source tools which could help you in exploring mobile security, wireless security, reverse engineering, exploitation, etc. So, Cyborg is another best Penetration testing Linux Distro 2019 which you can consider.
STD which is also known as Security Tool Distribution is one of the top-rated Penetration testing Linux distro that you can use right now. Guess what? STD packs lots of open source penetration testing tools. Apart from that, STD can also help you to learn about authentication, encryption, forensics, firewall, honeypots, IDS, etc. So, STD is another best Penetration Testing Linux distribution that you can use today.
So above are the Top 15+ Penetration Testing Linux Distributions. Read out the description and choose the one that you like the most. Download the distro and start pentesting and boost up your skills. Hope you like the discussion, keep on sharing with others too. Leave a comment below if you have any related queries with this.