If you are interested in security or already working as a security professional, you first need to search for a Linux distro that suits your purpose. This is because hacking and penetration tests were mainly done on Linux distributions.
As of now, there are hundreds of Linux distros available on the internet. Some of them were designed for security and penetration testing. This article will share a list of various Linux distributions that focus on security.
Also Read: 10 Best Websites To Learn Linux Online
List of 10 Best Linux Distributions For Hacking & Pen Testing
These Linux distributions offer many useful tools for penetration testing, wireless security, forensics, etc. So, let's explore the list of best Linux distributions for hacking & Pen testing.
1. Demon Linux
Demon Linux is one of the best & lightweight Linux distros for security professionals. The Linux distro is mainly used for ethical hacking and is known for its simplicity.
Another best thing about Demon Linux is that it has a simple dock design that gives you the feel of macOS. Besides that, you get lots of important & useful pentesting tools with Demon Linux.
2. Cyborg Hawk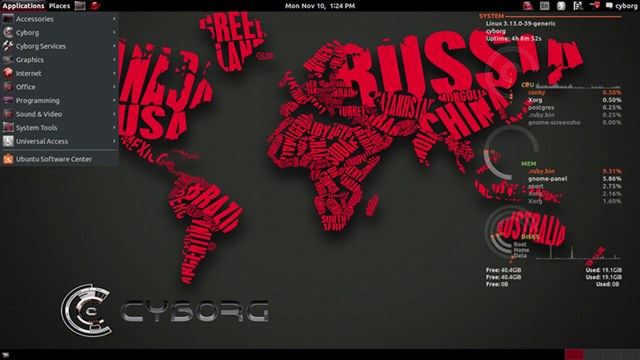 Cyborg Hawk is one of the best and most advanced penetration testing Linux distributions ever created. It's an open-source Linux distro that can be used as Live OS.
If we talk about the features, Cyborg Hawk provides users with more than 750 different tools for penetration testing and ethical hacking. Overall, Cyborg Hawk is one of the great Linux distros for penetration testing and ethical hacking you can use.
3. BackTrack 5 R3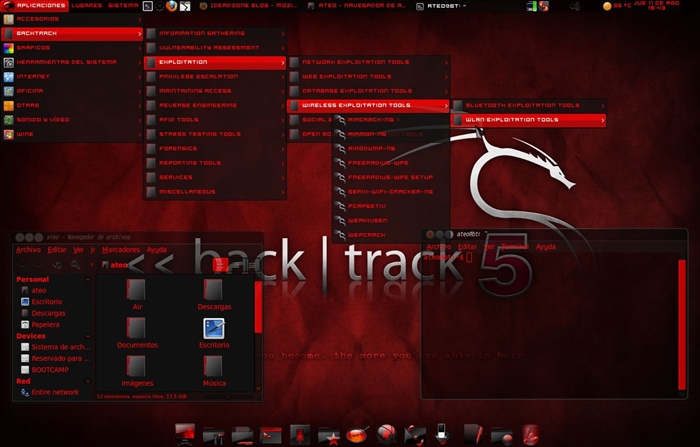 It is one of the best-known Linux pentesting distros available out there. BackTrack is based on the ever-popular Ubuntu. It is only available within a KDE environment, but to the added version, Gnome was added with BackTrack v5.
The Linux distro can be booted via a live CD or flash drive. The distribution helps wireless cracking, exploiting, web application assessment, and learning.
4. BackBox Linux
If you want to use a Linux distro developed for security and penetration testing, then BackBox might be the best pick for you. Guess what? BackBox is one of the leading names in the Linux world, and it got its own software repository.
The software repository of BackBox provides various tools for system and network analysis. The operating system is fast, stable, and pretty effective.
5. Blackbuntu
If you are already into the penetration and security testing game and looking for ways to scale up your research, Blackbuntu might be the best Linux distro. Guess what? Blackbuntu is designed to keep hacking and security testing in mind.
It's a penetration testing distribution with GNOME desktop environment, which brings a wide range of tools for penetration testers.
The tools offered by Blackbuntu help in information gathering, network mapping, vulnerability assessment, wireless analysis, reverse engineering, digital forensics, and more.
6. Samurai Web Testing Framework
Unlike all other Linux distributions, Samurai Web Testing Framework is a developer with the sole purpose of penetration testing. Samurai Web Testing Framework comes as a virtual machine, and it's not a complete operating system on its own.
Being a penetration testing-friendly Linux distro, Samurai Web Testing Framework offers many hacking tools for detecting web vulnerability.
7. Kali Linux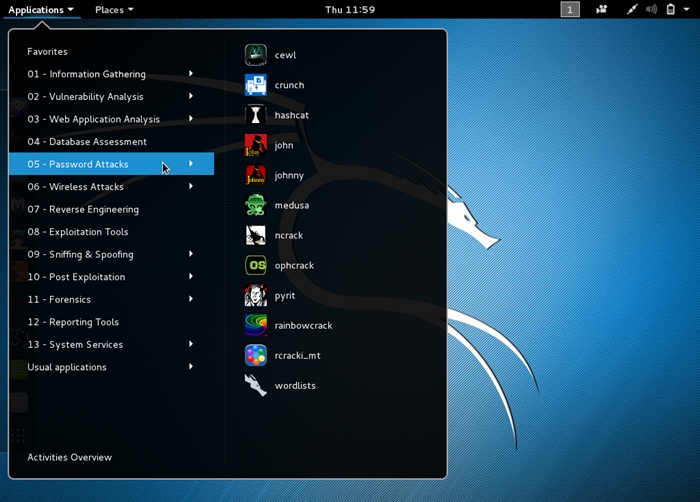 Well, Kali Linux is a famous name in the ethical hacking world. The Linux distribution is quite widespread, and it's based on Debian. The good and most crucial thing about Kali Linux is that it brings a wide range of security and penetration testing tools.
You will find tools from various security and forensic fields on Kali Linux. Since it's the most advanced penetration testing Linux distro, it also supports many devices and hardware.
8. Parrot Security OS
Well, Parrot Security Os by Frozenbox's team is one of the best Linux distributions you can use for pen testing, computer forensics, and ethical hacking.
Compared to all the others listed in the article, Parrot Security OS is very lightweight and highly efficient. With Parrot Security OS, you will get many recognized tools that help to work and surf anonymously.
9. DEFT Linux
Digital Evidence and Forensic Toolkit is the best open-source Linux distro that you can use today. The distro is based in Ubuntu, and it comes with lots of tools that are very useful for pen-testing. Well, Ethical hackers highly use the distribution because it brings a wide range of tools.
10. ArchStrike
This one is a Linux distribution that adds an extra security layer over Arch Linux. ArchStrike shares the same repository of Arch Linux, and it's mainly used by security professionals.
The good thing about this Linux distribution is that it packs a wide range of penetration testing and cybersecurity tools. The Linux distribution also looks good, and it's pretty lightweight.
So, these are the best Penetration Testing Linux Distributions. You should start using these Linux distributions if you want to learn ethical hacking or work as a security professional. If you know of any other such operating system, let us know in the comment box below.