Switching from one Android to another is indeed an easy task, but it's not easy to switch from Android to iOS. While switching from Android to iPhone, we need to check for compatibility issues. Unlike Android, iPhone doesn't support every file format. So, switching from Android to iPhone is indeed a difficult thing.
However, if you have just purchased a new iPhone and planning to transfer your contacts, then you are reading the right article. In this article, we are going to share some of the best methods that would help you to transfer contacts from Android to iPhone.
The best thing is that you don't need to use a computer to transfer contacts from Android to iPhone as it can be done from the phone itself. So, let's check out how to transfer contacts from Android to iPhone 2020.
Below we have shared three best methods that can be used to transfer contacts from Android to iPhone. So, without wasting any more time, let's get started.
1. Transfer Contacts From Android To iPhone Using Google
In Android, the contact gets back up in google account so we will use that method to transfer all the contacts of android to iPhone. Just follow the below steps to proceed.
In your android Goto Settings -> Accounts and sync.
Now there enter your Gmail account details and click on enable synchronization.
Now all your contacts will get back up on your Gmail account.
Now add the same Google Account to your iPhone and then head to the Settings > Passwords & Accounts and then tap on the 'Gmail' account.
Now just move the contact slider to the 'ON' position.
Now with this when you will open contacts app all your contact will get sync from google account.
2. Transfer Contacts From Android To iPhone Using Import/Export From Sim Card
In this method, you will export contacts to sim card in your android device and then in iPhone export then in your contacts. For that, you will have to follow the below simple steps. Try this method only when you finally want to make your sim card only for your iPhone as you have to cut your sim card to insert it into iPhone.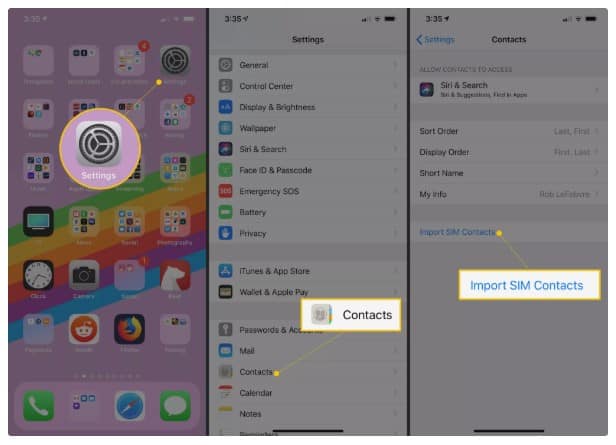 In your Android, head to the Contacts-> Import/export.
Now select export to sim card.
Now remove the SIM Card from your Android and insert it on iPhone.
Now, head to the Settings -> Mail, Contacts, Calendars.
Select import from sim card and all your contact will get imported into your contacts.
3. Using Move to iOS App
Well, Move to iOS is a simple Android app that is developed by Apple. The app gives users an easy option to transfer data from Android to iPhone. The app is already available on Android's Google Play Store and it can transfer files like contacts, text messages, photos, videos, calendars, email accounts, website bookmarks, and a few other things.
The app uses the WiFi connection to import them to your new iPhone. The process is very easy. You just need to download the Move to iOS app to send files to your iPhone. When you choose to migrate your data, your new iPhone or iPad will create a private Wi-Fi network and find your nearby Android device running Move to iOS. After you enter a security code, it will begin transferring your content and put it in the right places.
4. Transfer Using Third-Party Tool
Well, you can also use third party desktop software to transfer Android contacts to iPhone. If you have a personal computer, then this could be the easiest option to transfer contacts. Follow, some of the simple steps given below to transfer Android contacts to the iPhone.
Step 1. First of all, search on Google for Syncios Mobile Data Transfer tool. Download the Mobile Data Transfer tool from Syncios and install it on your device.
Step 2. Now connect both of the smartphone – Android and iPhone to the computer.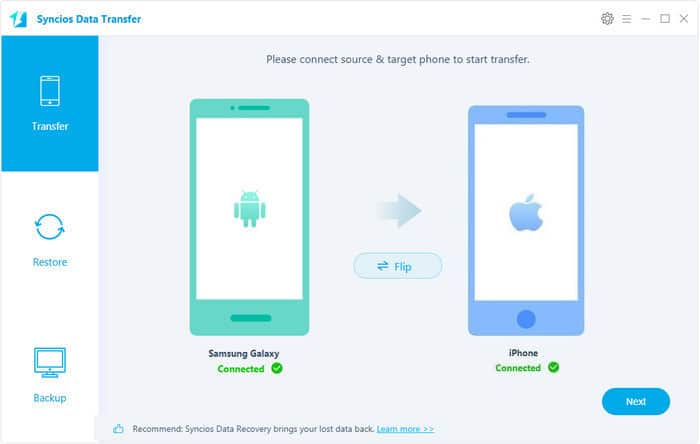 Step 3. Now you will be asked to select the data that you want to transfer, select 'Contacts' and click on 'Next'
Step 4. Now, wait until the transfer process completes.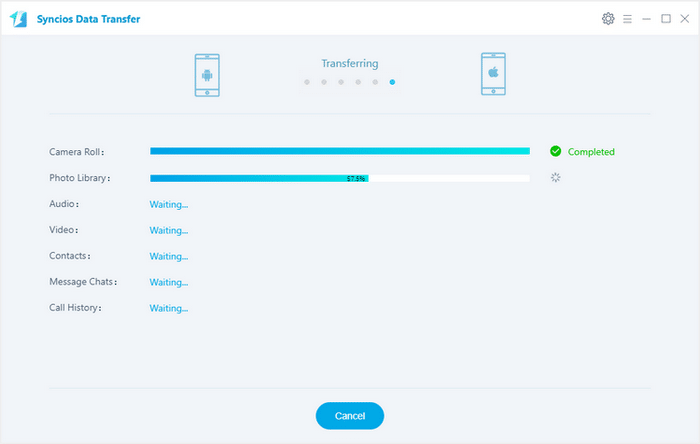 Once done, restart both of the smartphones. You will now find Android contacts on your iPhone.
So above are the three best methods to Transfer Contacts From Android To iPhone. By these methods, you can easily transfer contacts between your iPhone and Android. I hope this article helped you! Share it with your friends also.