Facebook is indeed a great social networking site to connect with friends and family members & have fun. While the craze of Facebook is declining each day, it's still the most popular social networking site.
If you are an active Facebook user, you might be very used to the algorithm of the social networking sites. The social networking site tracks your activity & interactions and suggests similar posts.
In short, Facebook's algorithm tries to show you the posts & pages that you are likely to be interested in. However, like every social networking site, Facebook's algorithm often goes haywire. Occasionally, Facebook starts showing you posts from pages you are not likely to be interested in.
So, if you feel that Facebook's algorithm is already messed up and it's constantly suggesting irrelevant posts & pages, it's time to turn off suggested for you posts & pages completely.
Can I Turn off 'Suggested For You' Posts on Facebook?
No! You can't get rid of the suggested for you posts on Facebook. It's a part of Facebook, and the site offers no option to disable it permanently.
While you get no option to turn off 'Suggested for you' posts on Facebook, a few workarounds let you manage what type of content you see on the platform.
The best way to get started is to temporarily hide all posts from the pages you find irrelevant. You need to do this with multiple posts with zero relevancy. Once you hide a fair number of irrelevant posts & pages, you need to start interacting with the posts you're interested in.
In this way, Facebook's algorithm will know that the user interest has been changed and will start to show you relevant suggestions for posts & pages.
How to Turn Off Suggested for You Posts & Pages on Facebook
Since there's no official way to turn off 'Suggested for You' posts on Facebook; here are the steps to help you manage what you want to see as suggested posts on Facebook.
1. Open your favorite web browser on your computer/laptop.
2. Next, visit the facebook.com website & log in with your account credentials.
3. Now, scroll through the feed and find the suggested post you don't want to see.
4. Next, click on the three dots at the top right corner of the post. The option will appear beside the (X) close icon.
5. If you want fewer posts like the one you've selected, click on the Hide Post option.
6. If you don't want to see posts shared from the specific page you've selected, select the Hide all from (page name).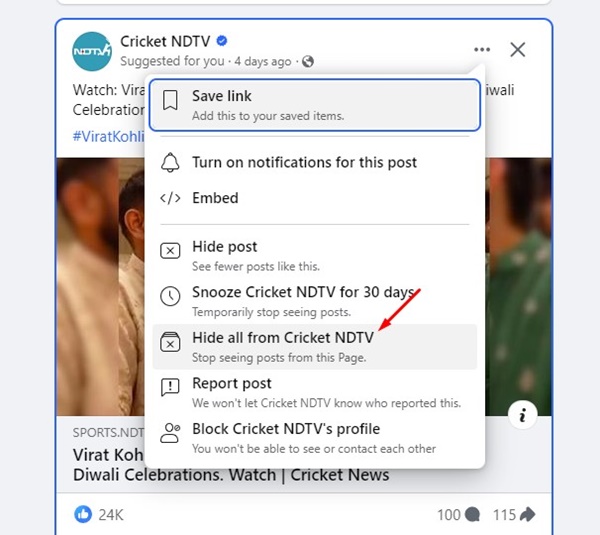 7. The post will be immediately hidden. You will get an option to undo the change, report the post, or manage your feed. Tap on the Manage your feed option.
8. On the Manage Your Feed prompt, you will find multiple options. You can go through each option to manage posts that you want to see in your Feed.
That's it! You need to repeat the steps for a few irrelevant posts you see in the 'Suggested for you' section. This will help Facebook understand that you're not interested in such content and will show fewer posts in the coming days.
How to Change the Suggested for Your Posts in Your Feed?
As you hide the irrelevant posts, Facebook will show you the relevant posts. However, there are a few things you can do to influence the suggested for you posts in your Feed.
You can follow these general steps to avoid seeing content you don't like and to see more relevant 'Suggested for you' posts in your News feed.
Avoid interaction on the posts you don't want to see.
Don't follow the 'Suggested for you' posts by liking, commenting, or sharing.
Don't like the pages or join groups whose posts you prefer not to see.
Avoid sharing your Facebook account credentials with other users.
Don't link third-party apps with your Facebook account.
Make sure your device's location is correct.
Although you can't hide the 'Suggested for you' posts on Facebook, these steps will help you better manage your Facebook Feed. Within a few days, Facebook will start showing you relevant posts suggestions on your feed. So, this guide is about how to turn off suggested for you posts on Facebook. Let us know if you need more help on this topic.