Twitter is indeed one of the best and most unique social networking platforms which allow users to express themself with a minimum number of words. While Twitter is never known for its videos, the platform still has many resourceful videos to watch.
We are talking about Twitter videos because the company recently rolled out the Closed Caption toggle for both Android & iOS users. So, if you often watch videos on Twitter, you now have an option to enable the Closed Captions (CC).
What is Closed Caption on Twitter?
Closed Caption on Twitter is similar to the CC on YouTube. Closed captions were written descriptions of videos that help you understand videos available in a language you don't understand.
Closed captions and subtitles are the same and display text on a video screen. Until now, the closed caption toggle was only available in Twitter's web version, but now it has also rolled out to the mobile apps.
Few important things to remember
While Twitter now allows you to turn on/off closed captions in the mobile app, you should note a few things.
Twitter's support team stated that the CC button would only appear on a video if it had a caption file. If you don't find the CC button, the video doesn't have the captions file attached.
Also Read: How to Use Bookmarks on Twitter (Full Guide)
Steps to Use Closed Caption Toggle on Twitter for Mobile
Now that you are fully aware of the closed caption, you might want to test the new feature straight away. Here's how you can enable closed caption on a video where captions are already available.
1. First, head to the Google Play Store and update the Twitter app for Android.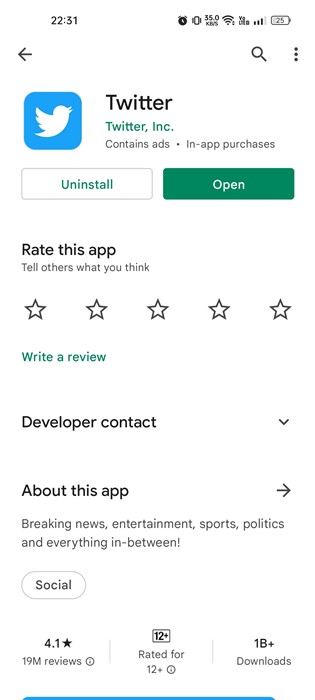 2. Open the Twitter app and find a video with the attached captions filed.
Note: The CC button will appear on the video only if it has the captions file attached. You need to try another video if the video doesn't have the CC button.
3. If the video has the captions file attached, you will find a small CC icon at the top-right corner of the video.
4. You need to tap on it to enable or disable the closed captions.
That's it! This is how you can use the closed caption toggle on Twitter for Android.
If you want to know more about the new closed caption toggle on Twitter for Android & iOS, check out the article – Twitter Rolled Out Closed Caption Toggle For iOS & Android.
So, that's all about how you can use the new closed caption toggle on Twitter for Android. We have used an Android device to demonstrate the process; iOS users can follow the same steps to enable CC on Twitter videos. Let us know in the comments if you need more help related to Twitter closed captions.