Even though we have many instant messaging apps for Android, we use WhatsApp the most. WhatsApp is the best and most popular instant messaging app available for Android, iOS, Windows, and the web.
If you rely on WhatsApp to communicate with your friends & family members, or if you actively use the app, you might have noticed a few users using upside-down text. You may find your friends using upside-down texts in the chats, status, about section, and more.
Also Read: How to Hide Profile Photo & Last Seen From Specific Contact on WhatsApp
Steps to Type Text Upside Down on WhatsApp
Here we have shared a step-by-step guide on typing text upside down on WhatsApp.
While there are no definite reasons to flip the written text on WhatsApp, you can do it just for fun and to surprise your friends. So, if you want to type upside-down text on WhatsApp, you are reading the right guide. Let's check out.
Using Upside Down (Flip Text) Android App
Since WhatsApp doesn't officially support typing text upside down, you need to use a third-party app. The Upside Down (Flip Text) app is available on the Google Play Store for this purpose, and it's free to download & use.
1. First of all, download & install the Upside Down (Flip Text) Android app from the Google Play Store.
2. Now, you will see the main interface of the Upside Down (Flip Text) Android app. You will see two sections.
3. On the lower section, you need to type the text you want to flip and make it upside down.
4. The text you will type will be immediately flipped and shown in the top section.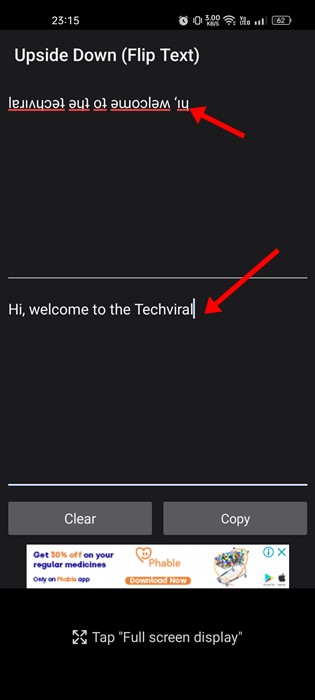 5. Once flipped, you need to tap on the Copy button to copy the text to your Android's clipboard.
6. Now, open the WhatsApp app and select the chat where you want to send the upside-down text. Paste the upside-down text and tap on the Send button.
That's it! This is how you can type text upside down in WhatsApp for Android.
Although we have written this guide for WhatsApp users, the same steps apply for sending upside-down texts in other instant messaging apps, such as Messenger, Telegram, Signal, and more.
WhatsApp officially supports a few text formatting options and allows you to send Italics, Bold, and Monospaced texts in the chats.
So, that's all about how to type upside down on WhatsApp for Android. You can use this method to flip your text and make it upside down quickly. If you need any more help related to typing text upside down on Android, let us know in the comments.