Google Chrome is the best web browser for desktop computers and smartphones. However, it's not the only web browser available on the web. If we talk about Google Chrome for Android, the web browser lacks essential features like VPN, ad-blocker, etc.
UC Browser used to have all missing features, but Google removed it from the Play Store due to security issues. Actually, UC Browser was caught stealing private user data and sending it to an unknown server in China.
Also Read: 10 Best Android Browsers With Dark Mode
List of 10 Best UC Browser Alternatives For Android
After all such incidents, users' trust in the UC browser has been shattered, leaving them looking at its alternatives. So, if you used to be a UC Browser user, this post might help you. This article will share some of the best UC Browser alternatives for Android.
Microsoft Edge is another excellent Android web browser on the list that you can use instead of UC Browser. The web browser provides you fast & secure web browsing experience with many useful features.
The web browser offers tracking prevention, adblocker, Private browsing mode, and a Private search option. The mobile version of Microsoft Edge is also supposed to get VPN functionality very soon.
Phoenix Browser is a very popular web browser for Android that over 100 million users use. The web browser is fast and provides you with many useful web browsing features.
To protect your privacy, it offers a secure VPN with many virtual locations to choose from. The VPN is completely free, and you get unlimited bandwidth.
Apart from that, Phoenix Browser also offers you a video downloader, Status saver, file manager, ad blocker, data saver, and more.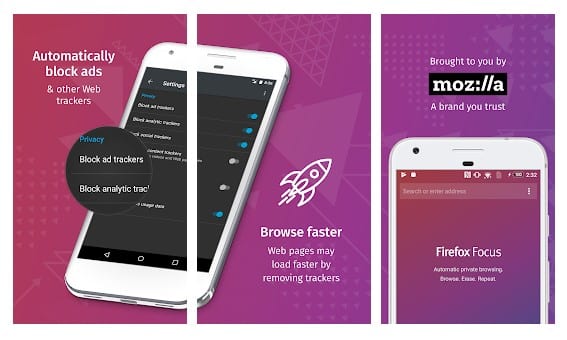 Firefox Focus has been around for a while, and we believe it's very underrated. By default, the web browser blocks a wide range of online trackers.
This privacy-focused web browser automatically erases your session details whenever you close the app. The mechanism of Firefox Focus also makes the web browser fast.
Via Browser is another best UC Browser alternative you can use on your Android. The great thing about Via Browser is that it brings news and trending topics right on the homepage.
Via Browser is also one of the best lightweight browsers you can use, and the browser works on a 2G mobile connection. It offers many useful features like Data Saver, AdBlocker, Privacy Protect, etc.
Puffin Web Browser is one of the top-rated Android web browser apps on the Google Play Store. Compared to other web browsers for Android, Puffin Web Browser offers more features.
All web traffic from the Puffin app to the Puffin server is encrypted. Such high-level encryption eliminates web trackers, ads, and nearby hackers.
Well, Opera Browser is much more popular than the others listed above. Opera Browser for Android is frequently updated, and you will love its interface.
The web browser for Android has all features that users usually need to enhance their browsing experience. From bookmarking to VPN, Opera Browser has it all.
The latest Firefox version is dramatically redesigned to be faster, easy to use, customizable, and private.
It offers excellent browser features like Enhanced Tracking protection, private mode, etc., to block web trackers and ads. Some other features of Firefox include an ad blocker, dark mode, add-on support, etc.
The Dolphin Browser might be the best pick if you want a lightweight browser with decent features. The great thing about Dolphin Browser is that it includes many features like theming, ad-block, incognito mode, tracker blocker, etc.
It also has a video grabber that grabs the download link of any playing video. Other features include gesture support, multiple themes, Quick share options, etc.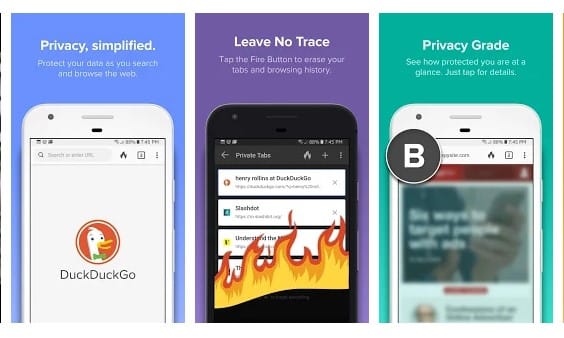 The famous anonymous search engine also has a web browser app for Android. With DuckDuckGo Privacy Browser, you would get the privacy you deserve online.
The great thing about DuckDuckGo Privacy Browser is that it blocks all advertisements, web trackers, etc. DuckDuckGo Privacy Browser doesn't track your browsing activity.
It is one of the best and most lightweight web browsers you can use on your Android smartphone. Guess what? Kiwi Browser – Fast & Quiet is based on Chromium and WebKit, which powers Google Chrome.
The web browser has a very optimized rendering engine, which results in better browsing speed. It automatically blocks all ads and trackers from the web pages. Kiwi browser also has a super-strong pop-up blocker that works.
So, these are the best UC Browser alternatives for Android. You can start using these web browsers without worrying about privacy & security issues. If you know of any other web browser like UC Browser, let us know in the comment box below.