Tech companies like Google, Facebook, etc., have been trying hard to implement the dark mode on their apps and services. Google Chrome, the most popular web browser, has all features that we generally need to better the browsing experience; still, it doesn't have many options to improve readability.
Since web browsers are the most used app on Android smartphones, having a night mode on it can drastically improve your reading experience, especially at night. This article will share some of the best web browsers with Dark Mode support.
Also Read: 30 Best Secure Android Browsers To Browse Web Securely
List of 10 Best Android Browsers With Dark Mode
Most of the web browsers listed in this article are free to download and have the 'Dark Theme' or 'Dark Mode' feature. So, let's check out.
While Samsung Internet Browser is designed for Samsung smartphones, it works on all Android devices. We have listed Samsung Internet Browser because it's very popular and offers better security & privacy features than Chrome.
You get a video assistant, dark mode, customizable menu, browser extension support, and more. The web browser for Android also has many security & privacy features such as smart anti-tracking, protected browsing, content blockers, etc.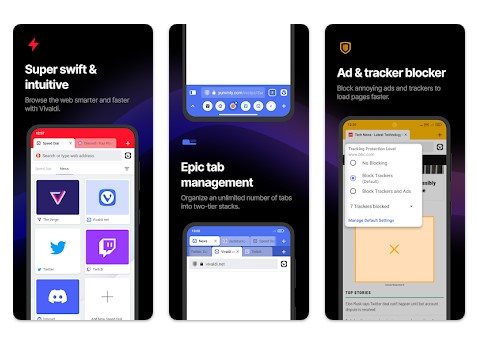 If you are searching for a web browser that's fast and highly customizable, then Vivaldi Browser might be your best pick. Vivaldi Browser is a web browser that adapts to you and comes packed with many unique and smart features.
With Vivaldi Browser, you get desktop-style tabs, ad blocker, tracker protection, privacy protection, and more. The web browser also has a dark mode that prevents eye strain and reduces battery consumption.
DuckDuckGo Privacy Browser is for someone who gives privacy the utmost priority. It's a top-rated privacy app for Android that protects your privacy from the apps.
It's a web browser powered by the search engine of DuckDuckGo. The web browser automatically eliminates a wide range of 3rd party trackers whose only intention is to track your browsing habits.
DuckDuckGo Privacy Browser also has an App tracking protection feature that monitors your apps and blocks every tracking attempt. It has a dark mode which you can enable from the browser settings.
The web browser doesn't have an actual 'Dark Mode' feature. However, the Dark Mode can be easily implemented through the addons.
Google Chrome might be the king of the PC browsers, but Firefox Browser dominates the Android section by providing unique add-ons. An addon named 'Dark Fox' changes the interface into a darker shade.
The latest version of the Opera Browser for Android has a dark mode feature that turns the UI dark and casts a screen filter to lower the brightness.
The night mode of the Opera Browser can also restrict the blue light emitted from the smartphone screen. However, users need to grant a few extra permissions to use the Opera Browser's night mode.
Puffin is for those searching for a super-fast web browser with dark mode support. Compared to every other Android web browser, Puffin focuses on privacy and security.
It encrypts all traffic between the app and server to protect from nearby hackers. The app doesn't have a Dark Mode, but a 'Dark' theme is available under Settings, changing the browser interface into a darker shade.
Microsoft Edge is a privacy-focused web browser for Android that offers many productivity options. The web browser gives you lots of tools to protect your privacy online.
It also has exciting features, like tracking prevention, adblocker, etc. Yes, the web browser also got dark mode support.
If you are searching for an Android web browser with customizable night mode, Kiwi Browser – Fast & Quiet might be the best pick.
It offers a fully customizable contrast and grayscale mode. Apart from that, it also got an ad blocker, pop-ups blocker, and cryptojacking protection features.
If you are searching for a lightweight web browser for your Android device, give Via Browser a try. It needs less than 2MB of storage space to install on your device. Although it's a lightweight web browser, it doesn't miss any essential features.
Some of Via Browser's key features include Night Mode, Add-on support, Privacy protection, adblocker, computer mode, etc.
Google Chrome needs no introduction because almost all users use it. Chrome for Android recently got a dark mode option that you can activate from the Settings menu.
Besides the dark mode, Google Chrome has many other useful features like Data Saver, Incognito browsing, Cross-Platform support, etc.
So, these are some of the best Android web browsers with dark mode support. Even if your phone doesn't have a dark mode, you can use these dark mode-enabled web browsers. If you know of other such apps, let us know in the comment box below.