If you are using an Android smartphone, you might know the importance of the Google Play Store. Google Play Store is basically a place from where we install apps & games for our Android smartphone.
Google Play Store even allows us to update the apps already installed on our device. Apart from that, the Google Play Store also has additional features such as Storage Management, Play Protect, and more.
Although we timely update our apps & games, what about updating the Google Play Store? Google Play Store is installed as an app on your Android device, and it needs a timely update too.
Also read: How To Change Google Play Store Country/Region
Steps to Update the Google Play Store on Android
Typically, Google Play Store updates itself automatically, but in some cases, you might need to update the Google Play Store app manually. So, in this article, we will share a step-by-step guide on how to update the Google Play Store on Android.
1. First of all, open the Google Play Store on your Android smartphone.
2. Now tap on your profile icon, as shown in the screenshot below.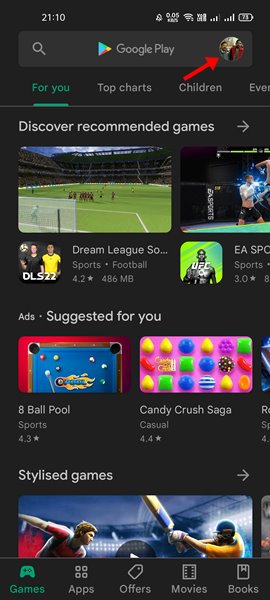 3. On the Profile menu, scroll down and tap on the Settings option.
4. On the Settings page, you will find various options. You need to find and tap on the 'About' menu to expand the options.
5. Now, find the 'Play Store Version' section and tap on the 'Update Play Store' button.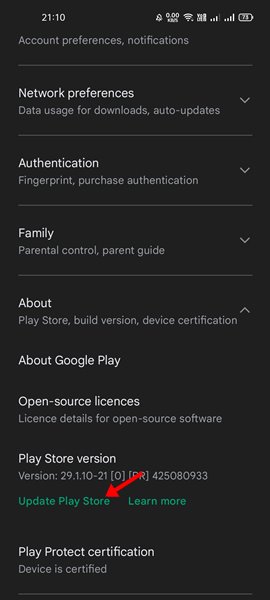 6. Now, Google Play Store will install the available updates. Once updated, you will see a success message like this. Simply tap on the 'Got it' or 'Understood' button to use the app.
That's it! You are done. This is how you can force Google Play Store to update itself on an Android smartphone.
Since Google Play Store is the only place to get genuine Android apps & games, it's recommended to install all available Google Play Store updates. I hope this article helped you! Please share it with your friends also. If you have any doubts related to this, let us know in the comment box below.