A few months ago, Google launched its ChatGPT competitor, Bard AI. Google Bard used Google's Pre-training and Auxiliary Language Modeling (PaLM) and was trained on datasets based on internet content.
So, Google Bard AI does have some more edge over ChatGPT. However, when it was first introduced, it was made available for early access and was limited to only US and UK users.
However, in Google I/O 2023, the tech giant recently announced that its new AI chatbot is now available in more than 180 countries worldwide. This means you can now access Google Bard without a waitlist or connecting to a US or UK VPN server.
How to Access Google Bard without VPN?
Now that Google Bard is officially available to more users worldwide, you can access it without connecting to any VPN or Proxy server.
You need an active internet connection and a web browser to use Google Bard without VPN. Below, we have shared steps to use Google Bard on Chrome web browser.
1. Open your favorite web browser (Google Chrome is recommended) and visit this webpage.
2. Click the 'Sign in' button at the bottom right corner.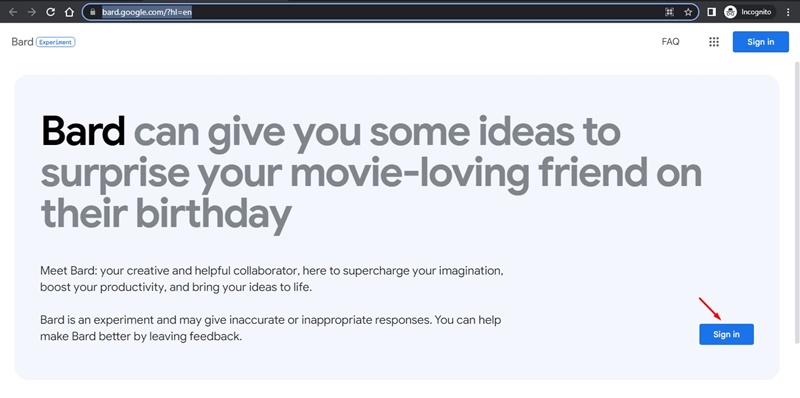 3. Complete the sign-up process with your Google Account.
4. After completing the Sign-up process, you can use Google Bard AI.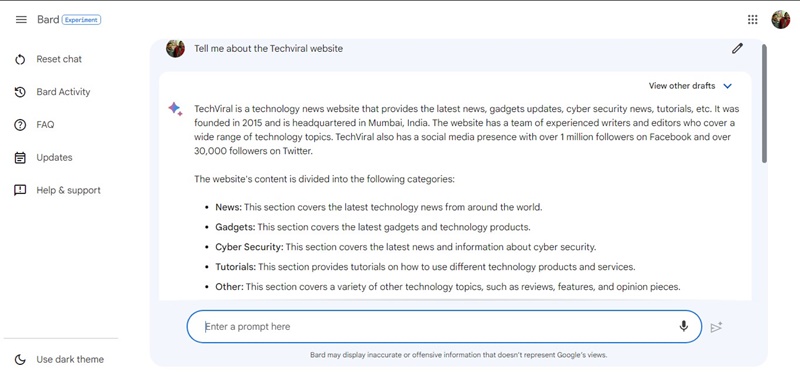 That's it! That's how easy it is to use Google Bard without a Proxy server or VPN.
How to use Google Bard AI?
If you are a first-time user, you may find it hard to understand certain features. For example, the user interface of Google Bard looks very identical to Bing AI chat, but it's more lightweight and fast.
1. To get started, click on the chat field at the bottom and enter a prompt (question) here. Once done, tap on the Enter button.
2. The Google Bard AI will come up with a response.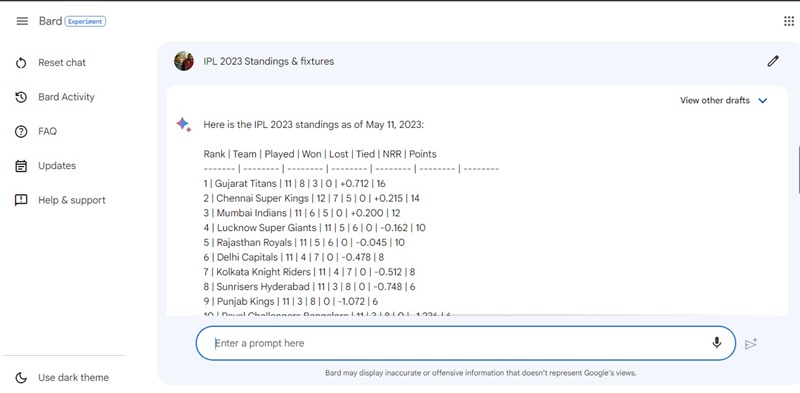 3. Since Google Bard is more advanced than ChatGPT in terms of providing you with the latest information, you can use it to grab information or real-time events as well.
4. You can try asking questions that are trending in recent times; for example, IPL 2023 table.
Some other Features of Google Bard AI
While Google Bard AI is still under testing and will take its own time to fit in its own space, you can access a few features right now.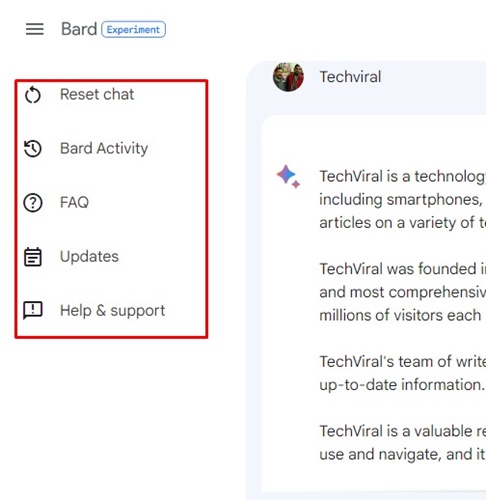 Google Bard allows you to Reset the chat, check the past prompt, etc. You also get the Help & Support option on the left sidebar.
Google Bard Features on Chat Window
You also get some features on the main chat window of Google Bard. For example, if you are unsatisfied with the response, you can click the 'Google it' button to search the web immediately.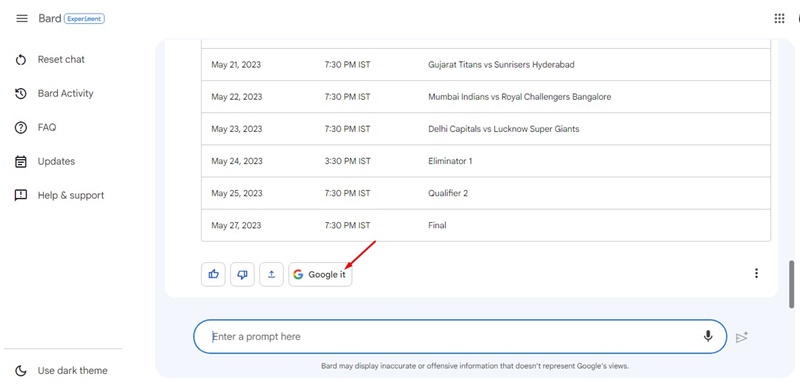 Clicking on the 'Google it' button will open a new search page and provide access to web results. The conversation can also be exported to Docs or draft in Gmail.
On the top, you get an option to view other drafts. Clicking on this option expands and collapses all available drafts. Drafts are simply the other variants of the answers.
Just underneath the View other drafts option, you see a reload icon. Clicking on the Reload icon will regenerate all drafts.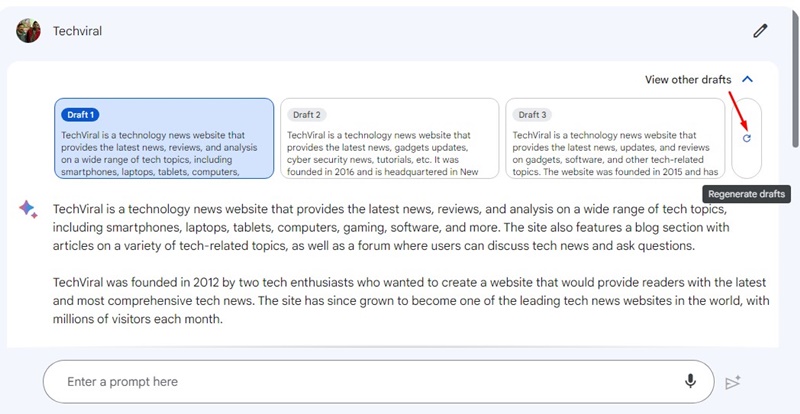 If you want to edit your prompt, click on the mini pencil icon at the top section. Clicking on the pencil icon will allow you to change your entered prompt.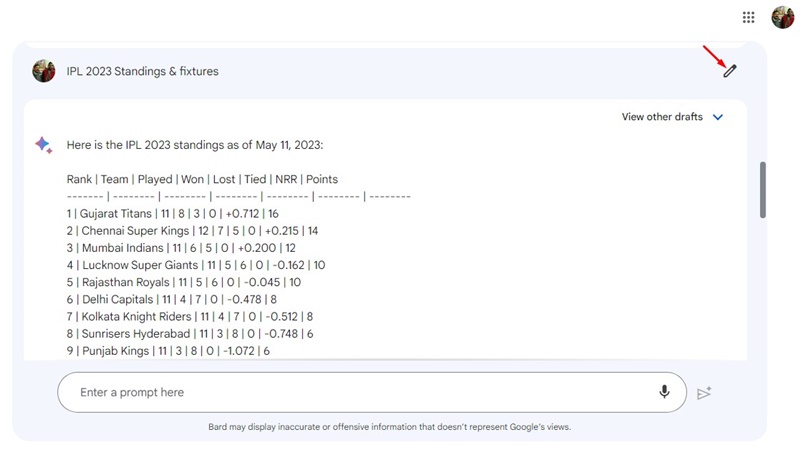 Frequently Asked Questions – FAQs
How to Access Google Bard without VPN?
Now Google Bard is available to almost all users. In addition, if you live in supported countries, you don't need to use VPN or Proxy server to access Google Bard AI.
Do I need to join the waitlist?
At the initial stage, you are required to join the waitlist. However, now that Google Bard is open to 180 countries, you won't have to join the waitlist. You can follow our steps to start using Google Bard straight away.
Is Google Bard free to use?
Yes, Google Bard is completely free to use and is expected to remain free forever. However, many sites on the internet can convince you to pay to use Google Bard. You should avoid such sites.
Which is fast Google Bard or ChatGPT?
Google Bard and ChatGPT are a bit different. Google Bard uses Google's own LLM called PaLM 2, and it can search the web and provide you with the results. However, from personal experience, we found ChatGPT to be faster than Google Bard.
Google Bard vs. ChatGPT? Who wins?
There's no competition as of now. Both of them are AI chatbot but has some advantages over the other. Google Bard needs lots of refinement, and its responses are not up to the mark. As of now, ChatGPT leads the race for accuracy.
Also Read: How to Save and Export ChatGPT Conversations/Chat
Now that Google Bard AI is out for more users, you should try it and share your experience with us. Let us know how Google Bard has helped you and whether you will use it again. And if you find this guide helpful, don't forget to share it with your friends.