Learn how to use your iPhone as webcam for your PC or MAC: We are going to discuss the easiest way to use your iPhone Smartphone as a webcam for PC or MAC, there are many apps available on the internet but this one is the easiest method available to use your iPhone as a webcam for your PC.
As many of us are using desktops, and we don't have the webcam. So, what if you desire to make the video call? Don't worry as you have an intelligent smartphone which will let you make a video call on your PC. So, on the internet, there are lots of apps available which turns your iPhone into the webcam. But the procedure that we will tell you is simple and very easy. You can also use the Apple handset as a wireless camera and completely transparent to the operating system. And the reason why this smartphone is commencing in the market is that it is very accessible to many useful apps. So without wasting any time let's proceed to the steps to use iPhone camera as a webcam.
Also Read: Best Android Apps To Transfer Files Over Wifi With High Speed
How To Use Your iPhone As Webcam For Your PC or MAC
The method is quite straightforward and easy, and you just need an iOS app that will allow you to get wireless access to iPhone camera on your PC. So have a look at complete method discussed below to proceed.
Also Read: How to Make a Fake Incoming Calls on Android and iPhone
Steps To Use iPhone As Webcam For PC or MAC:
Step 1. First of all, you need to download and install an iOS app that is WebCamera the app that is going to connect your device camera to your PC wirelessly.
Step 2. Now on your PC, you need to download and install the tool that is mobiola web camera the tool that provides the wireless connection between devices.
Step 3. Now you need to pair both the devices on the same WiFi network to which both the devices are connected.
That's it! You are done, now try out any of the networks like Skype, etc. to test your webcam working properly.
Also Read: Top 10 Best iPhone Apps for Beginners
Alternatives:
Android have apps that turn smartphone camera into a webcam. Similarly, iPhone also have some apps and client tools that help you to use your iPhone camera as webcam
You need to Follow these things to use iPhone camera as Webcam:
Install an iPhone app from the list
Download the desktop client of Corresponding webcam app
Install the app on your iPhone and enjoy
iCam allows you to remotely monitor multiple live video and audio webcam feeds from your iPhone, iPod touch or iPad over WiFi and EDGE/3G/4G/LTE. iCam has a unique feature of recording and playing back the motion events. You can also receive the notifications when the iCam detects anything.
IP Cam turns your iOS device into a portable IP surveillance camera (with audio). Run IP Cam on your iOS device, and via WiFi network, you can view live video and audio captured by your iOS device on web browser from any computer. You can even see IP Cam from using Safari browser from another iPhone, iPod Touch, or iPad.
Air Cam lets you view live video feed (and optionally, audio) from your computer's internal or external webcam directly on your iOS device. The app supports live air video streaming from its official source. It can also stream videos over a 3G network and supports the sources both on Windows PCs and Mac books.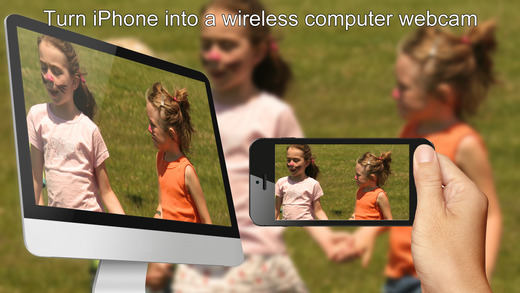 EpocCam transforms your iOS device into wireless High Definition PC webcam for Windows and Mac OS X. Replace your USB-webcam and integrated webcams now with the wireless high-definition webcam. It's also a perfect baby monitor, spycam, security camera and pet cam.
Turn your iPhone or iPad into a high-quality wireless webcam with microphone. Connect it to a Mac or PC using WiFi connection, and share bright moments of your life that cannot be caught with a built-in webcam or USB camera.
So this is all about Use iPhone As Webcam For Your PC. By this easy way, you can easily turn your iPhone camera into a webcam. You can easily record your phone and capture every moment in your computer browser and with the help of mentioned adapter. We hope this will be helpful to you. If you are facing any problem then just comment it below.