Today we came up with a trick to browse your Google chrome in Night mode. This will be very convenient for you to browse easily in your browser at night
Today virtually billions of user in the world is utilizing Google Chrome as their default browser on their computer. This browser implements loads of characteristics to its user in the form of the immense collection of extension that being made for it till now. These extensions are remarkably cool and make this browser more user-friendly.
Also Read: How To Boost Up Internet Speed On Google Chrome (5 Steps)
Now debating about the Night Mode Vision. It is the mode which helps to view the screen letters calmly at the night dark light. Many of you use laptops, computers at night and that is why we have a trick How To Use Night Mode Browsing In Google Chrome. This will be very convenient for you to browse easily in your browser at night. Proceed with the method below.
How To Use Night Mode Browsing In Google Chrome
This process is based on a simple google chrome extension that will invert all you browser color and make them perfect to work at night. This will be also healthy to your eyes as it will affect them less than the bright white light. Proceed with below steps to proceed.
Also Read: Top 11 Best Google Chrome Extensions That Is Worth A Try
Step 1. First of all, you need a cool extension that is Hacker Vision extension in our Google Chrome Browser. Download and add this browser in your browser by clicking add button there.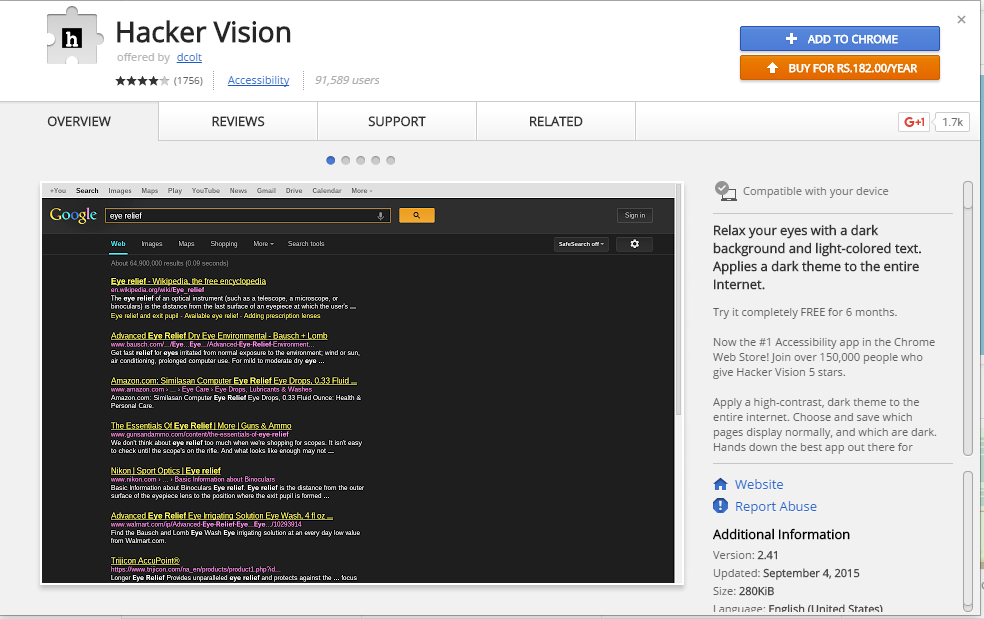 Step 2. Now the extension will get added to your browser after entering your google account details to access the services of this extension.
Step 3. Now you will see all the colors will get inverted and become perfect to see in the night that's why this is called Hacker Vision extension.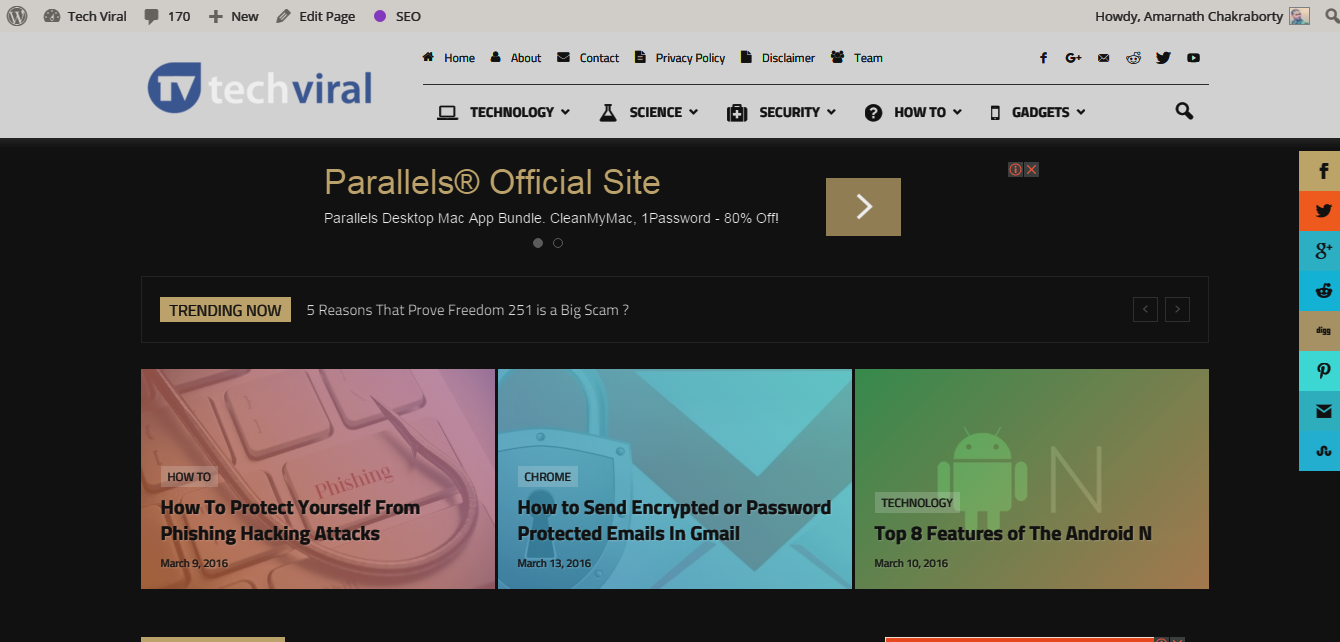 Step 4. Now you can see the screen with great ease at night. You can pause any time to roll back to the original version of the loaded page on your browser.
Also Read: How To Protect Your Google Chrome Browser With Password
Using Dark Reader
Unlike it's uncountable clones, this extension doesn't just invert colors of websites you visit. Powered by new Chrome engine features it uses special intellectual way to transform bright blinding stuff into eye relaxing, high contrast, deluminated, dark themed and just smart looking web-pages which are easy to read at night.
Step 1. First of all, you need to add 'Dark Reader' extension on your Google chrome browser. Simply click the "Add To Chrome" button.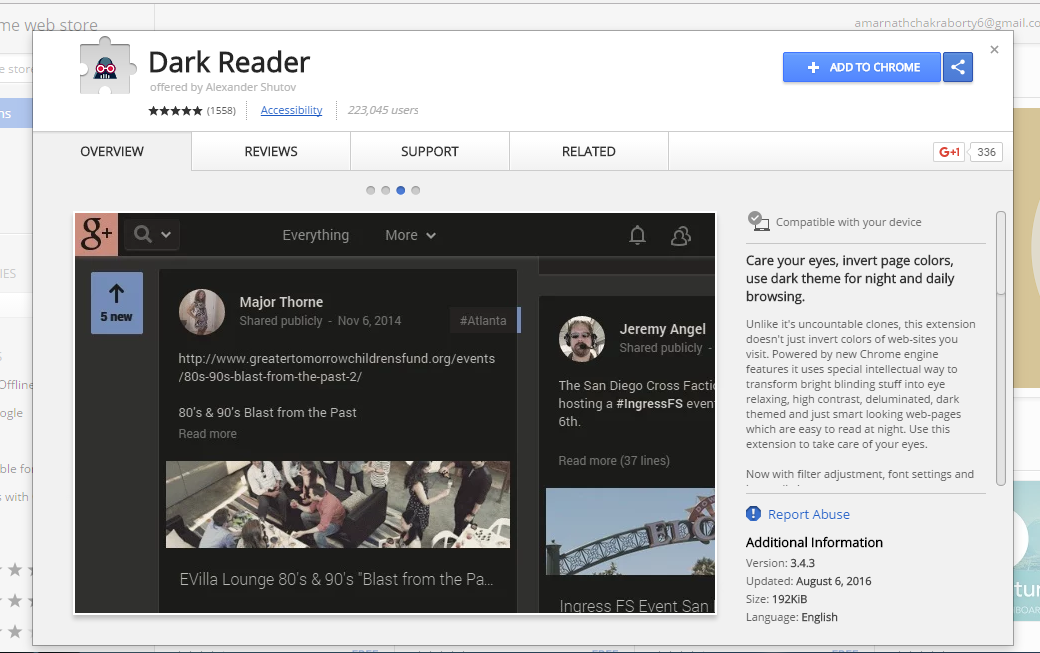 Step 2. Now on the popup, you need to click on "Add Extension" button.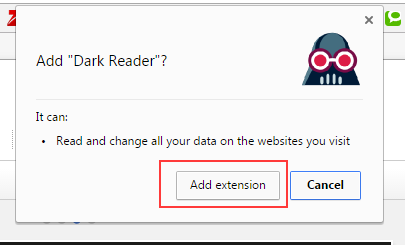 Step 3. Once installed you need to click on the Extension and you will see the screen like below.
Step 4. You can set everything according to your wish like Brightness, Contrast, Grayscale, Sepia. You can even set fonts too.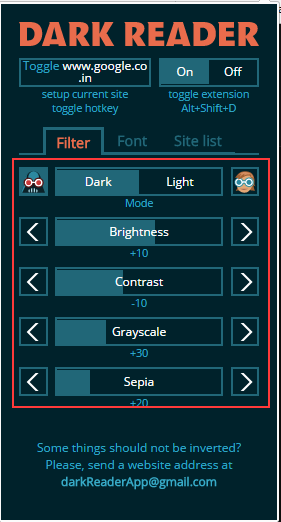 Step 5. After setting up all the things, you will get to see the screen like below. This extension can even change the look of Facebook.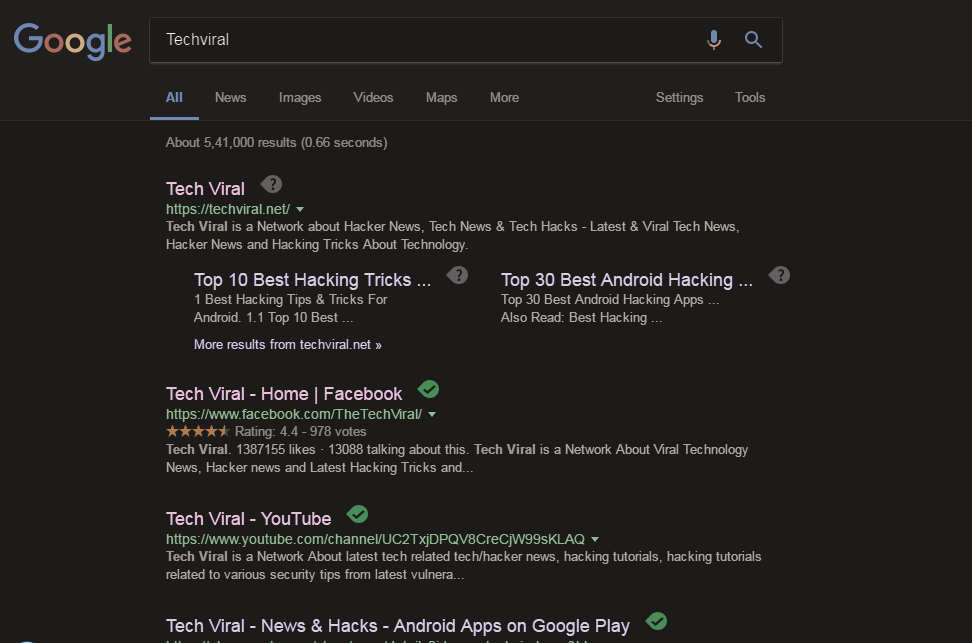 So, this is how you can invert all you browser color and make them perfect to work at night.
Using Turn Off The Lights
Well, turn off the lights is another best Google Chrome Extension which you can use to enable the night mode. Turn Off the Lights is a lightweight and useful add-in designed for a more comfortable watching experience.
Step 1. First of all, you need to add Turn off The Lights extension on your Google Chrome Browser.
Step 2. Now it will ask you to add the extension. Simply, click on Add Extension to continue.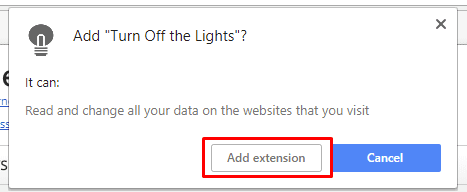 Step 3. Once done, you will see 'Turn Off The Lights' icon on your extension bar. You need to right click on it and then click on 'Option'
Step 4. Now from the right-hand side menu, you need to tap on 'Night Mode' and then enable the first option.
Step 5. Now whenever you want to turn on the night mode, simply click on the extension.
That's it, you are done! This is how you can download and install Turn off the lights on your Google Chrome browser.
Similar Extensions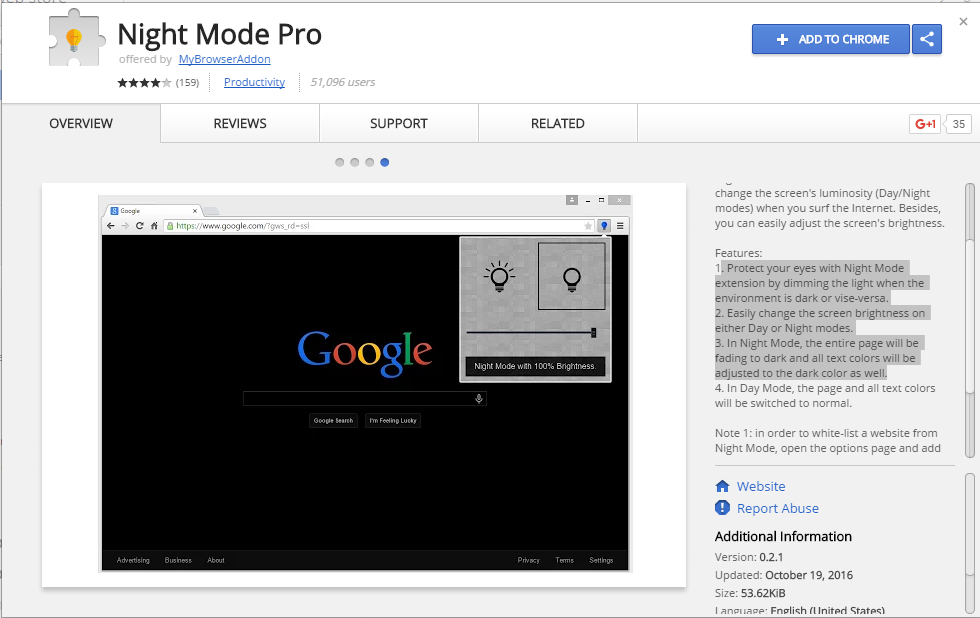 Night Mode Pro is a Chrome extension to change the screen's luminosity (Day/Night modes) when you surf the Internet. Besides, you can easily adjust the screen's brightness.
Features:
Protect your eyes with Night Mode extension by dimming the light when the environment is dark or vise-versa.
Easily change the screen brightness on either Day or Night modes.
In Night Mode, the entire page will be fading to dark and all text colors will be adjusted to the dark color as well.
High Contrast lets you browse the web with your choice of several high-contrast color filters designed to make it easier to read the text. It is the perfect extension if you need to browse google chrome at night.
Night Screen Extension for Google Chrome is a night mode tool for manual change the screen's mode (Day/Night) when you surf the Web. If you are looking for a one-click tool to change the screen theme this is the best extension for you.
If you have an eye problem, then Night Mode chrome extension is the best option for you. Night Mode is a chrome extension that will let you change the screen contrast when you surf the web.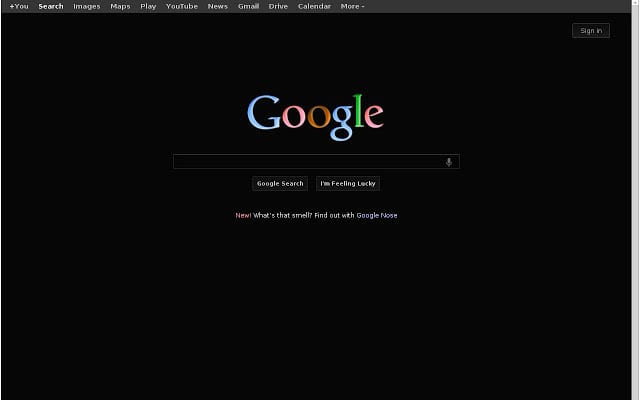 Invert the brightness of the web without changing the colors! Useful as a night mode to darken most bright websites. This extension doesn't ruin the images by blowing out the contrast or changing the colors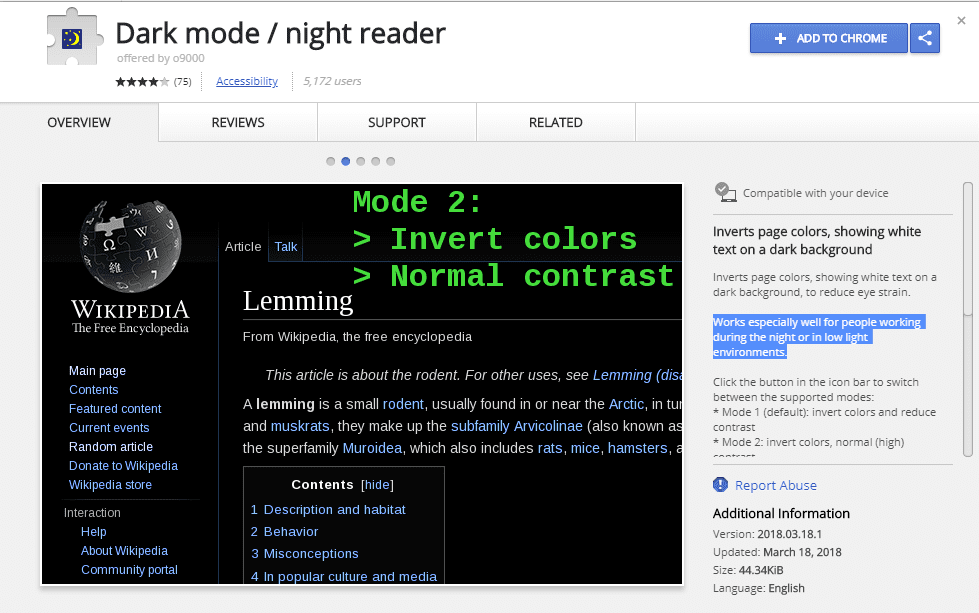 This awesome Google chrome extension inverts page colors, showing white text on a dark background, to reduce eye strain. Works especially well for people working during the night or in low light environments.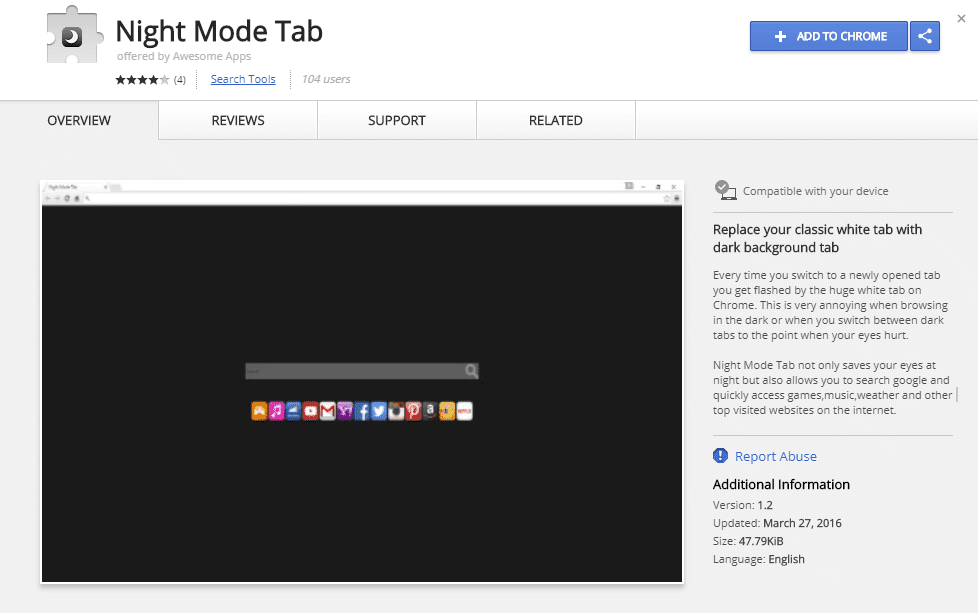 This Google Chrome extension replace your classic white tab with dark background tab. Night Mode Tab not only saves your eyes at night but also allows you to search google and quickly access games, music, weather and other top visited websites on the internet.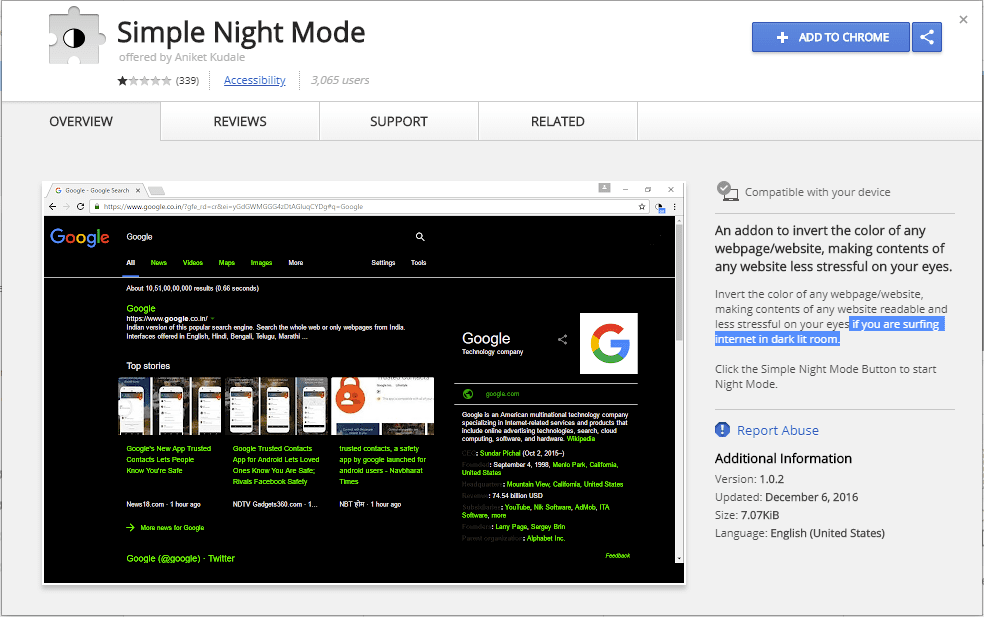 This is an extension to invert the color of any webpage/website, making contents of any website less stressful on your eyes if you are surfing the internet in dark lit room. This is a must-have extension for your Google Chrome browser
Dark Mode is a browser add-on that helps you quickly turn the screen (browser) to dark at night time. Toolbar button serves as an ON|OFF switch which enables you to easily and quickly turn the extension ON or OFF.
So above is all about How To Use Night Mode Browsing In Google Chrome. With these, you can comfortably browse at night without affecting your eyes badly at night with the white blinding light of your browser and also enjoy the cool browsing experience at night. Hope you like this effective trick, don't forget to share it with your friends and leave a comment below if you have any related queries with this.
AUTHOR