If you have been using an Android-powered smartphone for a long time, you must be bored watching the same font style every time.
The default font for Android is pretty good and easier to read, but if you think you need to change, it's time to change. In some android devices like Samsung devices, there is an inbuilt feature to change the font.
However, this only sets a single font everywhere. But what if you can set up your handwriting as your android font? Yes, it's possible; you can do this on your android device. And that too, very easily.
Steps to Use Your Handwriting as System Font in Android
The method is quite simple, and you will first have to create the font of your handwriting and then set those fonts to your device. So follow up the below steps to proceed.
1. First of all you need to visit the website http://www.myscriptfont.com/.
2. In this website you need to download the template as Pdf or Png and Print It.
3. Now fill out the form using the black pen and then you need to scan the page in (600x300dpi).
4. Even you can use the app CamScanner which will scan documents.
5. Now upload the scanned document and give any name to your font.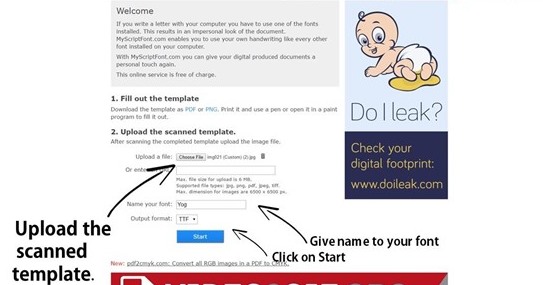 6. Now simply click on start button and you need to wait till it generates .tif file and you need to download that file and place it in your sdcard.
7. Now you need a rooted android and if your don't have then simply follow the Guide to Root Android.
8. In your rooted android download the app iFont(Expert of Fonts).
9. Now simply click on "My Font" Ttab there and then click on "Click This",
10. Now simply navigate to location to your .tif file and then simply click on set option there and then the process will start.
Thats it you are done, now the font will get set to your android, enjoy the cool font on your device.
So this is about How to Use Your Handwriting as System Font in Android. Use the guide and set the cool font of your handwriting on your android device. So must try this out today. I hope you like the guide; keep on sharing with others too. Leave a comment below if you have any related queries about this.