We will find that many users possess a routine to monitor the weather daily if we look around. You will find people planning for upcoming events after watching the weather reports. Those days are gone when we have to rely upon the Television and Radio to know the weather reports. These days we can get the weather forecast from our smartphones also.
If we talk about Android, there are plenty of weather widgets available on the Google Play Store that can provide you with accurate weather reports of any particular day or time frame. These widgets reside on your home screen and let you see the weather information at a glance without opening any other app.
Also Read: 10 Best & Fastest Android Apps To Transfer Files Wirelessly
List of 10 Best Free Weather Widgets For Android in 2021
This article will share some of the best weather widgets for Android that you can use today. It's worth noting that there are plenty of weather widgets available on the Google Play Store, but only a few of them are worth your time and attention. So, let's check out.
1Weather is one of the best and most popular Android weather app available on the Google Play Store. You won't believe it, but millions of users now use the app to know the weather reports. The great thing about 1Weather is that it brings in a wide range of widgets to choose from according to your taste. On 1Weather, you can choose from circle to square widgets available in different sizes. Apart from that, users can also customize the color, transparency, and opacity of the widget.
Weather Live is another top-rated Android weather widget available on the Google Play Store that millions of users have now used. Just like 1Weather, Weather Live also provides users a wide range of widget options. Weather Live also has a feature that covers the entire screen with current weather conditions. Apart from that, Weather Live also allows users to customize the widgets like adjusting the transparency, colors, opacity, etc.
From weather updates to today's temperature, AccuWeather can keep you updated with all major weather events. If we talk about the weather widget feature, AccuWeather provides users only four options. However, the app offers users far more controls to the widgets than any other app listed in the article. For instance, you can set the refresh interval, time or date, temperature, theme, text color, opacity, etc.
Well, Yahoo Weather is not a very popular Weather widget app, but you will surely love the app if you are a Yahoo fan. Yahoo Weather provides users seven different widget options to choose from. The great thing about Yahoo Weather is that it uses a random Flickr photo as a widget background. Apart from that, the weather widget shows temperature, current weather conditions, and lots of other necessary weather details.
This weather widget app for Android comes directly from The Weather Channel. The app offers five separate full-fledged weather widgets. All of the widgets were available in different sizes. However, the only downside of the app is that you can't customize the widgets. By default, the widget shows the current weather, hourly forecast, and a few other details.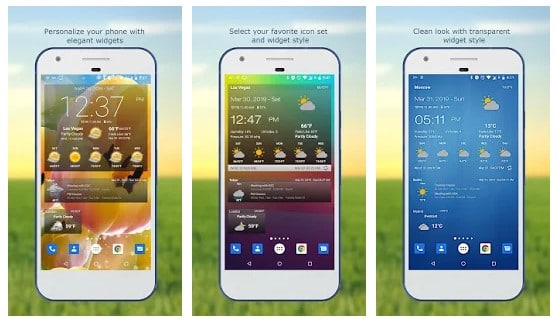 When it comes to the best weather apps for Android, Devexpert.NET has the best apps. Weather & Clock Widget from DevExpert also brings an excellent and useful choice of widgets for both the weather and the time. It's a free app, and it offers different widgets for different pieces of information. For instance, you can choose a widget to show humidity, wind direction, pressure, sunrise/sunset time, etc.
Simple weather & clock widget is one of the simple and lightweight weather app available for Android devices. It adds a simple-looking weather and clock widget on your home screen. If we talk about customization, the app allows you to change widget background color and transparency.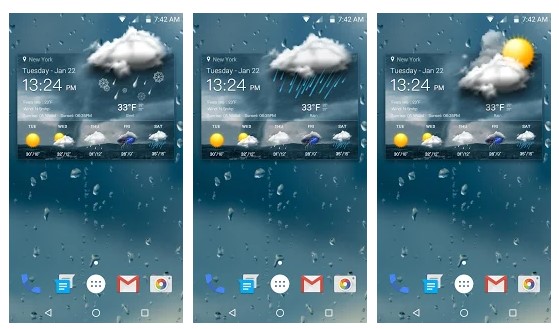 Well, it's an app from where you can grab daily and hourly weather forecast reports. The app also offers a few customizable weather and digital clock widget that could change your home screen's look. The weather widget can display radar information like forecasts, sunrise time, sunset time, etc.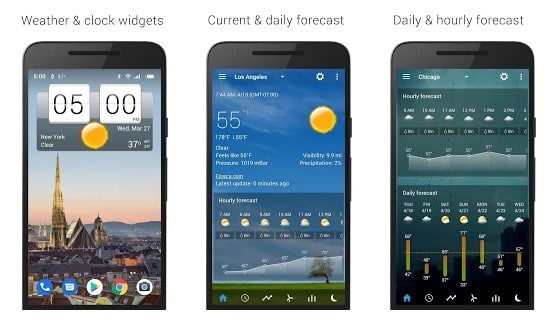 If you search for a full-featured, fully customizable weather forecast and digital clock widget for your Android smartphone, then Sense Flip Clock & Weather could be the best one. The widget app for Android provides users three different-sized weather and clock widgets. What's more useful is that you can add components on the widgets like alarms, automatic weather updates, sunrise and sunset time, humidity, etc.
10. GO Weather
GO Weather is a free weather app for Android, known for its accurate current and future weather information. The app brings in lots of beautiful widgets and live wallpapers. From the weather widget, you can view weather information like precipitation, UV index, humidity, visibility, pressure, etc.
So, these are the ten best Android weather widgets that you can use right now. If you know any other such widgets, let us know in the comment box below. I hope this article helped you! Please share it with your friends also.