Recently, Whatsapp has announced many new features, like adding up to 512 participants in the group. Also, it has increased the limit of sharing files up to 2GB from 100MB.
The instant messaging app is now developing a new feature for Whatsapp Group. Whatsapp plans to add an option for group participants to exit the group chats silently.
Currently, when any participant leaves a group, an in-app notification informs all the group members. So, with this upcoming feature, only group admins will be notified if any participant has left the group.
Soon You Can Silently Exit Whatsapp Groups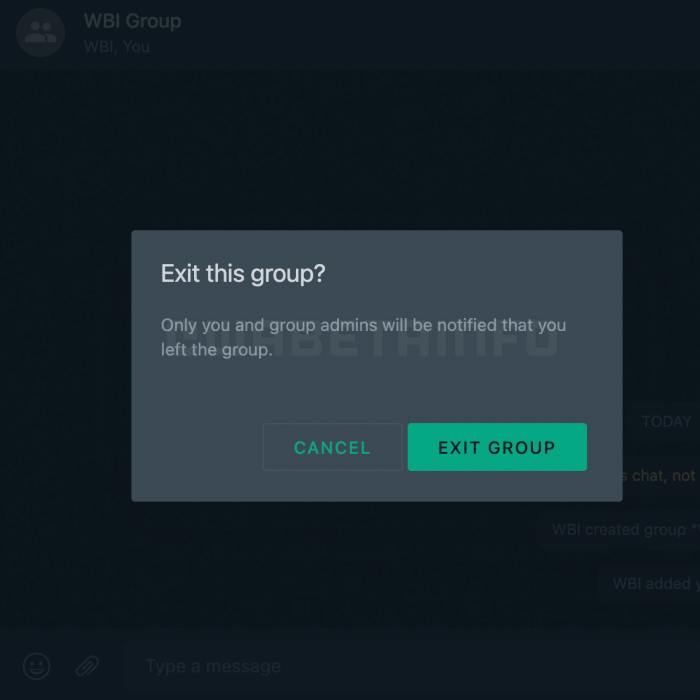 WABetaInfo has shared a screenshot that shows a message to a user before they exit the group. The message will read, "Only you and group admins will be notified that you left the group." This message will appear to the users who are exiting the group.
It is important to indicate to group admins if any member is leaving the group. As they should know the list of members and should be updated on what's going on in the groups.
Moreover, it is said that the screenshot shows the feature is being developed for the Whatsapp Desktop beta. This feature will arrive in a beta version for Android and iOS in the future.
However, the feature is still under development, which is why there is little information available. It is said that the feature is currently being developed for both Android and iOS versions.
Whatsapp has announced the Communities feature aiming to bring people into separate groups under one roof. In this way, everyone can receive updates easily.
Apart from this, the Meta-owned messaging app is also working on adding rich link previews for status updates. This feature will generate a rich preview link by adding more details to the shared link.
In simple words, there will be a clickable preview of the link shared in the status. This feature is not yet rolled out; it is expected to arrive sometime soon.