The instant messaging apps keep getting updates in regular intervals. Here we are going to share five such updates that Facebook-owned WhatsApp got recently. Read out the post to discover the new features
5 *NEW* WhatsApp Features You Should Know About
The leading application in instant messaging is constantly being updated to be with the trends and demands of the users. Over the past few months, we have seen some of the new features introduced by the WhatsApp.
The instant messaging apps keep getting updates in regular intervals. Here we are going to share five such updates that Facebook-owned WhatsApp got recently.
#1 Pinned Chats
The instant messaging application WhatsApp now allows you to pin your favorite chats at the top of the main window. You just need to long press the chat and you will see the 'Pin' icon located on the top.
This functionality allows users to pin a maximum number of 3 chats to the top.
#2 Two Step Verification
Whatsapp had recently rolled out the two-step authentication for Android, iOS and Windows users. This step adds the extra layer of security. This two-factor authentication feature prompts a user for a static six-digit passcode every time you register any new phone to the existing account.
If you want to know how to activate the two-step verification feature then you need to go through this link.
#3 Siri can read your WhatsApp messages
This feature actually comes in Version 2.17.20 of the app and it needed iOS 10.3 or later to work. Siri is Apple's voice assistant and it can read your WhatsApp messages aloud.
#4 Text status is back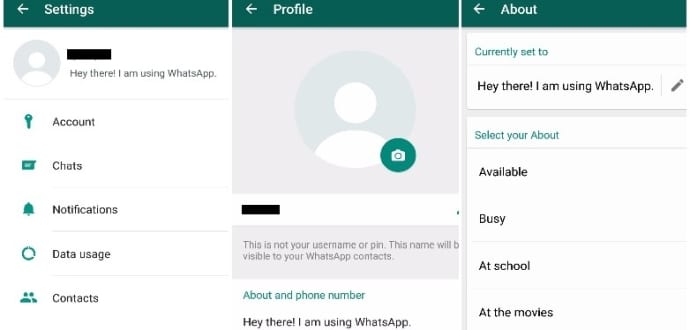 Instant messaging app WhatsApp brings back the text status feature to all Android users. Well, the feature is now called "About and phone number" which users can access by going to their profile tab into settings.
#5 New Video-Call Button
Well, users needed to tap on the call button first and then choose between voice and video calls. However, the new update adds the separate button for Voice and video calls. This makes it easier to initiate calls.
So, these are the five best new features that Facebook-owned WhatsApp got recently. If you have something to add, tell us in the comment section below.