Microsoft on Thursday released a new version of Windows 11 in the Dev channel for Windows Insiders. The new build number is 23493, which includes some of the biggest releases, such as Windows Copilot Preview, a new Settings homepage, native support for RAR, 7-Zip, a new volume mixer, and more.
Windows 11 Build 23493 Brings Copilot, RAR, & 7-Zip Support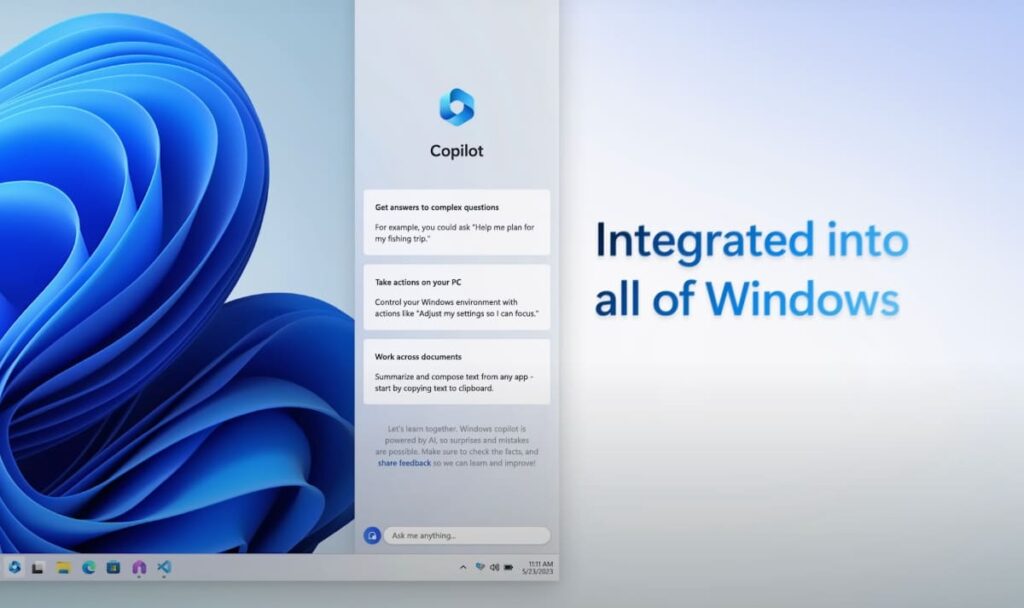 Let's have a look at what's new in Build 23493:
Windows Copilot Preview
Back in May, at its Build developer conference, Microsoft introduced Windows Copilot for Windows 11 – the first PC platform to provide centralized AI assistance designed to help people easily take action and get things done.
To try out the Copilot feature, you must run Windows Build 23493 or higher in the Dev Channel and Microsoft Edge version 115.0.1901.150 or higher.
To launch the feature, click the new "Copilot" button on the taskbar or use the WIN + C keyboard shortcut. Windows Copilot will use the same Microsoft account (MSA) or Azure Active Directory (AAD) account to sign in to Windows. It will appear as a sidebar docked to the right-hand side of Windows 11.
"It won't overlap with your desktop content and will run unobstructed alongside your open app windows, allowing you to interact with Windows Copilot anytime you need," said the Windows team in a blog post. "Windows Copilot with Bing Chat generates responses that are contextual and improves your experience in Windows."
In this first, early preview, you can ask the AI-powered Windows Copilot a range of questions or request actions such as:
"Change to dark mode."
"Turn on, do not disturb."
"Take a screenshot"
"Summarize this website" (Active tab in Microsoft Edge)
"Write a story about a dog who lives on the moon."
"Make me a picture of a serene koi fishpond with lily pads."
Since this is an early preview, Windows Copilot isn't wholly operational. For instance, Windows Copilot has a basic set of Windows settings plugins but no third-party plugin support yet.
Microsoft says it will add features over a period of time as it refines the Windows Copilot experience with Windows Insiders.
New Settings Homepage
The Build 23493 also introduces a new homepage in Settings that offers you a dynamic and personalized experience. It provides an overview of your device, quick access to key settings, and helps manage your Microsoft account.
The company has also created interactive cards representing various device and account-related settings grouped by commonly accessed functions.
Here's an overview of each card:
Recommended settings: This card adapts to your specific usage patterns, providing timely and relevant settings options. It is designed to streamline your settings management and save you time.
Cloud storage: Gives you an overview of your cloud storage use and lets you know when you're nearing capacity.
Account recovery: This helps keep your Microsoft account more secure by helping you add additional recovery info so you never get locked out of your account, even if you forget your password.
Personalization: This brings customization to the forefront by offering one-click access to update your background theme or change your color mode.
Microsoft 365: Provides a quick glimpse of your subscription status and benefits, along with the ability to take some key actions right in Settings instead of going to the web.
Xbox: Like the Microsoft 365 card, you can view your subscription status and manage the subscription from the Settings app.
This release includes seven cards, but the company plans to add more in future releases.
Backup And Restore
Starting on the Windows 11 build 23493, you will see pins for your desktop app restored on the taskbar and Start Menu, including desktop apps not installed from the Microsoft Store.
Further, you can click on the app pin to restore your desktop apps available in the Microsoft Store. For apps unavailable in the Microsoft Store, you will be directed to the web to download the installer.
Native Support For RAR And 7-Zip
This build adds native support for reading additional archive file formats using the libarchive open-source project, such as ".tar," .tar.gz," ".tar.bz2," ".tar.zst," ".tar.xz," ".tgz," .tbz2," ".tzst," .txz," .rar," and ".7z" archival file formats from File Explorer.
New Volume Mixer Experience In Quick Settings
Windows 11 introduces a new enhanced volume mixer in Quick Settings. The updated audio quick settings experience brings a modern volume mixer that allows for quick audio customization on a per-app basis, with additional control to swap devices on the fly.
Also, a new keyboard shortcut (WIN + CTRL + V) has been added to open the volume mixer for faster control of the experience.
In addition, the development team has made enabling the Windows Sonic experience more manageable with a quick access list of installed spatial sound technology. You can visit the Microsoft Store to find additional spatial sound technology to choose from, such as Dolby and DTS.
Narrator Natural Voices In Japanese And English (Great British)
Build 23493 also introduces new natural voices in Japanese and English (Great British), allowing Narrator users to browse the web and read and write mail comfortably.
Snap Layouts
In this build, Windows 11 adds suggestions in Snap Layouts to help you instantly snap multiple apps together. When hovering over the "Minimize" or "Maximize" button on an app (or WIN + Z) to launch the layout box, you will see app icons displayed in various layout options to help recommend the best layout option that works best.
Besides the above features, Build 23493 brings several other changes and improvements. You can read the blog post here to learn about the complete list of changes and known issues.