During the WWDC 2022 keynote presentation, Apple announces a significant update to WatchOS. The upcoming watchOS 9 upgrades list contains new watch faces, medication apps, etc.
This upcoming big update in its wearable operating system will also bring new features and enhance the performance of the previous workout apps integrated with the iPhone.
What's New in WatchOS 9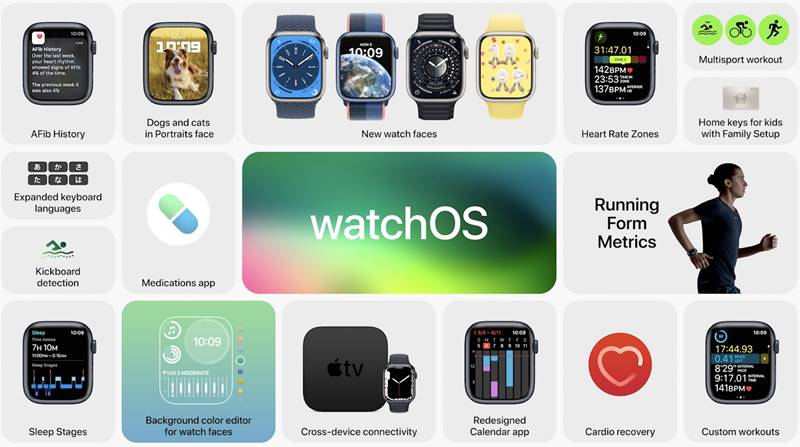 Let's discuss every new feature and upgrade coming to WatchOS 9 that can improve users' experience with the Apple Watch series.
Workouts
The workout app launched by Apple is a fascinating update for users. It tracks heart rate zones while running and doing exercises to measure the intensity of the workout.
Now, users can easily create custom workouts or multisport workouts. Moreover, this update is helpful for athletes, and they quickly shuffle between different exercises.
New Watch Faces
The update brings some complication to the existing watch faces and also add four new watch faces:
Lunar
Playtime
Metropolitan
Astronomy
These watch faces provide the depth effect on photos and focus on the selected one.
Fitness
The update brings a fitness app that helps users get more workouts such as Cycling, Rowing, treadmills, and others. Users will get the workout sessions for fitness.
Medications
The medication app is the new tracking app for watches or iPhones announced by Apple. This app allows the users to scan medicine in the medical labs and many more.
Sleep
Apple adds a new feature of sleep tracking, which detects sleep stages to measure the level of sleep. You can track your sleeping level through the sleeping app and get further details through the Health app.
More Features
Some other features added by the updates include:
WatchOS 9 got a new feature of FDA-cleared AFib history to information regarding AFib. Users will get a soft notification to get details about their health.
Redesign calendar app
Redesign notifications
New Quick actions
New APIs
QWERTY keyboard
Home key access for kids
Apple Watch mirroring
Kickboard detection for workout
Availability
In July, watchOS 9 Beta will be available for the public. This software update will be supported with Apple Watch Series 4 or later and for iPhones that run iOS 16, which means iPhone 8, or later including iPhone SE (second generation).