Photos that you click from your smartphone cameras could be precious. These pics are often pretty valuable, and we don't want to lose them at any cost.
However, it's pretty much possible for everyone to lose their important pictures while performing any deletion operation, junk cleaning, or cache removal. Therefore, it's always recommended to have a photo backup up.
There are a few easy storage options, like Cloud storage, to prevent your photos and data from deleting by any mishap on your Android device.
Also Read: How to Change Google Photos Backup Quality On Android
10 Best Apps to Sync & Upload Photos from Android to Cloud Storage
Almost all popular cloud service providers now have a dedicated app for Android that can back up important files to the cloud storage.
So, in this article, we will list the few best Android apps to sync and auto-upload photos from Android to cloud storage.
Well, Google Photos is the default photo management app for Android devices. The app was developed by Google for Android users.
The app is a one-stop solution for viewing, editing, and uploading photos to cloud storage. In addition, it automatically creates a backup of every image on its cloud storage.
However, recently Google ended the plan by offering free unlimited Google Photos storage. Every photo you upload to Google Photos is counted towards the free 5GB offered in every Google Account.
This is another best app on the list that allows users to upload their data and photos to the cloud.
All the photos you upload on OneDrive were synced across all connected devices. You can access the uploaded pictures on any device via Microsoft Onedrive's app or web version.
You can configure the auto-upload pane of the app to schedule the upload dates. However, OneDrive gives only 5GB of free disk space, which is insufficient to store images.
If you are searching for an Android app to auto backup your messages, contacts, call logs, documents, settings, photos, etc., to the cloud platform, then you need to give G Cloud Backup a try.
Compared to other apps, G Cloud Backup offers more features. However, the free version of the app only offers 1GB of cloud storage space.
You need to use the web version of G Cloud Backup to access your saved data. You can access its web version from the URL: http://www.gcloudbackup.com
Well, pCloud is a free cloud storage app on the list that provides you with 10GB of free cloud storage. You can use that 10 GB of space to store unlimited photos and videos.
The good thing about pCloud is that you can backup photos and videos from your phone with the automatic upload option.
Since pCloud is a cloud storage service, you can access your saved files from any device. If you want to have your files on your desktop, you can use the web version of pCloud.
To use this service, you need to register yourself on Amazon Prime. With a Prime subscription, you could access the services Amazon Photos and Amazon Video, which are differently made for the particular function of uploading Photos and Videos.
However, in Amazon Photos, users get limited storage capacity. The free account allows you to store up to 5GB of photos and videos.
The great thing about Box is that it allows users to store, manage, and share files, photos, videos, and documents with 10GB of free cloud storage. With the Box Android app, you can access your content online, from your desktop, and on your phone or tablet.
The good thing about Box is that it supports over 200+ file types, including PDF, Word, Excel, AI, and PSD. Additionally, you can view and print these file types as well.
Well, Amazon Drive is not precisely an auto-sync app. Still, it provides Android users easy access to the documents, music, photos, and videos stored in Amazon Drive.
Not only that, but you can also use Amazon drive to upload photos, videos, and other file types right from the Android device as well.
Most of the new Android smartphones already have this app pre-installed. Dropbox specializes in features like auto-upload photos, easy sharing, etc.
What's more interesting is that Dropbox also got Microsoft Office support. That means it can deal with Microsoft Office files as well.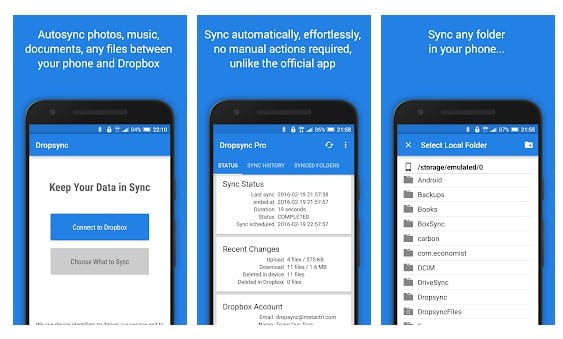 If you are searching for ways to backup your photos and files with Dropbox Cloud Storage, then Dropsync might be the best pick for you. Dropsync is one of the best and ideal photos, document, and file sync tools.
The great thing about Dropsync is that it features two-way automatic synchronization of files and folders. Not only that, but Dropsync also provides users with many manual sync modes.
If you live in India and use Jio telecom services, JioCloud might be the best pick to store your files. JioCloud is a cloud storage app to backup photos, videos, documents, audio, contacts, and more.
Guess what? JioCloud provides you with more than 50GB of free online storage. You can also join the refer & earn program to unlock some more storage.
So, these apps will automatically upload and sync your Android photos to the cloud storage. If you know of other such apps, let us know in the comment box below. I hope this article helped you! Please share it with your friends also.