[dropcap]L[/dropcap]et's have a look at the guide that will help you to add Face Unlock feature on any android phone using one cool third-party app that will add this also to your android screen lock security. So have a look at complete guide discussed below to proceed.
[dropcap]T[/dropcap]he only reason why we love using Android operating system is the custom things that it supports as from cheap to high budget phone you can add lots of features just using the third party apps that are now available in the market. There are tons of apps that are there in the market that make your interaction with this OS smoother. SEven I keep on writing the new guides by which you can add that custom features on your android phone. And today I'm again here with one cool trick that you gonna love for sure. You must be aware of Face unlock feature that mostly comes in costly smartphones like iPhone X etc.
But sometimes we are not able to but such gadgets that is why I'm writing this guide that will allow you to add that Face Unlock feature in any of your androids and that too using one simple app that will help you to add this feature in your system settings.As this app is designed for the purpose to add one extra algorithm in your android that will allow your device to get unlock when it scans your face in the camera while unlocking. And you just need to have a look at the method that we explained below.
How To Add and Use face Unlock Feature on Any Android
The method is quite simple and straight and you just need to install the app that we are going to share in the steps, activate it on your device and let it to changes the system settings to add this cool feature in your Android and then you can use it right away. So follow the below steps to proceed.
Also Read: 10 Best Google Play Store Alternatives for Android 2019
Steps To Add and Use face Unlock Feature on Any Android:
#1, First of all, you need to download and install the app IObit Applock: Face Lock & Fingerprint Lock 2019 on your android phone, you can directly download this from the trusted store that is Google Play Store.
#2 Once it is installed a tap on it open it and you will see it will ask for default pattern or Pin for the security purposes.
#3 Now on the next screen you will ask for the thing to lock and unlock like you-you should unlock the screen lock so that this app can use access the screen and lock the apps that you want to lock.
#4 Once this is taking process it will ask for the permission that this app requires writing on system permissions, please provide all the necessary permission.
#5 Now on the top left of the app click on the three lines button and select Face unlock option and you will app will start downloading Face unlock database to start it.
#5 Once it is done you need to add your face to the screen and it will take some time to process your face and get it stored in the database.
#6 Once that is done you need to select the apps that you want to lock using the Facelock feature.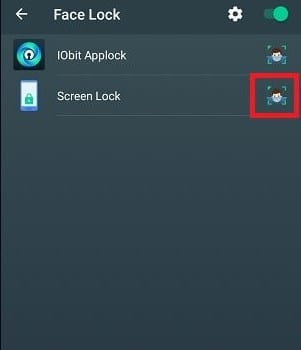 #7 That's it you are done, now the Face unlock feature is added to your Android and now you can use this in the selected app to unlock them smartly.
So above guide was all about how you can use this third party app to add Face unlock feature in any of your android phones, Simply use the app to lock the specified apps with your face that will be detected by the app. Hope you like the guide, dos hare it with others too. leave a comment below if you have any related queries with this as the technical team will be always there to assist you.