Ads are something that can completely ruin your web browsing experience. Lots of app developers rely on ads to generate revenue. Well, ads don't cause much harm; expect it ruins your web browsing or app experience. However, a few types of advertisements can damage your device. These ads were classified as 'Adwares'
Adwares usually enter your smartphone or computer without your consent. Once entered, it bombards your device with ads. Sometimes, adware also attempts to install malicious scripts on your web browser. You can easily remove adware from a computer, but things become problematic for Android.
Also Read: 10 Best Free Malware Removal Tools for Windows 10
List of 10 Best Adware Removal Apps For Android
If we talk about Android, plenty of Adware removal apps are available on the Play Store. However, not all of them were effective. This article will share a list of the best adware removal apps for Android. With these apps, you can easily find and remove hidden adware from your Android smartphone.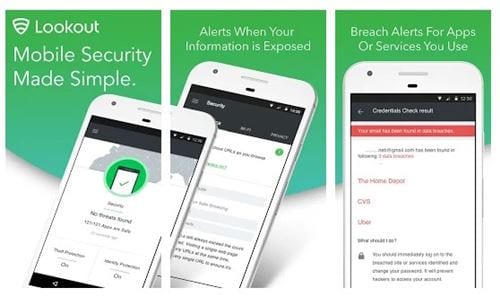 Lookout Mobile Security is one of the leading mobile security & Antivirus apps on the list that provides mobile security and identity theft protection features.
With Lookout Mobile Security, you can easily protect your Android device from viruses, malware, adware, and spyware.
The over-the-air antivirus protection of Lookout Mobile Security effectively scans your system and finds hidden viruses, malware, spyware, adware, and other malicious files.
If you are looking for an easy-to-use and lightweight security app for your Android, look no other than BullGuard Mobile Security.
The powerful antivirus engine of BullGuard Mobile Security flags up infected apps, adware, and trackware. It also finds an app that impacts the battery life of your device.
Avast Antivirus is one of the leading security tools for Windows 10 operating systems. The antivirus is also available for Android. Once installed on Android, it protects your device against viruses and every other type of malware.
Apart from the antivirus tool, Avast Antivirus offers a few other useful tools like an App locker, Photo Vault, VPN, RAM Booster, Junk Cleaner, Web Shield, WiFi speed test, etc. Overall, it's one of the best security apps to remove adware from Android.
It is a powerful Android security app on the list which can remove malware, adware, spyware from your device.
The best thing about Kaspersky Mobile Antivirus is its background check feature that scans on-demand and in real-time for viruses, ransomware, adware, trojans. Not just that, but Kaspersky Mobile Antivirus also brings Find my phone, Anti-theft, App lock, anti-phishing features as well.
Malwarebytes Security is one of the most advanced anti-malware apps you can use on Android. The app automatically blocks scams and protects your privacy. It also effectively scans and removes viruses, malware, ransomware, PUPs, and phishing scams.
When it comes to adware cleaning, it searches all files and apps stored on your device to find potential malware, PUPs, adware, and more. Millions of users now use the app, and it's one of the best in the security section.
The security app helps protect your Android phone against threats like malicious apps, fraud calls, theft, etc. The adware removal tool is not present in the free version of Norton security.
Still, if you purchase the premium plan, you can avail of some extra features like Wifi security, real-time alerts, web protection, adware removal, ransomware protection, etc.
Well, Popup Ad Detector is not a security tool, neither it's an adware cleaner. It's a simple app that runs in the background and indicates which app is causing pop-up ads.
If your phone has adware, you will possibly find pop-up ads everywhere, and Popup Ad Detector solves all those problems for you. Once installed, it adds a floating icon on your screen. Whenever an ad pops up, the floating icon indicates which app the ad is originated from.
MalwareFox Anti-Malware is a relatively new anti-malware app available on the Google Play Store. The Google Play Store listing for MalwareFox Anti-Malware claims that the app can remove viruses, adware, spyware, trojans, backdoor, keyloggers, PUPs, etc.
The scan results are fast, and it's definitely the best adware removal app that you can use right now.
AppWatch is pretty much similar to the Popup Ad Detector app listed above. Once installed, it runs in the background and actively tracks every ad pop-up.
Once it detects an ad pop-up, it tells you about the app that showed the annoying ads. The app is pretty lightweight, and it doesn't affect the performance of your device. It's also a free app, but it is ad-supported.
It is one of the best and top-rated Android security app available on the Google Play Store. The great thing about AppBrain is that it can detect all annoyances of apps installed on your phone like Push Notifications, adware, icon spam ads, etc.
It scans through every apps and process that's running on your smartphone and lets you know the culprit. The app is pretty much similar to the AppWatch listed above.
You can use these free Adware removal apps to remove hidden adware from your device. I hope this article helped you! Please share it with your friends also. Also, if you know of any other such app, please let us know in the comment box below.