If you are using an Android, you don't have many options to find apps tracking your personal information and browsing habits. The apps you install from the Google Play Store or third-party app stores can track your personal information, even when not using your smartphone.
On Android 12, you get a Privacy Dashboard that can help you secure your privacy, but it won't tell you which apps are tracking your personal information via trackers.
To deal with all such app tracking & privacy issues on Android, DuckDuckGo has added a new feature to its web browser called 'App Tracking Protection'. Hence, in this article, we will discuss the 'App Tracking Protection' feature of DuckDuckGo and how you can use it.
What is App Tracking Protection of DuckDuckGo?
In short and simple words, App tracking protection for Android is a free feature of DuckDuckGo privacy browser that blocks trackers it identifies in other apps from third-party companies.
Once enabled, the feature will detect when your Android apps are about to send data to third-party companies found in the app tracker dataset of DuckDuckGo. It runs in the background and continues to block the detected trackers.
Enable & Use App Tracking Protection on DuckDuckGo
If you are interested in enabling and using this feature on your Android, you need to follow some simple steps shared below. Here's what you need to do.
1. First of all, launch the DuckDuckGo browser on your Android. Next, tap on the three dots and select Settings.
2. On the Settings page, scroll down and tap on the App Tracking Protection option and join the waitlist.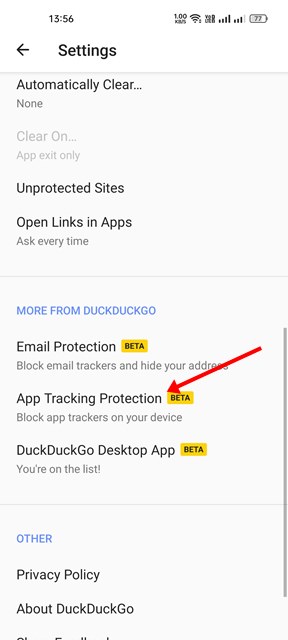 3. Once you join the waitlist, you need to wait for a few hours or days to get an invite. Tap on the invitation banner and tap on the Get Started button. You will get a notification when you receive the invitation.
4. Now, the app will guide you on using the feature. Tap on the arrow button to skip the on-screen instructions.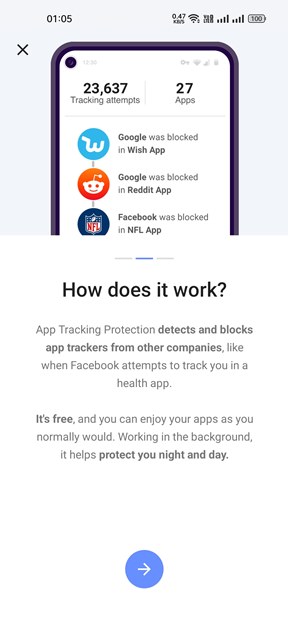 5. On the Who Sees your data? screen, turn on the 'Enable App Tracking Protection' option.
6. Now, you will see a prompt asking you to create a VPN connection. Tap on the Allow button.
7. Once done, tap on the View app tracking summary button.
8. Now, you will be able to see the complete App tracking protection. The app will list the trackers it had blocked in the past 7 days.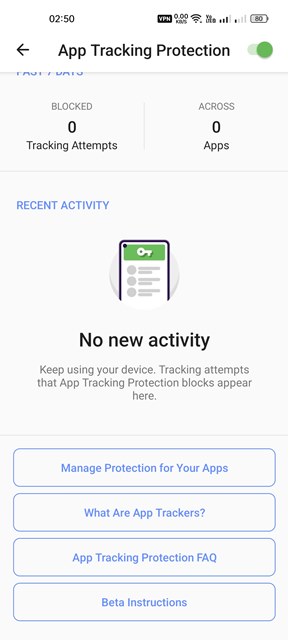 9. If you want to manage protection for apps individually, tap on the Manage Protection for Your Apps button, as shown below.
10. On the next screen, you need to enable or disable the protection for your apps.
That's it! You are done. This is how you can enable and use the App tracking protection of the DuckDuckGo Privacy Browser.
So, that's all about enabling and using the App Tracking protection of DuckDuckGo. I hope this article helped you! Please share it with your friends also. If you have any doubts about this, let us know in the comment box below.