Apple announced the launch of a new 13-inch MacBook Pro at WWDC, having a demended Touch panel and glossy M2 processor which is the updated version of the M1 processor released in 2020.
At the WWDC event, Apple also launched the 13.6-inch MacBook Air it also powered by M2 chip and with redesign & Magsafe.
Apple MacBook Pro 2022: Specifications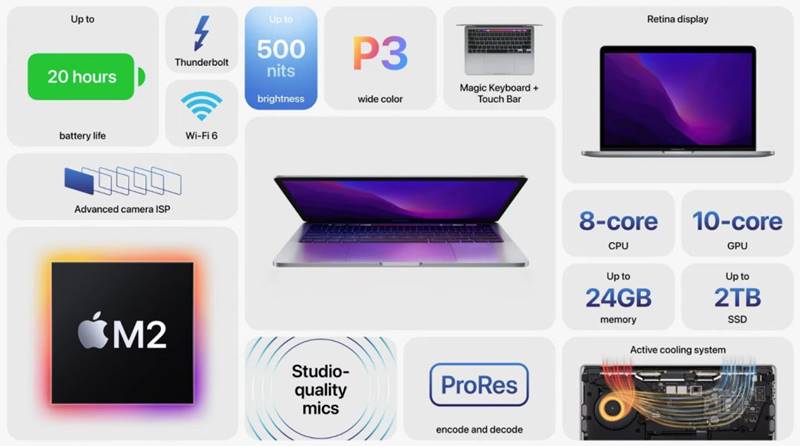 The M2 chip-powered MacBook is the second-gen of Apple after the M1 chip and has improved performance and capabilities than the latter. This MacBook Pro does seem to come with great changes.
Display
The display size of the new MacBook 2022 is 13 inches, but disappointment comes at the point when we move toward its design because new MacBook Pro has a similar design to its previous version.
Rumors were claiming that the Touch Bar display above the magic keyboard got some new functions.
Performance
As Apple stated "the M2 takes the industry-leading performance per watt even further with an 18 percent faster CPU, 35 percent more powerful GPU, and almost 40 percent faster Neural Engine."
Battery & Charging
The MacBook pro-2022 delivers a video playback of almost 20 hours. Its 20 hours of battery timing is exciting for Apple laptop users. MacBook Pro uses the USB-C charge cable and 61W USB-C power adopter.
It will slightly dim the display to save energy while using the battery power. Also, the MacBook Pro will choose the graphic mode according to your battery usage.
Functionality
The 13-inch MacBook Pro has 256GB SSD storage, up to 24GB RAM, Touch Bar and Touch Id, two thunderbolts and USB 4 ports, and a 3.0lb weight. It has 2TB minimum configuration storage and 8TB maximum configuration storage.
There is no change in ports, weight, and dimension. One only significant change to speak is its new M2 processor chip.
Availability & Price
The brand new 13-inch MacBook Pro 2022 will available to buy in July, 2022. As earlier we covered a report that "due to its China lockdown it production delayed" got in action.
The brand new MacBook pro M2 costs $1,299. While the MacBook Air costs $1,199. It is completely redesigned and is powered by a new M2 chip.