Although the shooting games are almost as old as the games themselves, the merit of the rise and fame of the Battle Royale genre can be attributed to PUBG. This survival game confronts 100 players in a battle where only one can remain. If you have just hooked up to the game or plan to do so, you should know the best weapons to start with. Discarding the worst and equipping well is essential to survive in the first phase of the game.
If you already come from a shooting game, or you are a war veteran of the Counter-Strike or some Call of Duty, you may get the chicken dinner at first. If you have also previously given shooter on your mobile, you will not have to get used to the touch controls, and it will be easier to start killing all the "noobs" that populate PUBG.
So, before going to recommend the best weapons of PUBG, you should remember these two tips that we consider vital to start playing.
Start the game with your partner
Ideally, it would help if you started playing cooperative games with someone you know who already hits the game. This is enormously helpful, as it can simply explain every part of the game and recommend the best places on the map, or you can follow your partner when jumping from the plane. If you do not have friends who play, you can always start a cooperative game with someone, and if you are lucky and a veteran, you will learn a lot in the first game only.
Always find isolated areas
If you are going to start alone, do not worry. In the beginning, you will see that people jump from the plane, wait, and jump when almost nobody is left and try to go to a remote and isolated area. So you can begin to familiarize yourself with weapons, open doors, run, take vehicles, etc. You can get in touch with the game in a remote area with fewer houses. Of course, aim and shoot down as soon as you see something moving.
Best weapons you should try in PUBG
AWM
It is not a weapon for anyone since it requires patience and aim. It is a sniper rifle par excellence and is preferred by those who prefer to wait crouching or lying down until something happens.
Consider dead if they give you a shot unless you are very well equipped or the shot is not very accurate.
Mini 14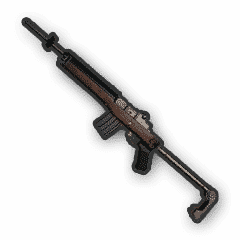 It is a semi-automatic rifle that supports many accessories and remembers the SKS but uses 5.56mm ammunition.
It is not very common to find it, but it is very harmful at close range and deadly when we equip it with an 8X zoom; hence, it is a weapon that is appreciated for its balance.
AKM
We are facing an improved version of the typical AK-47, which uses 7.62mm ammunition and inflicts more damage than other assault rifles.
As for accessories, it is identical to the M16A4 since it accepts a silencer, a telescopic sight up to 6X, and an extra charger. It is one of the best when we face someone at a distance.
S1897
A Winchester at close range, and your enemy will finish the game. It is a very common weapon in the game, hence, it is recommended to take it from the second weapon and change it when we enter buildings. It is not very fast, but a single accurate shot should suffice.
VSS Vintorez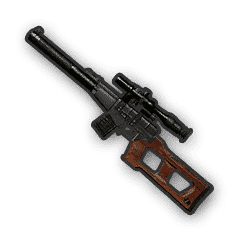 It's a sniper rifle less powerful than the AWP, but having a powerful suppressor and being much faster, make it a lethal weapon.
It is not suitable for targets at a great distance, but at a medium distance, it is deadly and can even save your life at close range if you learn to use it with ease.
P1911
One of the best pistols that we can use for short distances, as it has an exit speed of 250 meters per second. It can be equipped with a silencer and even with laser light.
Beryl M762
Beryl M762 is better at short to midrange due to its fast burst rate, as its recoil is simply too strong to control for continued fights at long range.
Skorpion
Skorpion is a pocket SMG gun that can knock out enemies at closer range with a shower of bullets, as it has excellent features like full auto firing mode. Hence, this excellent feature makes it one of the best pistols in the game.
UMP9
The UMP9 is a common drop that allows decent damage at close to mid-range and has both iron sight and recoil pattern. As in UMP9, you can apply all manner of attachments, making it even easier to use.
P18C
P18C is one of the best pistols you can find in the well-known battle royale game, of course, PUBG, as this excellent P18C pistol simply allows you to fire bullets rapidly. But many of you might wonder how it allows you to do so.
P18C comes with an extraordinary feature like auto mode. So, isn't it enough to make this pistol, of course, P18C, a great weapon in the most played and popular battle royale game, PUBG? Of course, it is enough to make it a great weapon.
But, apart from all these things, let's make one thing clear, this pistol will work like a charm on the targets at close range only, especially in the early game when all the players are less likely to be wearing body armor or helmets.
So, what do you think about this? Share all your views and thoughts in the comment section below. And if you liked this post, do not forget to share this post with your friends and family.