In today's world of technology, the smartphone makes our life more comfortable. There are thousands of Android applications available out there for a different use, but when it comes to finding the perfect app for a particular use, it becomes very confusing; you are loaded with thousands of similar apps.
List of 10 Best Android Apps That You Should Have
There are countless apps available on the Google Play Store; those applications make it challenging to find the perfect one; Below are the Best Android Apps you should have on your smartphone.
If you are using Android, the chances are that your phone might already have this app. Google Drive is a part of Google Workspace where you can store files.
It's basically a cloud storage service that offers you 15GB of storage space. You can use that 15GB to store as many files as you want for backup.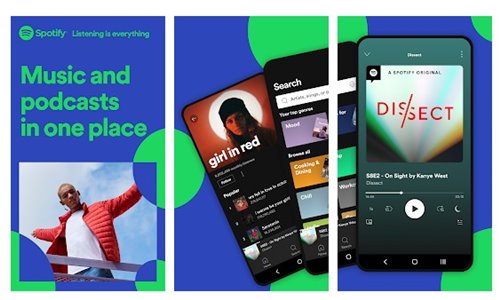 Spotify is a music streaming app that's right now used by millions of users. With Spotify, you can listen to music and play millions of songs and podcasts for free.
However, Spotify's free version shows lots of ads. Also, the superior sound quality is only available in Spotify Premium.
SHAREit is one of the most used Android applications; you will get this application on almost all smartphones; SHAREit allows you to transfer all types of files between two or more devices simultaneously.
SHAREit is available for different platforms; you can share files between Android, iOS, Windows & Mac operating systems. There is no size limit; you can share this file of any type and any size. SHAREit is entirely free.
In our college or office, we will take photos of different important documents and want them to be in sequence and transparent quality; in lots of conditions, we have to make the PDF of those Photos; Clear Scan will help you requirements.
Clear Scan will allow you to scan any document like the scanners; You can check it, make the PDF. Clear Scan is a freemium application; you can use its free version with limited features. If you want to upgrade, you can upgrade to premium.
We all have hobbies to take photos and update them on social media, but we always want to enhance them before uploading. Snapseed is one of the best and most used professional photo editing applications; Google owns this application.
Snapseed offers you a different tool to enhance your image; after some practice, you can edit the professionals' photos. You can also install Snapseed on PC with Android Emulator.
In today's world of the internet, everything depends upon the password. It's significant to choose a strong password to be safe from online hackers, but we usually forget the passwords.
LastPass Password Manager will help you manage all your passwords, notes, card details, address, and multiple other things. LastPass Password Manager is a freemium password manager, but their free version is sufficient for regular users. If you want, you can upgrade in the future.
Jio TV is a live video streaming application; It is a free-to-use app that allows you to watch hundreds of national and international TV channels live for free; you can view all the media in the preferred quality from 360p to 4K.
You can watch all the Indian TV channels in different languages any time any were.
Truecaller will help you be protected from spam calls; if any unknown person calls you, the Truecaller will show you their complete details; you can also manage all your needs, SMS, and even the payments Truecaller.
It's a freemium application. Most users use its free version, but you can upgrade to a premium plan to experience the premium services. It a one of the must-have Best Android App.
KineMaster is one of the best video editing applications specially designed for Android. You can professionally edit the video with KineMaster. The app is available in both free and paid versions; its free version is enough to edit videos for social media postings.
You will get professional editing applications; you can also change the videos' background with its ChromaKey feature.
Turbo VPN allows you to browse all the blocked websites from your area, school, or collages; different VPN applications are available on Android. Still, most users go with Turbo VPN because of its easy-to-use simple interface.
You can use  Turbo VPN for free, but you have to upgrade to premium if you want to experience fast speed and premium servers. 
Those are the most useful applications for Android, which you should have on your phone. I hope this article helped you! Please share it with your friends also.