For Android users, we are here with Best Android Security Apps. Today in the virtual world, there are so many security issues like lots of viruses, malware, trojans, and keyloggers that can influence your device a lot. Also, there are numerous hacks that can steal sensitive data from your Android device.
So to protect the Android device from all these threats, we are here with some security apps that will let you secure your device from security threats. So, have a look at these apps below.
Also Read: 10 Best Android Security Apps With Web Protection Feature
List of 20 Best Android Security Apps You Must Have in 2021
Below we have discussed some security apps on the basis of their working, user reviews, user rating, and some of the personal experience of our security team. So have a look at these apps that will be helpful in protecting your Android device.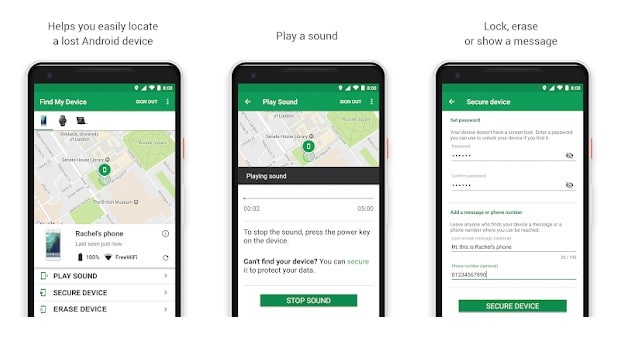 Ever misplaced or lost your phone? Android Device Manager locates lost devices and helps you keep your device—and the data inside it—safe and secure. Android Device Manager lets you: Locate Android devices associated with your Google account, reset your device's screen lock PIN, Erase all data on the phone.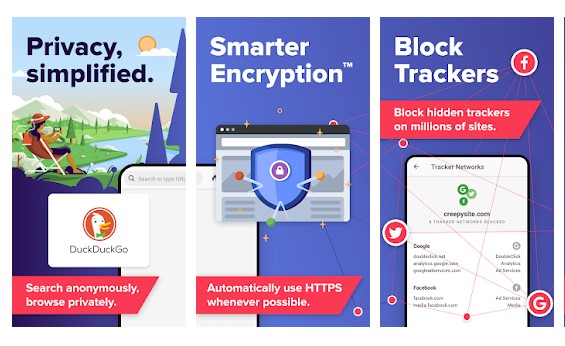 Well, DuckDuckGo is the search engine that doesn't track you. From funny videos to health and finance questions, searches are a reflection of your personal life. It doesn't collect or share your personal information.
It's a firewall app for Android that protects your personal information from being sent to the Internet. NoRoot firewall notifies you when an app is trying to access the Internet. All you need to do is just press the Allow or Deny button.
4. 360 Security Antivirus
This is another best security app that provides security against threats including all types of viruses that can affect your device a lot. This app is also used as a device finder because you can track your lost Android if the app is installed on a lost Android device. So must try out this app on your Android.
Today there are millions of apps on the Google Play Store that access your Android data by granted permissions while accepting the terms during the downloading process. So to manage those permissions properly and to protect your data from being stolen by some illegal apps, this is the best app that we prefer to use on our Android device.
Avast is the most popular antivirus and many of you are familiar with its PC version, similarly, this antivirus is available for Android too that will protect your device from malicious viruses and many spam apps that can steal your data. Anti-theft is another feature of this antivirus that helps to track the device.
Vault helps you control your privacy, keeping your pictures, videos, SMS, and contacts private, and hiding them from prying eyes. You need to open up the vault in order to access your stored files.
SMS Lock is a light tool to protect your personal short messages (SMS & MMS) After enabling SMS Lock on your Android smartphone, there will be lock pattern protection when opening short message apps. It Provides provide full privacy protection to your messages.
This is another firewall app listed. This allows users to restrict and permit applications to access data networks from 2G,3G, and 4G. Users can also control traffic within LAN or while connected through a VPN.
Malwarebytes the popular anti-malware technology is now available for your Android. This app is very effective and protects your Android devices from malware, infected apps, and unauthorized surveillance. This app can also remove spyware and Trojans.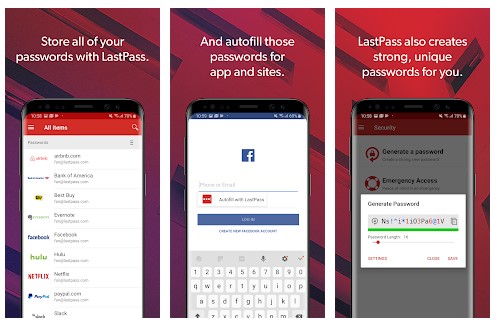 LastPass is a password manager and password generator that locks your passwords and personal information in a secure vault. LastPass autofills web browser and app logins for you, and generates new, secure passwords instantly.
If you want to stay anonymous on the internet then Orfox would be a great choice. The tor protects you by bouncing your communications around a distributed network of relays run by volunteers all around the world. The browser will protect you from every tracker that keeps an eye on what you browse and what you download.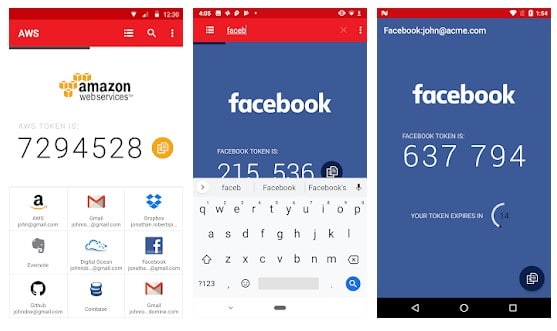 Authy brings the future of strong authentication to the convenience of your Android device. The Authy app generates secure 2 step verification tokens on your device. It help's you protect your account from hackers and hijackers by adding an additional layer of security.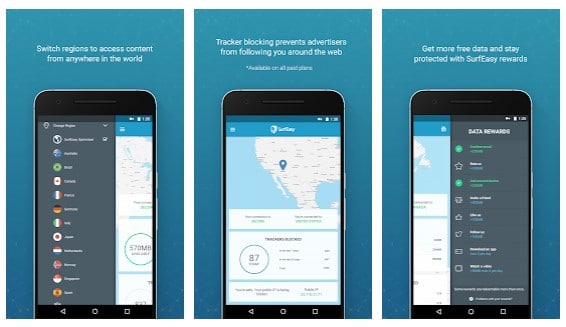 Well, if you are searching for a lightweight and easy to use VPN app for Android, then this could be the best option. SurfEasy's anonymous VPN offers a secure browsing experience with top-notch, no-log Internet security that protects your personal data and encrypts all of your transmissions.
With Applock you can protect your phone with a password, pattern, and fingerprint lock. AppLock can lock Facebook, Whatsapp, Gallery, Messenger, Snapchat, Instagram, SMS, Contacts, Gmail, Settings, incoming calls, and any app you choose. Prevent unauthorized access and guard privacy. Ensure security.
Well, Smart Hide Calculator is a fully functional calculator app but with a little twist. This app has an inbuilt vault that opens every time you enter a password in the calculator. With this app, you can hide your secret files without any worry.
This is a photo vault app that secures personal photos and videos by locking them down with PIN protection, fingerprint authentication, and military-grade encryption. It's the best place for hiding personal pictures and videos.
It is one of the most remarkable security apps which you can have on your Android smartphone. Well, according to the AV-Test, Kaspersky Mobile Antivirus is excellent at picking up on malware with a 99.9% detection rate. The other best thing about Kaspersky Mobile Antivirus is that it comes for free and it offers real-time protection, anti-theft, anti-phishing, and more.
There are many good Android security apps out there. However, if you want to choose the best one out of all those, then you need to go for the Sophos Mobile security. The best part of this security app is that it provides support for a wipe, lock, alarm, locate, and more via SMS.
This is one of the best web browsers which is heavily focused on privacy. The new Firefox Focus automatically blocks a wide range of online trackers – from the moment you launch it to the second you leave it. This browser automatically erases your history, passwords, and cookies, so you won't get followed by irritating ads.
With these apps, you can secure your device from threats like viruses and many spying apps that are only being designed to steal out user's data. Hope you like our work, do share it with others too. Leave a comment below if you have any related queries with this.