Lots of users confuse Antivirus with Internet Security. Although both of them are security tools, they are different from each other. Antivirus protects your device from viruses & malware, whereas Internet security protects your device from spyware, phishing scams, spams, and malicious email attachments.
So, if you browse the internet more, then you will need internet security more than Antivirus. Premium security solutions for desktop computers usually have both of these features, but on Android, things change considerably.
Not every Antivirus app that you use on Android comes with a web protection feature. Antivirus app with web protection features can protect your device from spyware, spam, malicious downloads, malicious email attachments, etc.
List of 10 Best Security Apps With Web Protection Feature
So, in this article, we have decided to share a few best Android antivirus apps with web protection features. These internet security apps will protect your device against phishing scams, spyware, malicious downloads, etc.
Well, F-Secure SAFE Mobile Antivirus is a premium antivirus app for Android, but it's available for free. The free version of F-Secure provided limited features, but it includes the internet security option.
F-Secure SAFE Mobile Antivirus can protect your devices against viruses, spyware, hacking attacks, identify thefts, and more. The browsing protection feature blocks harmful and phishing websites.
If you use the telecom services of Jio, then you would like to install the JioSecurity app. The security app for Android is made exclusively for Android users, and it provides malware scanning and web protection features.
The web protection feature of JioSecurity helps you remain safe during your browsing session. It automatically detects and blocks malicious websites and downloads.
Lookout Mobile Security is another best option that you can consider for mobile security. Despite being free, Mobile Security – Lookout provides premium mobile security and web protection features.
The safe browsing feature of Mobile Security – Lookout scans every URL link you visit to help detect and block online threats.
It is one of the leading security apps for Android available on the Google Play Store. Guess what? Kaspersky Mobile Antivirus actively scans your device for viruses, spyware, ransomware, and trojans. It also has a web filter that filters out dangerous links & sites when you go online.
Well, AVG AntiVirus is by far the best antivirus app available for Android smartphones. Millions of users right now use the app.
If we talk about web protection, AVG AntiVirus scans websites for harmful threats before you click on the link. It also has a few other features like VPN Protection, Anti-theft, etc.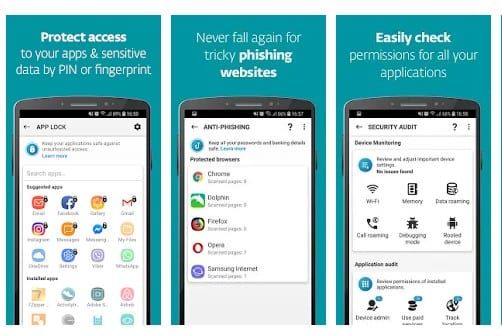 To protect your web browsing sessions, it offers anti-phishing and internet security features. With ESET Mobile Security & Antivirus installed, you don't need to worry about ransomware, adware, phishing, and other malware while checking your emails or downloading files.
Bitdefender Mobile Security & Antivirus is one of the top-rated antivirus apps on the list with the web protection feature. The web protection of BitDefender detects malicious content and keeps your browsing safe for the most popular browser.
Some of the other features of Bitdefender Mobile Security & Antivirus include Anti-theft, Snap photo, Smart Unlock, etc.
Compared to every other mobile security app, Norton Mobile Security offers more features. The antivirus tool offers comprehensive phone security while surfing online to help protect you against visiting malicious and phishing sites.
Well, Malwarebytes is one of the leading names in the security world. The security tool is known for its advanced and effective scanning technology that scans every file to detect hidden malware.
The mobile app of Malwarebytes Security offers some useful privacy and security features such as ransomware protection, Phishing protection, etc.
According to a few research, 25% of malware enters your Android device while you browse the web. The Anti-virus Dr.Web Light solves this problem for you.
It effectively scans and blocks every webpage that triggers a red flag. It also monitors and scans the file system in real-time to provide you with unmatched security.
So, these are the best Antivirus apps for Android that comes with web protection feature. You can use any of the apps listed in the article to get complete protection as you browse the web. If you know of any other such apps, let us know in the comment box below.