Investing in the stock market for the first time could be challenging, especially if you don't know it. On Techviral, we have already shared an article on the best stock trading apps for Android. However, before you invest in stocks, you need to learn & understand the entire market.
Investment in stocks or stock trading is not everyone's cup of tea. Any wrong step can invite a financial crisis. So, it's always best to consult a professional before investing in stocks.
There are quite a few Android apps available on the Play Store to help you understand the stock market basics.
With these stock market learning apps, you will know how to read a stock chart, do technical analysis, fundamental analysis, etc. Also, you will be able to know how to read the balance sheet of companies and all.
Also Read: 10 Best Money Making Apps For Android
Android Apps to Understand Stock Market (For Beginners)
In this article, we will share some of the best Android apps that would help you understand the stock market in a better way. Let's check out the apps.
Note: These are not investment apps, and we neither recommend anyone to invest blindly. Please do proper research and analysis before investing/trading in the stock market.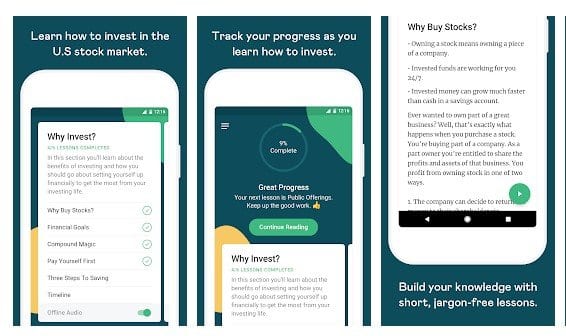 If you are looking for an easy way to learn the stock market from your phone, you need to give Learn by MyWallSt a try. With Learn by MyWallSt, you will learn how to invest in the U.S stock market in the easiest way possible. The app doesn't have any spreadsheets or quizzes. All it has is just 40 lessons of original content designed to teach you the fundamental investment basics.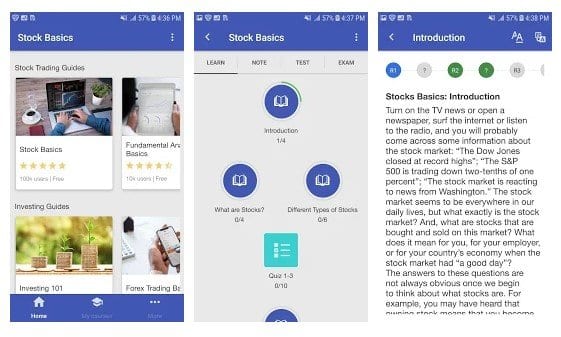 Learn Stock Trading Basics is another excellent Android app that can help you with stocks' technical analysis. The good thing about Learn Stock Trading Basics is that it provides you bite-sized lessons followed by review questions to help you understand stocks in a better way. The app will help you understand bulls, bears, and Market Sentiment in the easiest way possible.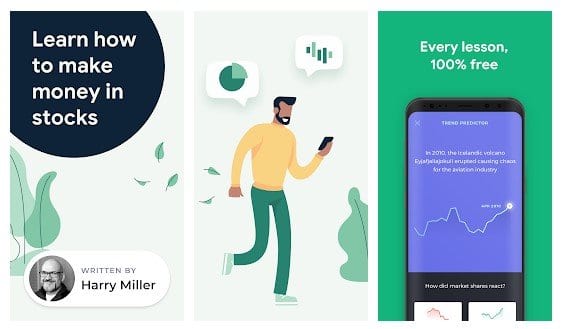 If you are new to stock market trading or investment, you will find Investmate to be handy. It has lots of content to offer for beginners. It has courses, tips, quizzes, and a glossary of terms to help you understand the investment process. Apart from regular equity stocks, it will also help you understand commodities and indices.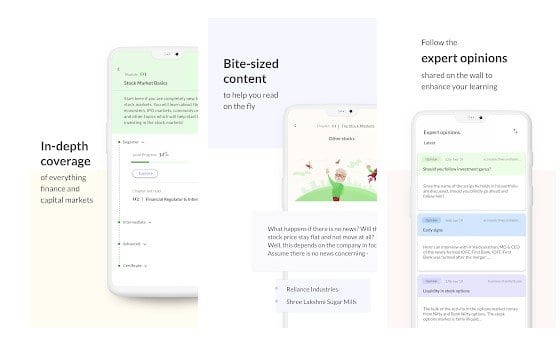 If you live in India, you might find Zerodha Varsity more useful than any other app listed in the article. The reason behind that is the fact that Zerodha Varsity is meant for only the Indian stock market. The app is basically a collection of stock market lessons with in-depth coverage and illustrations. It will help you with both fundamental and technical analysis.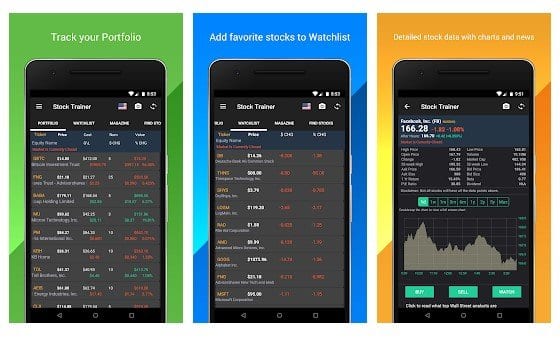 This is not a learning app, but this will help you hone your stock market skills. If you are into Intraday trading or Swing trading, you might find this app extremely useful. It offers you virtual currency to invest in stocks before you put your real money. It's a paper trading app that works with real-time market data to give you as close to real-life stock market experience.
So, these are the five best Android apps to learn about the stock market. I hope this article helped you! Please share it with your friends also. If you know of any other such apps, let us know in the comment box below.