Android is definitely the best mobile operating system out there. The mobile operating system is right now used by millions of users. Android is always known for its massive app ecosystem. Just take a brief look at the Google Play Store, you will find apps for every different purpose over there.
If we talk particularly about the music on Android, the Google Play Store has lots of offerings. In fact, on Techviral, we have already shared lots of articles on Android music, like best music player apps, music streaming apps, etc.
30 Best Audio Editing Apps For Android (2020 Version)
Today, we will be talking about the best music editing apps for Android. With audio editing apps, you can edit music files on your Android. So, let's check out the list of best audio editing apps for Android.
This is one of the best apps that you will love to have on your device. With this app, you can make high-quality tracks as a sequence of loops, mixing synths, drums, samplers, audio recordings, analog modulators, and arpeggiators. Apply FX to channels and export to mp3 or ringtones.
Apart from editing, this application also supports the merging of audio files. The application is designed to make music editing very easy and fun. Also, there are lots of new features in this app that you will come to know after using this cool app on your Android device.
Another best audio editing app for your Android that allows you to edit your media according to your wish. Media Converter allows you to convert all kinds of media formats to popular media formats: mp3, mp4 mpeg4, aac, Ogg, Avi (mpeg4, mp3), MPEG (mpeg1, mp2), Flv (Flv, mp3) and WAV. Also, audio profiles: m4a (aac-audio only), 3ga (aac-audio only), OGA (FLAC-audio only) are available for convenience.
This app provides a handy user interface for easy ringtone editing, assigning these ringtones to your contacts and making them default tones. You can easily trim your MP3, AAC, AMR, WAV files, and produce ringtones, notification, and alarms. ZeoRing provides you with an organized view of all your audio files. You can also record sound and make it the ringtone.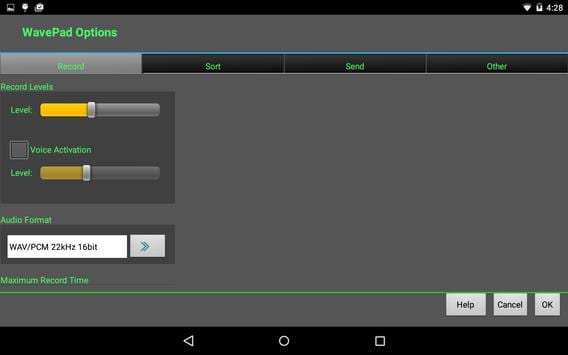 It is also a very cool audio editor app that you will love to use on your Android device. WavePad is a free sound and audio editing application. Record, edit, add effects, and then save audio or send it to others to share or continue editing on another device.
With Music Maker Jam, you can combine thousands of professional samples and bring your musical ideas to life. Record vocals, rap, or random sounds and use the 8-channel mixer to give your mix the right balance. You will get extended features like the harmony editor and real-time effects.
Well, Mp3 Cutter & Merger is an Android application that is used for cutting and merging Mp3 files. You can customize the songs as per your wish. While playing a selected portion of the audio, you can see an indicator cursor and auto scrolling waveform. You can zoom this wave and cut the song at the perfect position you want.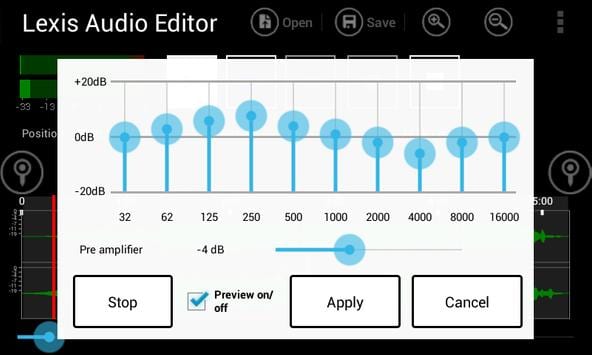 You can create new audio records or edit audio files with the editor. Save the files in the desired audio format. The trial version has all the features of the paid version, including save in WAV, M4A, AAC, FLAC, and WMA format. The saving in mp3 format is available only in the paid version.
It is a music studio (a toolkit of virtual musical instruments) suite for Android. It contains tons of features including Piano, Guitar, Drum Kit, Drum Machine, Bass, Multi-tracks synthesizer, etc. All instruments use realistic instrument sounds. You can add the drum beats and guitar chords to your piano melody.
It is a multi-functional tool for managing and editing your audio files. The three main functions are audio extraction, audio conversion, and audio editor. The audio editor allows you to convert mp3 files to ringtone. It gives you access to the free ringtone world. The interface is intuitive and easy to use. You can select a part of the mp3 file to save as an mp3 ringtone.
It is a sound & music recorder, editor, and mixer. You can edit and mix MP3, MP4, WAV, AAC, OGG, and AMR audio files and create ringtones, alarms, and notifications from them. AudioDroid allows you to add new tracks, mix the tracks and save the mixed audio file in mp3 format.
12. Audio Editor Cutter & Merger
It is an application that lets users cut audio files into parts. And those different parts will merge and create new audio. This application is too useful for you to get that part of music from the full file which you like most, but it is tough to find from the internet or any other sources.
This app lets you cut MP3 for ringtones, merge two or more audio files, mix audio clips and change the metadata fields like Art Cover, Music Album name, etc.multi track, Convert from one format to another – MP3, AAC, WAV and the list of app features goes on.
It is the most powerful multi-track audio and MIDI recording studio on Android with support for over 250 USB audio and MIDI interfaces, virtual instruments, editing with unlimited undo/redo, mixing, real-time effects, automation and much more! Record your voice, guitar, piano, or any other audio source or create beats and synth tracks using a piano roll or external MIDI keyboard.
If you are searching for a complete music editing tool for your smartphone, then MP3 Editor, Cutter & Merger might be the best pick for you. The Mp3 Editor can be used to edit, merge, and configure the music file to be set as the ringtone on the device.
It is a Professional Audio Editing Tool for your daily needs with the most useful and handy features to edit your audio in a few seconds. This app can cut, compress, convert, and join the best part of your audio song at ease.
If you are looking for an easy to use audio editor, then Auphonic Edit is a must-have app for your Android smartphone. This app is made in combination with the integrated Auphonic web service, and you can post-process, encode, tag, and publish your podcasts, interviews, music recordings on the go with a single click.
Well, Timbre is an app for editing audio and video files. It allows you to edit, cut, join, and convert your media files. It is completely free and has no ads. This app also allows users to convert text to speech.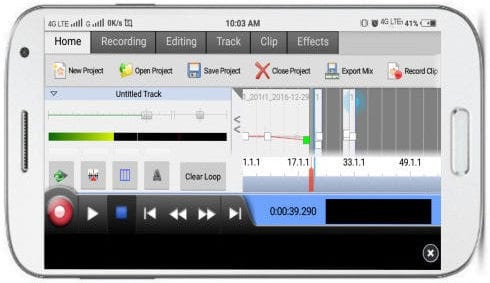 This app houses some powerful and professional recording and mixing equipment. Users can create their music with this easy to use mixer studio. This app supports almost all audio formats.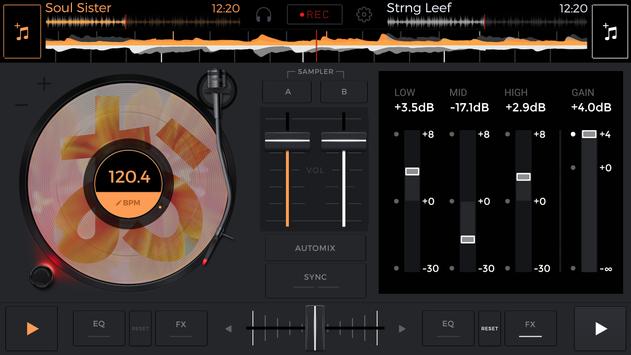 If you love DJ then this has all the must-have DJ tools. This app has an intuitive interface that gives you direct and quick access to all the essential features to gain time during remix live sessions.
Well, Voice Pro is one of the excellent Android apps that you can use to edit, cut, adjust, eliminate disturbances, noises from your music file. This is one of the most advanced audio editing tools available for Android, which allows users to record high-quality recording and editing.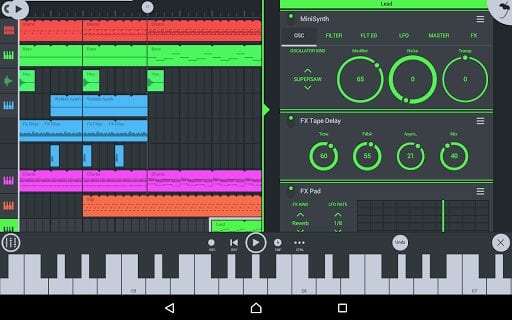 With FL Studio Mobile you can create and save complete multi-track music projects on your Android phone or tablet. This is an audio editing tool that comes with lots of exciting features like you can record, sequence, edit, mix, and render complete songs. So, this is another best audio editing app which you should have on your Android device.
It is a multitouch sequencer for Android devices. Recording Studio makes recording, editing, and mixing a breeze. The free version of the app allows users to record up to 2 tracks by choosing between audio recording or by using the virtual instrument offered by the app itself.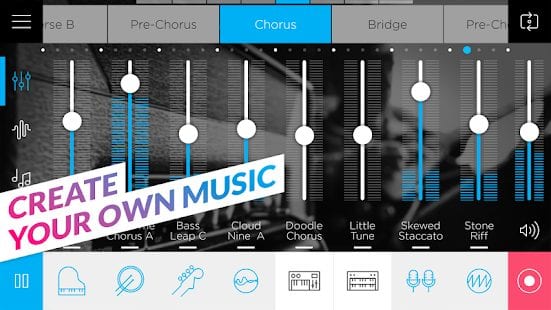 Well, Music Maker JAM is another best Android audio editing app that you can consider. The great thing about Music Maker JAM is that it offers thousands of studio-quality loops, beats, and samples, etc. Not just that, but Music Maker JAM is also an ultimate sharing platform that allows users to share their tracks directly on different audio platforms like SoundCloud, Facebook, WhatsApp, etc.
It is an unreleased app, but you can enjoy it on your Android. The great thing about AudioLab is that it features almost every audio editing feature that users search for. With AudioLab, you can cut audio, merge audio, record audio, and can do lots of other audio editing stuff.
It is another best in class music editor app that you can use on your Android smartphone. The great thing about Audio Editor is that it provides users with lots of useful tools to create ringtones, mix songs, change audio formats, etc. Not just that, but Audio Editor also offers an Audio Extractor and Tag editor as well.
It is another great Android app that can help you to edit, record, and mastering audio. The great thing about WaveEditor for Android is that it supports a wide range of audio file formats and makes it suitable for audio format conversion. Not just that, but with WaveEditor for Android, you can also mix and edit multi-track.
If you are looking for an easy to use Audio editor for your Android smartphone, then AndroSound Audio Editor might be the best pick for you. Guess what? AndroSound Audio Editor will provide you with every tool for audio editing, trimming, recording, etc. You can also add audio effects on any song like add echo, adjust volume levels, etc.
If you are searching for an easy to use yet advanced sound & music recorder, editor and mixer app for your Android smartphone, then Audiosdroid might be the best pick for you. Guess what? with Audiosdroid, you can easily edit & mix MP3, MP4, WAV, AAC, and AMR audio files. Not just that, but with Audiosdroid, you can also create ringtones, alarms, notification sounds, etc.
It is a relatively new audio and video editing app available on the Google Play Store. The best thing about AVbox is that it arrives with a great interface that looks clean and well organized. Not just that, but AVbox can also be used to extract audio from any video. Apart from that, you can expect lots of basic audio editing features with AVbox.
So above are the Best Audio Editing Apps For Android. I hope this article helped you! Share it with your friends also.