Are you bored of using the exact old-school text on social networking and instant messaging apps? If yes, then you can always use some Fancy text to make things a little more exciting. Just take a brief look at the Facebook Pages, Instagram Posts, WhatsApp Messages; you will find Fancy text everywhere.
Not only that, but people also choose to use Fancy text on gaming accounts as well. Don't believe it? Take a look at the Call of Duty Mobile. You will find COD Mobile gamers with different names written in Fancy texts.
Now you all might be wondering what the purpose of a fancy text is? It's nothing! There's no harm or good in using the Fancy text on various platforms, but it looks good!
Best Fancy Text Generators – Cool Fonts & Stylish Letters
If you are a social media manager, you can use Fancy text to engage more visitors or fans. Lots of people search for Fancy text generators online. There are plenty of Fancy text generators available out there which can convert your simple text into something amazing and cool.
So, if you are also searching for the same, we have rounded up a list of the best Fancy text generator websites that can convert your simple text into something fancy. So, let's check out.
Best Fancy Text Generator
Before we share the list of the best fancy text generators with you, make sure to follow some of the simple steps given below. You need to implement the same steps on every website that had been listed below.
Copy the text which you want to convert into fancy text.
Open any Fancy text generator website from the list given in this article.
Insert the copied text into the text field of those websites
Once done, click on the convert, and it will provide the fancy text.
Copy the fancy text and paste it wherever you need it.
Now that you know how to use these websites let's explore the best Fancy text generator websites list. We have not provided the link due to security reasons; you need to search for the website name on Google to reach the website.
1. Cool Symbol
Well, Coolsymbol is one of the best online fancy text generators which you can use right now. The great thing about Cool Symbol is its simplicity. On this website, users need to input the text, and the site shows the fancy texts in real-time.
Interestingly, Coolsymbol also allows users to insert emoji, arrows, etc., to the text along with the fancy text.
2. Lingojam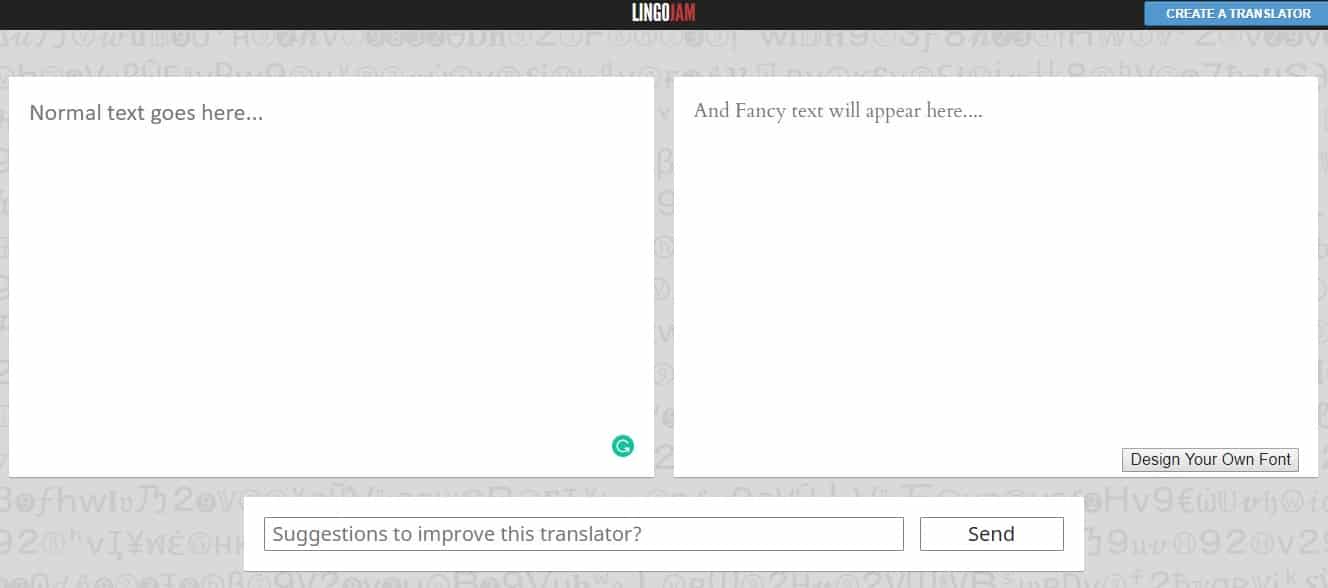 If you are searching for an easy-to-use online fancy text generator, then you need to give Lingojam a try. Guess what? Lingojam is extremely simple to use, and the user interface is pretty cleaned. The websites show two sections – One for the Normal text and the other for the Fancy text.
The text you entered on the 'Normal Text' section was automatically converted into the Fancy texts. So, Lingojam is another best online fancy text generator that you can consider.
3. Fancytextguru
Fancytextguru is another best fancy text generator site on the list which you can visit right now. Just like every other online fancy text generator, Fancytextguru also specializes in converting texts in real-time.
What's more interesting is that Fancytextguru also has a 'Randomize' button which shows random results.
4. Igfonts
Well, if you have a huge fan base on Instagram, then Igfonts could be the best site for you. With Igfonts, you can generate fancy texts which can be used in Instagram bio and profile.
Upon entering the normal text, Igfonts generates an infinite number of different Instagram fancy text fonts variations, which you can copy and use for free.
5. Nickfinder
Nickfinder is a site that is mostly visited to find cool names for social media accounts and gaming accounts. In addition, the site can help you to generate nicknames with symbols.
If we talk about the Fancy text generator, Nickfinder can create random fancy text with unique symbols, emojis, etc. The site's user interface was appealing, and it's one of the best online fancy text generators that you can use right now.
Fancy Text Generators for Android
Just like online websites, you can also rely on mobile apps to generate fancy texts. Below, we have listed some of the best fancy text generator apps for Android.
Fancy text generator & symbols is an Android app that helps you generate cool fonts and stylish text. After generating texts from this app, you can use it on any instant messaging app like WhatsApp, Instagram, Messenger, and more. The app also has a feature that converts your stylish texts to images.
If you are looking for cool fonts and a nickname generator app for Android, look no other than Fancy text. Guess what? With Fancy text, you can write any text with different calligraphic font styles. The app right now has over 130+ font styles. After generating a text, you can use it on any social media or instant messaging app.
Well, Fancy Text Symbols is an Android app that lets you convert standard text to different stylish cool fonts. The app right now has over 120+ different font styles.
Also, the app has a unique share menu that lets you share the text to any social media or instant messaging app.
So, these are the best fancy text generators that you can use today. I hope this article helped you! Please share it with your friends also. If you know of any other such sites, let us know in the comment box below.