Although both Windows 10 and Windows 11 ship with a built-in security tool called Windows Security, it's still best to use third-party security suites. Third-party security programs like Avast, Avira, Kaspersky, etc., offer better protection against various security threats.
The good thing is that most leading security companies have their free security products. These free security products were more capable than Windows security when it came to defending against viruses, malware, PUP, adware, and more.
So, if you are looking for ways to improve the security of your device, you have landed on the right page. This article will list some of the best free antivirus software for Windows 10 and 11. So, let's check out.
10 Best Free Antivirus Software For Windows
Important: Don't use multiple security programs on your PC; using only one security product at a time is recommended.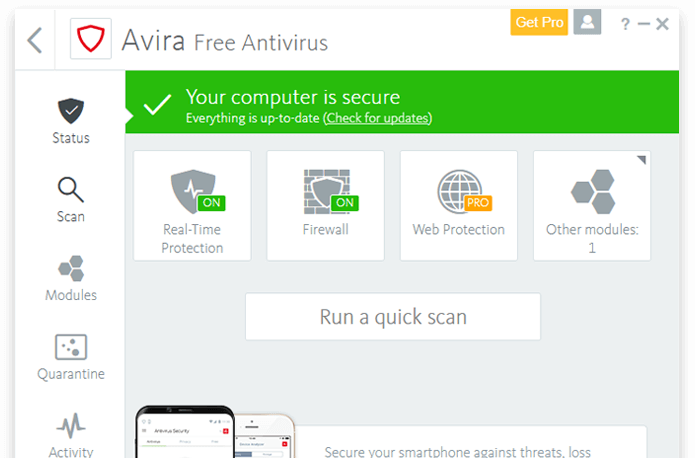 Well, Avira Free Antivirus analyzes the entire system with a single click of a button. This program has an easy-to-use interface that allows even less technical users to configure and use it easily.
This program is based on a cloud scanning system, which means that any suspicious detections will be directly sent to an online server and checked in real-time, and then the response is sent to the program on the user's computer.
On the downside, Avira's free antivirus slows down the device. However, considering that it is a free tool and that its malware detection rate is high, the slowdowns are not a high price to pay.
The free version of Avast Antivirus is an award-winning product that provides real-time protection for the devices on which it is installed. This antivirus works by checking the programs' codes and detecting the dangerous ones.
The program can block phishing websites, malware, ransomware, viruses, and adware and detect unwanted, outdated programs. In addition, Avast Free checks to see if other devices connected to the user's network were safe or not, like printers, telephones, TVs, tablets, and so on.
AVG AntiVirus Free is another great option for those looking for free antivirus protection. This antivirus scans the system for malware and performance problems and provides real-time protection, blocking malicious downloads and preventing malicious programs from infiltrating the PC system.
It has a simple interface, and it is an easy-to-use product, which undoubtedly does most of the work automatically, allowing the user to sit and rest while the computer is cleaned. Furthermore, the program is updated regularly, so you will not have to worry about the latest virus definitions.
Moreover, this free tool is compatible with Windows XP SP3, 7, 8, and 10, also with Mac OS 10.8 and later, making an excellent choice for users who do not want to pay for a computer protection program.
The free edition of Bitdefender Antivirus provides a rich set of features for those who do not want to pay for a security program. The software guarantees an effective system check and virus removal, active control over threats, as well as excellent anti-phishing and anti-fraud features.
The software controls the applications running and locks them in case it detects any suspicious behavior and also prevents access to deceptive sites that claim to be safe to steal data from users.
Bitdefender Antivirus Free is compatible with Windows 7 SP1, 8, 8.1, and 10, but the company also provides protection solutions for Mac and Android users.
Panda Free Antivirus is another option for those who are looking for free computer protection. This lightweight tool is compatible with Windows 10, 8/8.1, 7, Vista, and XP.
The software has an easy-to-use interface, which makes the product more favorable for not-so-experienced PC users. In addition, the Panda Free Antivirus tool secures your USB devices from numerous infections and provides a "Rescue Kit" feature, which helps to disinfect your PC in critical situations.
One helpful feature of Panda is that it provides real-time protection, which means it can secure your PC and block unauthorized attempts to install dangerous programs on your system.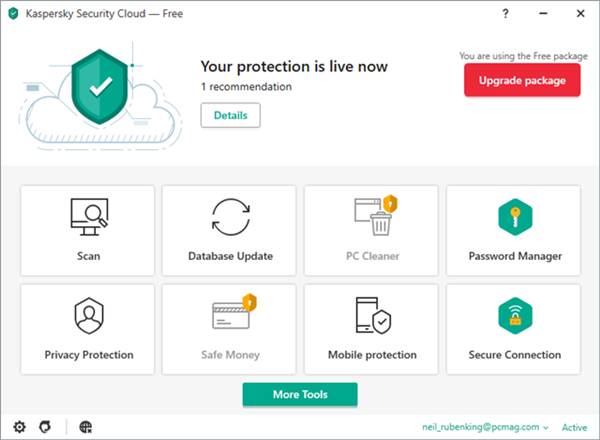 Kaspersky Security Cloud is a free antivirus program that defends your PC against viruses, infected files, malicious applications, and suspicious sites. The free version of Kaspersky works fine as it guards your PC against various security threats.
However, the actual drawback of using Kaspersky Security Cloud is that it misses out on almost all other premium & valuable features. For example, the free version doesn't include VPN, password manager, privacy protection, system optimizer, and more.
Anyways, if you just want real-time monitoring and threat protection, you can use Kaspersky Security Cloud's free version.
The adware antivirus safeguards your computer from online threats so you can focus on the things that matter to you — connecting with friends, checking email, and watching videos.
The latest version of Ad-Aware free antivirus allows users to experience effortless security. Automatic updates and real-time protection let you enjoy an uninterrupted online experience.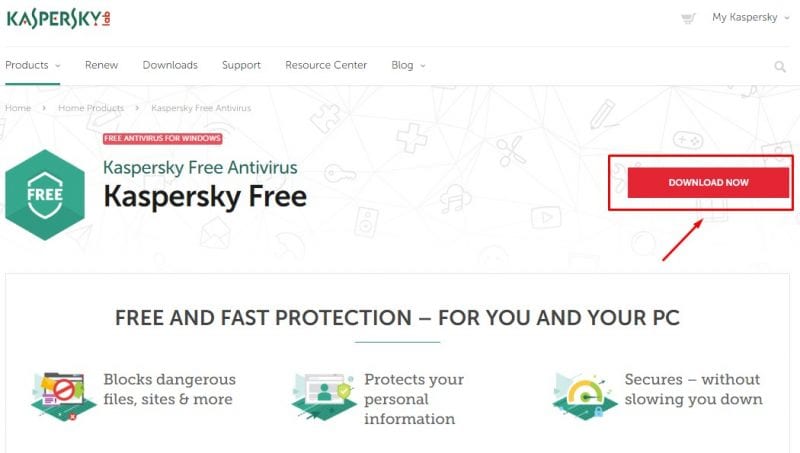 Kaspersky Free Antivirus is another best security tool that you can have on your Windows 10 computer. The security tool can block harmful files, sites, and more. Not only these, but they can also even protect your personal information. The tool offers real-time protection that safeguards your device from various security threats.
The Antivirus tool can block harmful files, sites & More. Also, it protects your personal information.
What makes Kaspersky more reliable is its cloud scanning system. Whenever the security tool detects any suspicious file, it sends it to its server, where it's thoroughly checked.
Sophos Home Free can protect your computer against known viruses, malware, Trojans, worms, bots, potentially unwanted apps (PUAs), ransomware, and more. The software also allows users to control their webcam and block attempts to record their keystrokes.
Also, the antivirus is known for its predictive Artificial Intelligence Threat Detection technology. With the help of an AI, Sophos Home free identifies and blocks never-before-seen malware.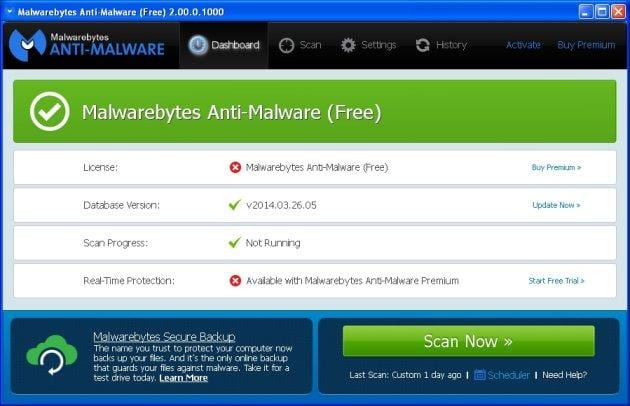 Well, Malwarebytes Anti-Malware is one of the best and free antivirus that you can use on your Windows 10 computer. The best thing about Malwarebytes Anti-Malware is that it can scan and remove hidden malware, spyware from your Windows 10 computer. Malwarebytes Anti-Malware has two versions – Premium & Free.
The free version works pretty well by providing all-around protection; on the other hand, the premium one brings lots of advanced security tools.
So, this list ends here, and if you find this list helpful, then don't forget to share it with your friends, as well as also don't forget to share your views and thoughts in the comment section below.