If you are a PC gamer, you may know that the best PC controllers are probably the mouse and keyboard. However, certain games are designed to play only with a controller. While you can use specific software to remap the gaming controller with keyboard keys, that won't provide you with the best experience.
Games that require controllers should only be played with the controller for a better gaming experience. And Gaming controllers for PC aren't always expensive, and you have many choices on the web or in the local market. Hence, if you are looking for the best PC game controllers for Windows, you have landed on the right page.
List of 10 Best Game Controller For PC
This article will list down some of the best PC game controllers you can purchase today. All of the game controllers were available for purchase on Amazon. So, let's explore the list of best PC game controllers.
One of the best game controllers you can buy today is Microsoft Xbox One Controller, which also works with Windows 10 and 11 operating systems.
The product is a bit pricey, but it's known for its impressive design and solid build quality. All buttons on the controllers are comfortable to press. Also, the latest version of the Xbox One Wireless Controller has textured rear grips and Bluetooth support.
Logitech F310 wired gamepad & controller has a console-like layout and 4-switch D-Pad. The game controller is designed for gamers who want to dominate PC games with console-style control.
The PC controller for gaming supports almost all popular PC games, supports Steam big pictures for gaming, and works with Android TV.
It also has a wireless variant which is called Logitech Wireless Gamepad F710. Overall, Logitech F310 is a great PC controller for gaming on Windows 10.
While Sony DualShock 4 is designed for PlayStation, you can still use it on your PC. This new and improved gaming controller comes with sharp dual analog sticks and trigger buttons that give you a great sense of control.
You will also get the stereo headset jack to connect your head, and the controller also features a built speaker.
SteelSeries Stratus Duo Wireless is probably the most expensive PC controller, but it brings the true wireless console gaming experience to PC.
The gaming controller is fully compatible with Android, Windows, Oculus Go, Gear VR, and other devices.
The PC game controller stands out due to its high-quality rechargeable battery, providing 20+ hours of run time.
You don't have to spend hundreds of dollars to get a well-built wireless PC controller. EasySMX is an affordable option that has the look of an Xbox 360 controller.
Despite being an affordable PC controller, EasySMX provides you with two joysticks – a D-pad and XYAB button. The gaming controller is fully compatible with Windows, Android phones/TV/tablets, and TV boxes.
Redgear is a very popular name in the gaming section. It has lots of products available for gaming on PC. If we talk about this particular product, Redgear Pro Series Wired Gamepad offers you plug-and-play support for all PC games.
The gamepad is fully compatible with all Windows versions and doesn't require downloading any drivers. Redgear Pro Series Wired Gamepad's key features include backlit illuminated keys, turbo mode, dual high-intensity motors, etc.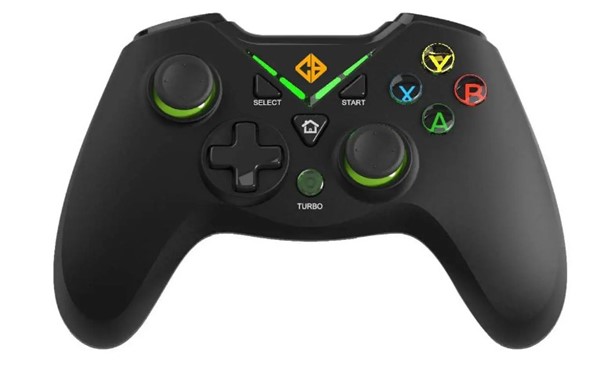 Cosmic Byte C3070W Nebula is a wireless gaming controller with a range of up to 8 meters. The wireless game controller supports all versions of Windows and Playstation.
Cosmic Byte C3070W Nebula comes with analog triggers & vibration effects for full immersion. Apart from that, the wireless gamepad is backed by a 600mAH Li-Polymer battery, giving you up to 12 hours of non-stop gaming time.
Cosmic Byte C3070W Nebula features include integrated dual mode, ultra-precise eight-way D cross, Turbo Mode, and more.
RPM Euro Games is probably the most affordable PC plug-and-play gaming controller. Despite being an inexpensive PC Game controller, it has long-lasting battery life.
The controller is fully compatible with every version of Windows PC. The gamepad has 10 digital keys, 2 Analog sticks, 2 Analog sensitive triggers, 1.7 meter USB cable, and X & D input compatibility.
It also has a wireless variant that's also very affordable. Overall, RPM Euro Games is an excellent gamepad for Windows PC that you can purchase from Amazon.
Razer Wolverine V2 Chroma is one of the hottest gaming controllers on the list that is known for its exceptional capabilities. This is a fully customizable controller with Razer Chroma RGB Lighting.
The only disappointment is that it's wired, which might not go well with users looking to sit and play the game from a decent distance away.
Regarding the gaming buttons and triggers, Razer Wolverine V2 Chrome has 6 remappable buttons, four triggers, and two bumpers.
GameSir T4w is for you if you prefer to look over anything else. The gamepad for PC has a colorful RGB LED backlight beside the buttons. Along with that, you also get an asymmetric & vibrating motor for a realistic gaming experience.
The controller has D-Pad, Left & right joystick, and when it comes to compatibility, GameSir T4w is fully compatible with all versions of Windows.
The product is available at a discounted price on Amazon and has a fair number of positive reviews. Overall, GameSir T4w is one of the best game controllers for PC that you can use today.
So, these are some of the best game controllers for PC that you can use today. If you want to add your favorite controller to the list, let us know in the comments below.