The game controller allows you to play comfortably while the screen is at a safe distance to protect your eyes.
You can get a dedicated button for all your needs, such as run, fire, change weapons, and for all others.
List of 10 Best Game Controller For PC
When it comes to the best game controller for PC, it is easy to choose one because you are loaded with tons of options from different brands.
Our team of professionals shortlisted the top and best game controllers for PC among hundreds of options for your convenience.
1. AmazonBasics Xbox One Wired Controller
AmazonBasics Xbox One Wired Controller is specially designed for Xbox one; you can also use this with a laptop and PC. Its 9.8-foot USB cable offers you the convenience to play from where you want comfortably. You can also plug the headphone in the game controller.
Logitech Gamepad F310 features ten programmable buttons that offer you an 8-way programmable D-pad. It supports almost all the old and popular new titles. You can entirely customize all the keys with Profiler software, and it comes with a simple plug-and-play USB connection.
3. EasySMX PC Game Controller Joystick
EasySMX PC Game Controller Joystick comes with a long USB cable, which is entended up to 2 meters long; you can play sitting a bit far away from the console. In addition, it added, it is specially designed with ergonomics design to provide you with the most comfortable thumb position. It also features non-slip textured rubber grips that avoid stickiness.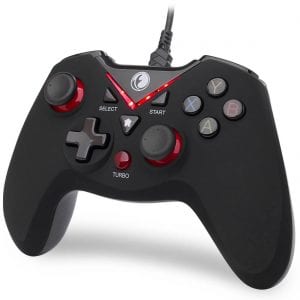 This new and improved game controller is capable of all the leading Android Mobile Phone, Tablet, TV, Box, but to connect it, you have to purchase an OTG adapter or cable for the Android device. There is no need to install any software or drivers on your system to use it.
5. PS4 Controller ORDA Wireless Gamepad
We love the built quality of this gamepad; it features built-in shock Motion motors, which will provide you with various intensity feedback and a more authentic game experience. In addition, the ergonomic controller of the game is highly sensitive, which reduces the response time and improves accuracy at critical moments.
Must Read: 5 Best Time Management Tools For Windows 10
This Xbox Wireless Controller is Microsoft's official Xbox game controller; you will get an outstanding gaming experience with its enhanced comfort and feel. In addition, this Xbox Wireless Controller features a 3.5-millimeter stereo headset jack to plug in the headphone.
7. EasySMX 2.4G Wireless Controller for PS3, PC Gamepads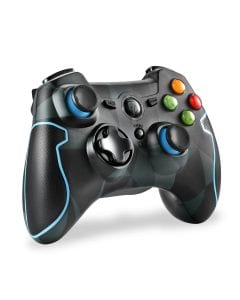 This EasySMX 2.4G Wireless Controller runs on two AA batteries, which you have to install in it; E. G. 2 pieces AA batteries enable the gamepad to work up to 20 hours. In addition, it's 2. 4G wireless transmission provides you with a stable connection, and zero delays offer a range of up to 10 meters.
This new and improved gaming controller comes with sharp dual analog sticks and trigger buttons that give you a great sense of control. You will also get the stereo headset jack to connect your head, and the controller also features a built speaker.
9. SteelSeries Stratus Bluetooth Mobile Gaming Controller
You will get 40 hours of nonstop wireless gaming experience with just two AA batteries with this SteelSeries Stratus Bluetooth Mobile Gaming Controller. You can use it with all the devices, including Android, Windows, Steam, and VR, with Microsoft's X Input and Direct Input. In addition, its addition, it features a dedicated home and back button for seamless gaming on Android and PC.
10. SteelSeries Stratus Duo Wireless Gaming Controller
You can connect this headphone easily with Oculus Go, Gear VR, Android mobile devices, and other devices; with its high-quality rechargeable battery, you will get 20+ hours of continuous use, as well as the ability to play while charging. In addition, there is no need to install any driver or software to use it.
You can purchase all the above-featured gaming controllers from any shopping website; we have also placed the best buy link over there. We hope this article on the best game controllers for PC is helpful for you. If the article is helpful for you in any manner, do share it on social media. Please stay connected with us for all the latest updates.