[dropcap]L[/dropcap]et's have a look at 10 Best IT Gadgets Under 100$ That Worth Try that are just amazing and you surely gonna love these if you are tech-savvy. Also, they are packed with some amazing features that will move your thinking to the next level. So have a look at the complete guide discussed below to proceed.
Smartphones are nothing without gadgets, PC devices will feel less without gadgets, gadgets alone are superb to add up stunning functionality to the devices. Gadgets can be standalone that can be used for certain tasks and there are numerous different categories of gadgets. Each year new kind of gadgets are made by the manufacturers, some get highly popular while others are not. It is hard to find the great gadgets in the budget of only $100 but still, there are some awesome ones in this price range. We have found all those best IT gadgets in the budget range that anyone can buy and use for their benefits or just for some purpose. Here in this article, we have written about the best IT gadgets under hundred dollars that can help do so many activities and tasks. If you are interested in reading about this information or find it helpful for your usage then please read it down. All of the proper information is provided in the main section of this post as is given below, remember to read till the end of the page so that you get the whole knowledge regarding the topic. So, let's get started!
Also Read: 5 New Ways To Free Up Hard Disk Space On Windows 10
10 Best IT Gadgets Under 100$ That Worth Try
I have listed all the best gadgets that you can buy in your budget and are so cool that you gonna surely love to try. So have a look at these gadgets below.
Also Read: Top 10 Gadgets To Take The Stress Out Of Long Flights
#1 ROKU STREAMING STICK +
Best TV Streaming dongle stick with 4K HDR video play with up to Dolby Atmos Audio. It is by far the finest way of streaming various different sites on the TV to watch videos, movies, etc. The user cannot find more interesting gadget than this one in the lowest ever budget range. The quality is impressive while the support for so many devices is also a great part.
#2 ANKER 20,000 MAH PORTABLE CHARGER
There is nothing better than the portable charger but what if the charger is slow? No worries as Anker provides the finest portable charger with fast charge ability and tons of other functions. It is really small so carrying it in the pocket is not a big deal. Go for this charger and start charging your smartphone device anywhere easily.
#3 Parrot Mambo
Amazing small quadcopter that has a camera and snatching clips that can be controlled to catch small objects. It is a really fantastic drone for fun as well as some tasks and activities!
#4 Plantronics Backbeat FIT Bluetooth earphones
Wireless earphones with stunning sound quality and best ever battery backup. This earphone can be connected to most of the devices using the Bluetooth and the sound can be streamed. The awesome quality is so good that it can even be compared with those of premium earphones.
#5 Jabra MOVE Wireless Bluetooth Stereo Headphones
Want Headphones instead of Earphones? Go for this finest stereo headphones as these are not at all expensive and anyone can buy it in the budget range of 100 dollars. The bass and clarity are mesmerizing, give it a try to know about this gadget!
#6 Microsoft Arc Touch Bluetooth Mouse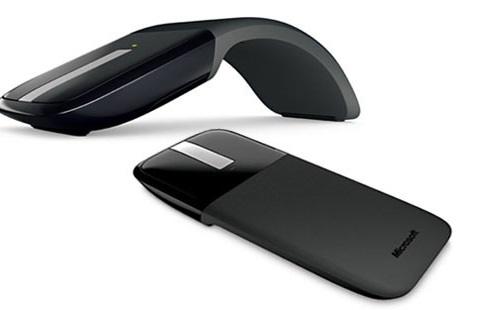 Small and really easy to use a highly functional mouse by Microsoft. It can be connected to the desktop devices, laptop devices through wireless connection based on Bluetooth. The tested design for quick and accurate usage of the mouse for pinpoint tasks make it stand out.
#7 Chromecast
To stream the videos or movies on the large screen this chromecast gadget by Google can be really great. It is available on for 100 dollars!
#8 Chromecast Audio
Don't want to control the chromecast through the physical buttons instead use the voice for commanding actions! Use the Chromecast Audio gadget by Google that is also under 100 dollars.
#9 GOOGLE DAYDREAM VIEW VR HEADSET
Excellent VR headset for playing games, watching videos and doing much more. It is the best most featured VR headset that is available in the budget range of $100!
#10 Mi Home Security Camera 360°
This is the amazing gadgetThe all-new low-light true color technology allows you to see a full-color palette even in the later hours of the day, without reverting to infrared illumination that can only provide a black and white picture.
Also Read: Top 10 Best Tech Gadgets and Devices of 2019
Finally, after reading this article, you have got to know about the finest gadgets that anyone can buy in a hundred dollars. All of the information given here is written in such a way that anyone can get about the important aspects easily. Hope that you might be liking the information given in this article if it is so then please try to share it with others too. Also, share your suggestions and opinions regarding this content by using the comments section below. Your indulgence in our work is really grateful to us, keep supporting us and we would be always coming up with all new amazing information. At last but nevertheless, thanks for reading this post!