It is easy to edit music and audio files on a PC because a variety of third-party apps are available to do so. However, what if you don't have time or enough storage to install a third-party app on your PC?
If you rarely edit audio files on PC and looking for a quick audio editing tool, you are reading the right guide. There are plenty of the best free online audio editors available on the web that allows you to edit audio in just a few clicks.
These free online audio editors allow you to do basic and advanced audio editing right in the web browsers. Most of the audio editing websites available on the web were free to use, but you might need to create an account in some.
Also Read: 15 Best Audio Editing Apps For Android
List of 10 Best Free Online Audio Editor
Hence, in this article, we will list down some of the best websites to edit music and audio files online. Let's check out the best free online audio editors.
If you are searching for a free and easy-to-use browser-based audio editor for your PC, then give TwistedWave a try. The website allows you to record or edit any audio file.
The great thing about TwistedWave is that all audio you upload is stored and processed on its server; hence, there's no need to install anything on your PC.
TwistedWave provides you with many unique as well as helpful audio editing options. You can also apply audio effects to your music file with TwistedWave.
Soundation Studio is basically an audio editor, but it requires a premium subscription. The platform allows you to get creative and make songs directly in your web browser.
As a premium web-based tool, it offers a variety of features. It provides over 20,000+ ready-to-mix basslines, drum beats, samplers, synthesizers, audio effects, equalizers, and more.
If you are looking for a web app to produce music, look at Audio Tool. Audio Tool is basically a community-driven platform allowing you to connect with musicians and fans worldwide.
If we talk about the features, the online digital audio workstation provides you with all the necessary tools to produce music professionally. The web app includes various virtual instruments, more than 250,000 free samples, tools for mixing/routing, and an effects panel.
One of the best and most easy-to-use online audio editors you can use is AudioMass. It's a free, open-source, web-based audio and waveform editor that offers you basic audio editing features.
It offers you a web-based Audio Editor that can be used to cut/trim audio, compress audio, compress MP3, mix audio, increase volume, merge audio, and more.
If you are looking for a free online tool to trim your audio files on the fly, give Audio Trimmer a try. It's a simple online tool where you need to upload your file, select the portion to trim, and click on the Crop button. The tool will automatically crop the clip and provide you with the trimmed version.
The good thing about Audio Trimmer is that it supports almost all popular audio formats you can think of, such as mp3, wav, wma, ogg, m4r, 3gpp, opus, m4a, aac, amr, flac, and more.
Like every other web-based audio editor, Sodaphonic allows you to edit your voice recordings right from your web browser. Compared to other web-based audio editors, Sodaphonic is easier to use.
To edit the audio files, you just need to drag and drop your audio files. This will upload the file on the Sodaphonic serve and allow you to cut, delete, or merge audio clips.
Amped Studio is a web tool that runs only on Chromium-based browsers like Google Chrome, Microsoft Edge, and more. It's a full-fledged advanced audio editing suite that runs inside a web browser.
Amped Studio has features to benefit both new and professional musicians. Users can access the rich library of pre-made music samples, audio loops, and construction kits with a paid subscription.
Moreover, Amped Studio offers a host of sound effects and transitions that can be applied to the audio or music file. If you're a beginner, check out the tutorial videos on Amped Studio's blog page.
Bear Audio is a free online MP3 editor where you cut, crop, merge, and split your audio files directly in your web browser. The app supports a wide variety of audio file formats; you just need to upload the audio file through your browser, edit it, and download it.
Bear Audio is based on HTML5, which means you don't have to upload your files to the online server; just upload the file, process, and save it on your device.
You can combine multiple songs online without installing anything on your PC/Laptop with Audio Joiner, a web-based audio editor that supports more than 300 different audio formats.
It provides easy audio merging features to its users. Also, it puts no restrictions on the number of tracks that users can join.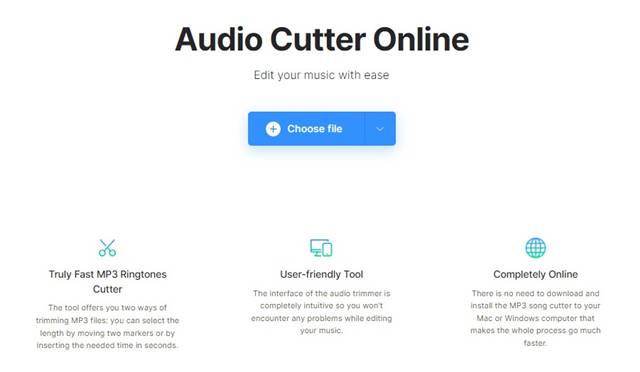 Clideo is a very popular website offering a user-friendly audio editing tool. You can cut MP3 files without installing anything on your PC with Clideo.
The user interface of Clideo is very clean and well organized. You just need to upload your MP3 files, select the length by moving two markers, and click the cut button. After that, the web-based tool will automatically process and cut your audio files.
Most of the web-based audio editors listed were free to use. You can use these to edit your audio files without installing any programs on your PC. I hope this article helped you! Please share it with your friends also. If you have any doubts related to this, let us know in the comment box below.