Like Android smartphones, iPhones are also getting more capable with every release. You won't believe it, but the latest iPhone models, such as iPhone 12 and iPhone 13, have the best mobile cameras. Users can capture great portraits and landscape photographs with such a capable camera.
Well, it's true that with the iPhone, you can capture the best pictures quickly, but it won't always stand up to the expectation. Let's admit it, after capturing the most impressive shot, we all want to give it a finishing touch. The finishing touch can include color adjustment, object removal, crop, etc.
Also Read: 10 Best Camera Apps For iPhone
List of Best Photo Editing Apps For iPhone
So, to give your photos the finishing touch, you need to use iPhone photo editing apps.
There is plenty of iPhone Photo editor available on the App Store that you can use to edit your photos. Therefore, this article will share the best photo editing apps for iPhone.
AirBrush is a top-rated photo editing app available for iOS devices. Guess what? AirBrush is fast, powerful, and pretty easy to use. The photo editing app for iPhone brings every photo editing tool and feature you can think of.
Apart from basic photo editing tools, AirBrush also brings professional photo effects, filters, and more. In addition, the app offers a variety of features, and it's perfect for editing portrait shots. Overall, AirBrush is an excellent photo editing app to have on iPhone.
Photo Lab doesn't have much to offer for photo editing; it just provides filters and photo effects. However, the photo effects & filters of Photo Lab were good enough to give your photos a refreshing touch.
Currently, Photo Lab offers 1000+ awesome photo effects, 100+ AI-driven art styles, photo filters, and more. You can even use this app to create a photo collage.
If you have ever used an Android smartphone, you might know about the Snapseed App. It's a photo editing app developed by Google for Android and iOS.
The good thing about Snapseed is that it's free to use and offers many image editing features. With Snapseed, you can adjust colors, brightness, contrast, etc., in just a few taps.
Want to enjoy the popular desktop photo editing software Adobe Photoshop on iOS? If yes, then you need to give Adobe Photoshop Express a try. Compared to all other photo editing apps for iOS, Adobe Photoshop Express offers more features.
It has useful editing tools like blemish removal, defog, noise reduction, etc. Also, it has many photo filters that give your images a new touch.
Like all other photo editing apps for iOS, Polarr also offers users a wide range of photo editing tools and filters. Polarr also gives users advanced photo editing tools like brush, color masking, etc.
Apart from that, the highly accurate face detection feature made Polarr stand out from the crowd. So, Polarr is another best photo editing tools on your iPhone.
If you are searching for an iOS app specializing in photo and video editing, you must pick Ultralight. The great thing about Ultralight is that it provides users with a wide range of image and video editing options.
With Ultralight, you can adjust the Saturation and Temperature of your photos. Not only that, but it also provides users tools to clarify, sharpen, and emphasize images.
PicsArt is one of the leading names in the photo editing industry. The mobile app lets you edit photos & videos on the go. The iPhone photo editing app has all the features you want to fulfill your photo editing needs.
Apart from that, PicsArt Photo Editor also offers a few image retouching options like photo filters, frames, backgrounds, callouts, borders, etc.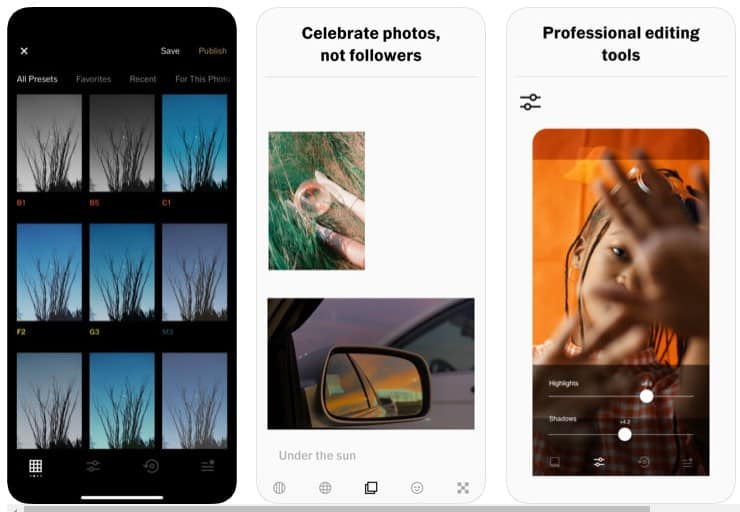 VSCO is another best-advanced camera and photo editing app you can use on your iPhone. The great thing about VSCO is that it packs all the necessary photo editing tools for cropping, exposure control, sharpness, and color.
Not only that, but VSCO also offers users a full set of 135+ photo filters. Besides, VSCO also has a built-in camera app with manual controls.
Afterlight is a multi-purpose photo editing app for iPhone that offers users a few creative options. With Afterlight 2, you can control exposure, color, sharpness, etc.
Besides, Afterlight 2 offers users advanced tools like selective color, gradients, blending modes, curves, etc. However, Afterlight is a premium app that costs $2.99.
If you are searching for a photo editing tool that removes unwanted objects from photos, you must install TouchRetouch.
Guess what? TouchRetouch is known for its lasso tools for accurate object selection. TouchRetouch can remove images from dust spots, wires, unwanted objects, etc.
Photoleap is an awesome iPhone photo editing app that provides endless sets of options to enhance or adjust your precious photos.
The app is powered by AI, and it can generate amazing digital art based on your photo. Also, there's an option to add motion to the photos, mix photos, etc.
Hypic is for those looking for a lighweight and user-friendly iPhone app to edit photos on the go. With this app, you can easily edit and retouch your pictures.
The app offers you every photo editing feature you will possibly need. Also, there are some features for portrait shots editing. You can make your skin glow, change your facial features, sculpt your face, apply filters, etc.
Photomator is a photo editing app that supports various image file formats. As of now, the app has support for over 600 RAW image formats, including the Apple ProRAW.
Regarding photo editing features, the app has all the tools needed to edit your photos professionally.
Along with it, you also get photographer-designed presets that you can apply directly on your photos to make them stand out.
If you are searching for a photo editor and a background removal app for your iPhone, you must try PhotoRoom. With PhotoRoom, you can easily create, edit, and organize your perfect shots in just a few taps.
The app has awesome features like Magic Retouch, which removes unwanted objects from your photos, a background removal tool to remove objects from photos, etc.
PhotoRoom is an excellent app for creating professional product images for your e-commerce business or sites. You can also use it to create amazing content for Facebook, YouTube, Pinterest, Instagram, and many such sites.
EPIK – Photo Editor is an excellent app for adjusting colors and enhancing photographs. You get HSL, Curves, Split tone, Lux, Grain, and Vignette tools for adjusting the colors.
It's a very simple-to-use photo editing tool that can give perfection to your photo editing. You also have photo retouch elements to remove blemishes and add trendy filters to the photos.
So, these are the best photo editing apps for iPhone. You can use these free iOS apps to edit photos on your iPhone. If you know of other apps like these, let us know in the comment box below.