Unable to log in to Windows as administrator or you forgot your password? Is there a way to view and recover Microsoft Outlook password? How do I remove modify restriction from a PDF file? There are many computer utilities you can use to either unlock a password protected document or crack a forgotten Windows password. Password Recovery Bundle is best of all out there that can help you recover all types of passwords in a single application.
What Type of Password Can We Recover?
With Password Recovery Bundle you can bypass / reset a forgotten Windows password easily, or crack Windows password in plain-text if you don't want to make any changes to your system. This tool can also let you quickly recover or remove password protection on Microsoft Word / Excel / PowerPoint / PDF / RAR / ZIP files; decode your Access or SQL Server database password; retrieve all of the passwords you've ever told your Web browsers / email clients / instant messengers / FTP clients to remember for you; locate lost product keys for Windows, Office, Adobe and other softwares; and much more.
Password Recovery Bundle is easy to use and excellent for tech repairs, data recovery and security audits. It makes password recovery much easier than ever, even computer novices can get their forgotten passwords back with ease.
In this tutorial we'll walk you through the steps to recover Outlook, PDF and Windows passwords with Password Recovery Bundle.
Part 1: Retrieve Outlook Password
How can I see the email account passwords stored in Microsoft Outlook application? Just start the Password Recovery Bundle utility and click on the Start Recovery button. It will give you options to recover email account passwords saved in the most popular desktop email clients such as Microsoft Outlook, Outlook Express, Windows 10 Mail and Calendar, Windows Mail, Windows Live Mail, Mozilla Thunderbird, Opera Mail, Incredimail, Reach-a-Mail, The Bat! etc.
If you've chosen the "Outlook Password" option from the list, you'll get your email addresses and passwords to every mail box you have set up in Outlook.
Part 2: Recover PDF Password
Is there any way to remove password protection from PDF document? In case you lost or misplaced your PDF password, you can recover it with Password Recovery Bundle. Just click on the "Recover From File" button, you'll see a list of supported file types: Outlook PST file, Office documents, ZIP/RAR archive, PDF /SQL Server/VBA, etc. If you select the "PDF Password" option, you'll be prompted to browse for your password protected PDF document.
After that, select either "Recover User Password" or "Remove Owner Password" option depend on what kind of document protection is set on your PDF file. The owner password is also known as permissions password, which can be removed instantly. While the user password needs to be cracked with brute-force, mask or dictionary attack.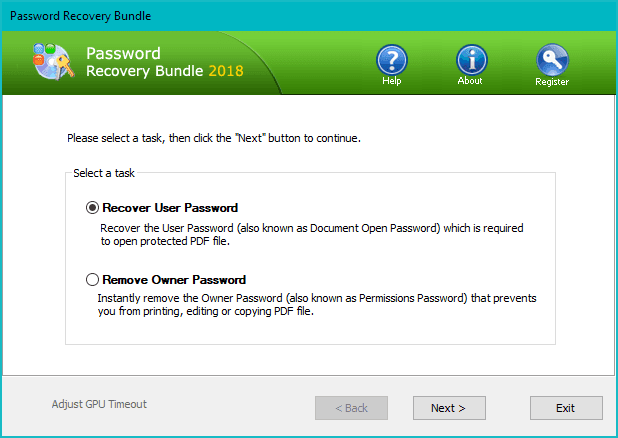 Part 3: Reset Forgotten Windows Password
Forgot your password to sign into Windows admin account? How can I access Windows profile without knowing my password? Password Recovery Bundle lets you create a bootable media (CD or USB drive) to reset the forgotten Windows password while keeping your data intact. To start off, click on the "Windows Password" button and then choose "Create Password Reset Bootdisk".
At this point insert a blank CD or USB flash drive into the machine. Click the Refresh button if your CD or USB drive is not detected. After selecting the target media, click on the Start Burn button to write the built-in ISO image.
After the burning is finished, eject the CD or USB drive and use it to boot up your locked computer. When you get to the PCUnlocker screen, select a local account and click on the Reset Password button.
Now your forgotten password is reset successfully. Reboot and you can then access your Windows account without a password.
Conclusion
Dealing with password loss could be extremely stressful and overwhelming, but Password Recovery Bundle makes it simple and you can recover forgotten Outlook, PDF and Windows password in just a few mouse clicks. The program is available as a one-time purchase license $29.95, with free lifetime updates. Not sure if it's really worth paying? You can try the trial version of Password Recovery Bundle for free.