Well, if we look around, we will find that the use of torrent websites is diminishing with each passing day. We have seen the shutdown of some popular torrent websites in the past like KickAss Torrents, ExtraTorrents, etc.
Although Torrent has become a hub of pirated content, lots of users use it legally for general file sharing, downloading Linux ISOs, and plenty of other things. It's not that Torrent sites don't exist today. There are still a vast number of active torrent sites available on the web.
For a complete list of active torrent websites, read our article. To download torrent files, we first need to install a torrent client on our device. You can even download your favorite torrents on your Android as well by using the torrent apps.
List of 10 Best Torrent Apps For Android in 2021
So, in this article, we are going to share some of the best Android torrent apps. With these Android apps, you can download your favorite torrents on your smartphone.
This one uses BitTorrent hyper distribution communications protocol for peer-to-peer file sharing. The good thing about uTorrent is that it splits the downloadable file into multiple parts, which in turn provides better downloading speed.
Apart from that, µTorrent is exceptionally lightweight and powerful. With this torrent app, you can manage your torrent downloads, pause/resume downloads, set priorities, etc.
Well, BitTorrent and uTorrent shares lots of similarities in-between. For instance, you will hardly notice any difference in both of the interfaces. The only thing that makes BitTorrent different is its integrated music and video library.
BitTorrent promotes legal music and video torrents by independent artists. You can also use the torrent client to access your phone's media. When it comes to the feature, both BitTorrent and uTorrent have the same features.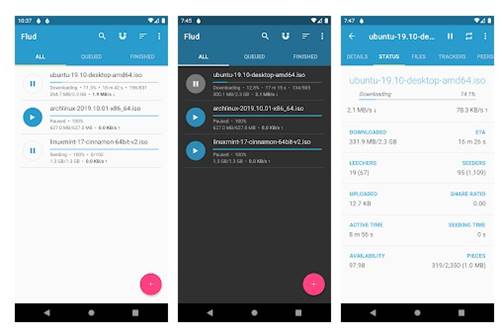 Well, Flud is one of the top-rated torrent downloader app available on the Google Play Store. The torrent client brings the power of BitTorrent protocol into the palm of your hands.
The torrent client boasts a simple and clear interface. Some of the key features of Flud – Torrent Downloader includes support for a variety of protocols, magnet links, RSS Feed, large file support, multiple themes, etc.
The popular torrent downloader, of course, FrostWire, is also available for Android smartphones. Unlike other torrent downloaders, FrostWire has a built-in torrent search engine. You can use the search engine to find your favorite torrents.
It also got some other useful features like an advanced download manager, media library, music player, etc. All of the features were free to use.
Well, LibreTorrent is based on libTorrent, and it lets you download & share files directly on your device. It's an open-source torrent client and has a fairly simple user interface with multiple theme support.
With LibreTorrent, you can easily download or share torrent files. Apart from that, it also offers lots of useful file sorting and torrent management features.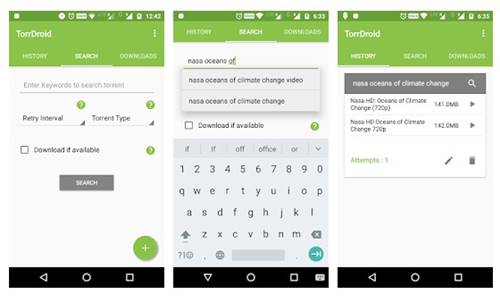 Well, TorrDroid is another popular torrent app on the list which you can use today. TorrDroid has a built-in torrent search engine which can be used to search & download torrent content.
The torrent app for Android also got the ability to open .torrent files from the android file system directly in the app. Apart from that, it got magnet link support, supports DHT, LSD, UPnP, NAT-PMP, etc.
It is one of the top-rated torrent apps available on the Google Play Store. With this app, you can download large torrent files like Linux ISOs, free movies, Game ISOs, etc.
The good thing about tTorrent Lite is that it supports writing external storage. That means you can save the torrent files on the SD card. tTorrent Lite also got some other useful features such as magnet link support, tracker less torrent support, RSS Support, UPnP and NAT-PMP support, etc.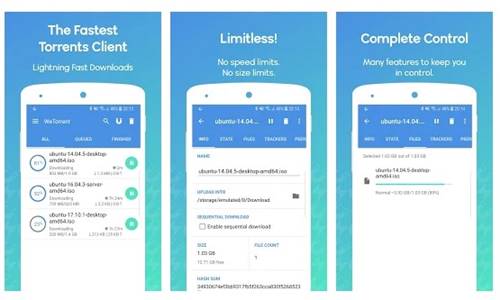 Unlike every other torrent apps which were known for their features, WeTorrent – Torrent Downloader is known for its blazing-fast download speeds. The torrent app is based on BitTorrent protocol, and it gives speed the utmost priority.
The torrent app for Android has a beautiful and clear material design interface. Apart from that, it supports multiple simultaneous downloads, magnet link support, .torrent file support, etc.
Well, zetaTorrent is one of the unique torrent apps that we have ever seen. The torrent app for Android features a built-in web browser. The web browser comes with an ad-blocker, history, favorites, and more.
When it comes to the torrent features, zetaTorrent doesn't disappoint. It offers many useful torrent management features, magnet link support, Proxy support, supports external SD cards, etc.
Well, if you are searching for an Android torrent app that offers an attractive interface and packs all essential features, then look no other than aTorrent. The app has a torrent search dialog, with support for magnet links.
When it comes to the features, aTorrent has every necessary feature like WiFi-only download, select save location, external SD card support, .torrent file support, etc.
So, these are the few best torrent apps for Android. Use these torrent apps to download torrent files with ease on your smartphone. I hope this article helped you! Please share it with your friends also. If you know any other torrent apps, let us know in the comment box below.