Over the past few years, the technology around us has evolved. These days, our smartphone can be our best travel companion. You can book flights, book hotels, find the shortest routes through your Android smartphone.
If you are planning your first trip away from home, or if you're a frequent traveler like me, you can consider these hand-picked travel apps. There are plenty of travel apps available for Android, and we will list a few of them.
Also Read: 10 Best Offline GPS Navigation Apps For Android
List of 10 Best Travel Apps For Android
This article will share some of the best travel apps for your Android smartphone. With these apps, you can plan or acquire different kinds of travel-related information.
Well, MakeMyTrip is a travel app for Android that's right now trusted by over five crore+ users. With MakeMyTrip, you can book IRCTC train tickets, flights, hotels, bus tickets, book taxi cabs, and more.
MakeMyTrip is known for offering the best holiday packages at affordable prices. You get the option to pick your own choice, customize your hotels, flights, etc., and plan a tour.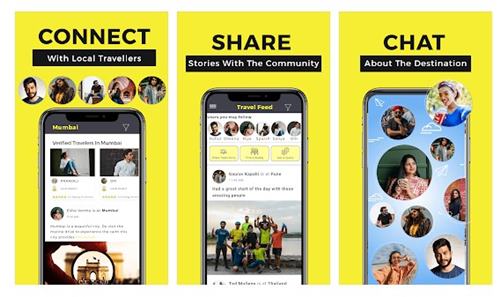 Travel Buddy is a very different app on the list. Instead of showing you the best tour plans, it lets you meet local travelers from your desired destinations. You can chat with your travel buddy to share experiences and plan unique excursions together.
If you are a tourist, you can check out the locals for the desired location, select the tour companion based on their ratings, get answers from several other travel buddies by using #hashtags, etc.
Well, TravelTriangle is one of the top-rated holiday planner app available for Android devices. The app serves as an online marketplace offering customized travel packages.
You can even use TravelTriangle to explore international tour packages & domestic tour packages. The app provides hassle-free holiday booking options and flexible payment options.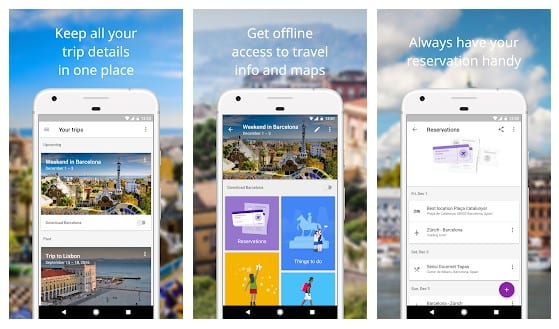 Well, Google Travel is slightly different compared to all others listed in the article. It's a full-fledged travel planning app that gathers your travel reservations from your linked Gmail account.
It automatically scans your email and finds the flight detail, hotel, and car reservation. Also, it provides recommendations and shows you tons of remarkable sights that are available near and far based on your interests.
Well, Google Maps is probably the best location and travel app that you can use right now. The app has information and maps of over 200 countries.
The Google Maps shows public transport information, travel destinations, shortest routes available, nearby petrol pump, nearby ATMs, etc. Google Maps could be useful if you don't know much about the destined travel location.
TripAdvisor is an all-in-one app for all your travel purpose. In fact, TripAdvisor is one of the best travel apps that you can use.
It can help you find the best hotels, restaurants, the lowest airfare, and a few other travel-related things. Not just that, but the app also shows reviews, opinions, and videos shared by other travelers.
As the app's name says, Skyscanner is an app meant to find the best flights, hotels, and rental cars. The app can help you find the cheapest dates to fly, and you can also opt-in for the alerts when prices change. Basically, the app focuses on airlines, and it also shows the top deals from your nearest airport.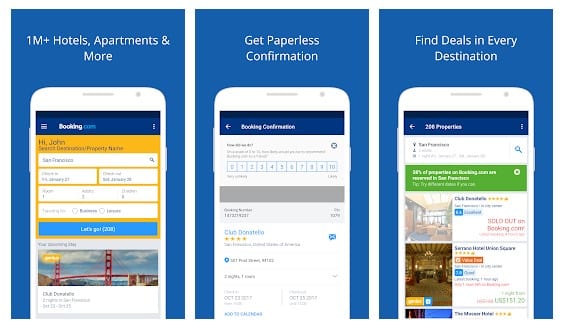 Well, it's one of the top-rated Android travel apps available on the Google Play Store. The great thing about Booking.com is that it has over one million motels, hotels, and other accommodations that you need for any successful journey.
Not just that, but Booking.com for Android also shows you landmarks, local attractions, and even local WiFi hotspots.
Tripit is another best travel planner you would love to have on your Android. The app basically organizes your entire travel plan in one place.
Users need to forward their travel details, including flight tickets, hotels, cars, or other reservations, to [email protected], and the app will instantly add plans to the master itinerary.
This is one of the essential apps you should have if you plan to travel abroad. This s basically a language translating app which can translate text into your desired language.
The app also allows users to translate texts from photos that are captured from their phone's camera.
You can use these free travel apps to plan your next tour. Almost all apps listed in the article were free to download & use. I hope this article helped you! Please share it with your friends also. If you know of any other such apps, let us know in the comment box below.