Vine was a service created back in 2012 that allowed the users to share the videos of approximately 6 seconds long to the friends or other members which was highly successful. It was later acquired by Twitter. Well, Vine is actually a unique video sharing platform that the world had seen in 2012. However, due to lack of innovation and slow growth, Vine had been overshadowed by other applications. In October 2016, Twitter announced that they would be discontinuing Vine.
Although Vine's demise isn't entirely the bad news, because there are plenty of better alternatives available out there. These video sharing sites actually do a better job than Vine ever did. So, in this article, we are going to share a list of best Vine alternatives in 2020 that you can use right now.
10 Best Vine Alternatives to share your Videos 2020
It's worth to note that as of today, there are hundreds of Vine alternatives available out there. However, we are going to list only the best ones which provide similar features and are free. So, let's explore the list of best Vine alternatives 2020.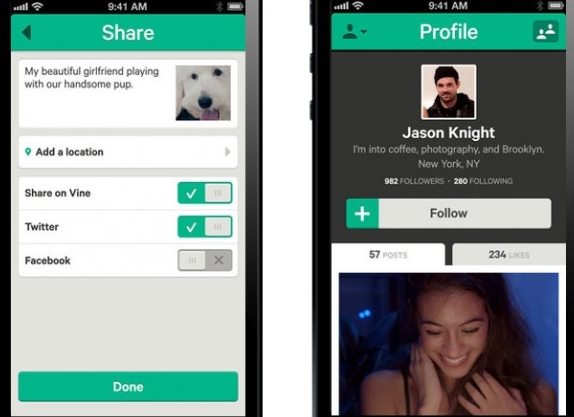 Twitter is the only one that had bought all the rights from the Vine developers, and that was because it just wanted to integrate a video sharing feature inside its social networking platform. After the demise of Vine, Twitter has implemented a few video sharing features on Twitter. Now you can share up to 180 seconds video on Twitter for free.
Everyone knows that Instagram is made for sharing short videos and images to the friends or the public, and that is what we find on the Vine. However, compared to Vine, Instagram has a massive user base and it's backed by Facebook which is right now the leading social networking platform.
Coub is another great video sharing platform on the list which is pretty much similar to the Vine. Although Coub has a pretty small user base, still the site has lots of interesting content. What's great is that Coub spreads its video content across categories like movies, gaming, animals, geek, etc. Creating videos with Coub is easy, but it doesn't allow users to add text on the videos.
4. Snapchat
Snapchat is an app which is available for both Android and iOS Device. The app is immensely popular and it allows users to send self-destructing pictures. What's more interesting is that it also allows users to shoot videos. Not just that, but Snapchat also provides users few video editing features as well.
Persicope is another best product from Twitter and its the best successor to Vine. It's an app that's available for Android and iOS and it allows users to start streaming live with the smartphone camera. There's only a single difference between Periscope and Vine. Vine allows users to edit the videos whereas Periscope is completely live.
Well, if you have liked the unique concept of the vine of sharing short videos, then you would love Dubsmash for sure. It's much similar to Vine and it allows users to create short videos and have fun. Since its an app which is meant just to have fun, you can expect a few interesting features like lip-syncing, voice over, etc.
Streamable is not actually a Vine alternative, but it's a web-based tool to upload videos and sharing. The great thing about Streamable is that the video URLs can be embedded anywhere. It works with most of the popular sites like Facebook, Twitter, etc. Unlike Vine, it doesn't specialize in video editing tricks, but it allows users to add the uploaded videos to the website, blogs, etc.
8. Cheez
Cheez is another great Android app which is much similar to the Vine. On Cheez, you can either post your own videos to earn rewards, or you can watch videos of others. The great thing about Cheez is that it hosts a wide range of video editing tools to trim, cut, merge video clips. Not only that, but Cheez also provides users plenty of live filters as well.
YouTube is right now the biggest and most dominant video sharing site in the world. On this site, you can either explore videos or can share your own. What's more interesting is that YouTube allows content creators to monetize their videos to earn some revenue. So, YouTube is definitely the best Vine alternative that you can use today.
Vimeo is basically a social networking site where you can share or explore videos. The mobile app is available for both Android and iOS and it's definitely the best platform to showcase your creative talent. For video watchers, the platform covers a wide range of categories.
So these all are the best Vine alternatives that you would prefer to use on your device to share your videos. I hope this article helped you! Share it with your friends also. If you know any other such apps, let us know in the comment box below.