The brochure is a well-designed template that describes the whole features and the products of any business in a really quick and easy-to-read manner.
To create top-notch brochure designs, brands hire professional designers. Their brochure designs influence the reader and give them an overview of the Business quickly.
Yet, for those people who are working on an individual basis or are running small businesses, hiring a full-time designer is not the best option. There are numerous websites available on the internet that lets you create a brochure in no time.
List of 10 best Websites To Create Brochure for your Business
Here in this post, we have shared some of the best sites to create a professional brochure for your Business. So, let's have a look at the best websites to create brochures.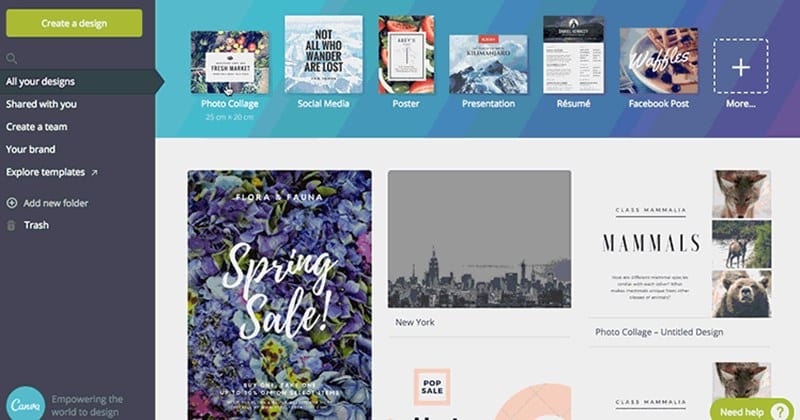 This graphic design website can help you create fantastic post designs, infographics, brochures, banner images, YouTube thumbnails, etc.
You need to select the brochure template and start designing with the drag and drop tool. However, the free account has very limited templates.
What's more valuable is that Canva provides you access to over 1 million stock images and other graphic elements that you can add to your brochures.
You don't need to be a professional designer to create a beautiful brochure for your Business.
The drag-and-drop editor of Lucidpress makes the brochures-making process super easy.
The site provides you lots of free brochure templates & examples to get started. So, with this free brochure website, you create professional-looking brochures in just a few clicks.
On this site, you need to choose the template that suits your business needs out of all those 10,000s of templates available for usage.
This is simply a fantastic website to create the brochures, choose the template, and add your content to it.
Apart from creating brochures, you can even create social media cover designs for sites like Facebook, Twitter, Pinterest, and more.
If you have the PDF designed for you and wish to convert your PDF into the brochure design, this is the website that would help you.
The process is simple enough, upload your brochure design and then click on the button to make use of the function to convert your file to pdf.
The whole process is automated, and you will never require doing something from your end. The outputs are useful enough for business purposes.
It is one of the best sites which you can visit right now to create a brochure. The great thing about AnyFlip is that it allows users to create and upload the brochure in PDF format.
That means the created brochure can be used for online purposes as well. Apart from that, the site provides different customization options, like customizing the title, description, and keywords of the brochure.
Well, Jukebox is another useful site on the list which can help you create unique brochures online.
The best thing about Jukebox is that it allows users to choose from two different modes to create an online brochure – Portrait and Landscape.
In both modes, there are different templates and customization options. Additionally, the homepage shows lots of brochure templates to help you get started.
It is one of the best and most advanced digital brochure makers which you can use right now. The platform provides users a perfect online marketing solution.
With PubHTML5, you can easily create mind-blowing brochures in just a few minutes. However, creating brochures through PubHTML5 is a little bit complicated.
If you are searching for an online brochure maker that provides lots of built-in templates, then PsPrint might be the best pick for you.
Guess what? PsPrint is a free web tool that can create attractive brochures in just a few minutes. On the web interface, you can upload your custom logo, texts, and branding elements.
It is a professional and most advanced software for Windows computers and Mac. Its widely used by designers to create attractive banner images, marketing images, brochures, logos, etc.
However, the software is not for beginners as it's an advanced tool and requires photo editing knowledge. However, if you have used Photoshop before, you might find the tool easy to use.
Well, Venngage is one of the popular web-designing apps that you can use right now. The web app is centered around infographics, tutorials, brochures, etc.
However, Venngage doesn't offer many features in the free account. So, to avail the full potential of the web app, one needs to subscribe to a premium account.
So, these are some of the best websites to create a professional brochure for your Business. I hope this article helped you! Please share it with your friends also. Also, if you know of any other such sites, let us know in the comment box below.