5 ways to easily create professional invoices without using any tool and without paying anything by just using the websites and you will be able to easily create invoices online. Have a look on all these websites below.
Invoices are the documents that are issued by the seller to the buyer with which the transaction with the costumers of business accounts is made much more prominent. Invoices can be a type of bill that can specify the costumer about the price at the time of transaction, quantity, products etc. Many of the business accounts vastly use up the invoices so as to tell the costumers about their terms and policies etc during any transaction. To create a very clear and accurate invoice that can be used commercially is not that easy and cannot be easily made from the scratch. But there are some easy methods too by which you can instantly create very good invoices online and for free of cost. There are some tools available on the internet from which you can create your own invoices instantly. Here in this article the best online tools are discussed that can be used to instantly create up the Invoices.Go through the article that is given below to know about these.
Also Read: Top 10 Best Websites To Download PC Games For Free
5 Best Websites to Instantly Create Invoices for Free
Below are really cool online tools that you will surely love to try as these tools will instantly create invoices for your and thats totally for free. So have a look on all these tools below.
Also Read: Top 10 Amazingly Useful websites you Never Knew Existed
This online tool is so far the best ever tool to generate the instant invoices. This tool has a lots of comprehensive features by which one can create pro style invoices in just a short period of time. For creating up the Invoice you can choose from about more than 80 templates while using this online tool. Hence this makes it much easier for you to set up the whole style of the invoice in very short time and very easily too. By using this tool, you can alter any of the aspect of your invoice and add anything like tax, logo, discounts etc. So, I would like to say that this amazing online tool is really great for making any type of invoice and all that can be done in very short time.
Also Read: Top 10 Free Websites for Downloading Windows Software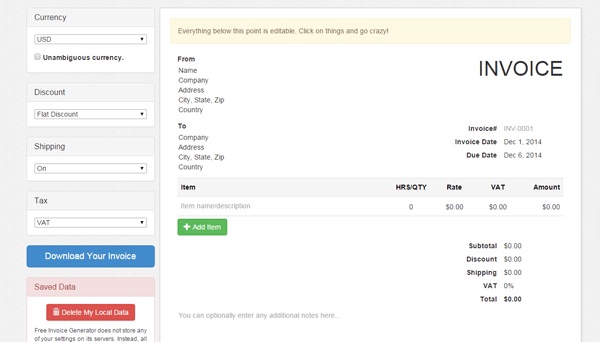 Finding any way to make up the simple invoices quickly? Wait, here is the tool that can really help you in that i.e FreeInvoiceGenerator. This online tool is perfectly created for those who just want simple invoice creation and also in the simplest way that can be possible. By using the simple template on this online tool, you can create your invoices really fast without any confusion. In this you can also use some other features to change up the currency, add tax, discounts etc. This means that managing your invoice style is also very easy on this tool.
Also Read: Top 5 Best Websites To Learn Linux Online
Another great online tool that can help you to make up the invoices instantly for free. You can create your invoice using the simple template that this tool provides. Living with only template could not be a good option for some, hence to solve that, the tool has the in-built feature by which you can also create your own custom templates and use them to create invoices. Like other tools, you can also add the text, add logo and calculate discount also while making the invoice. One thing that is really useful is that you will not need to worry about the displacement of the invoices which you have created on this tool as all your invoices that you created will be saved on their website.
Also Read: How to Make Websites Load Faster In Google Chrome On Android
This tool is the best tool for the beginners those who are going to make the Invoices for the first time. I prefer them strongly to use this tool as in this tool users can make the Invoices in the easiest way that could need no previous knowledge about making Invoices. This tools uses the step by step creation mode to create up the invoices and thus helps the users to create the invoice correctly and easily too. After you create the invoice, you can then get it through email or can download it as a pdf file for accessing it further.
Also Read: Top 10 Best Websites for Bloggers 2016
This is the another great website that you will surely love to try. By using this site, you can easily create professional invoices and that for free. So must try this out.
So these were the best tools that you can use to make the free invoices online. The users need to just fill up the text data for which they want to create the invoice and after that these tools will automatically create the clear and usable Invoice. Try up these tools as these are very powerful and useful tools that you can find online for creating up the invoices instantly. Leave a comment if you have any further queries.