Bitcoin continues its upward rally. The price of this cryptocurrency has recently passed at the mid of 2017 the threshold of $ 2000 for the first time in three years.
Bitcoin Price Jumps Above $2000 For First Time
The most famous cryptocurrency in the world, Bitcoin, is now worth $2,000 per coin (about Rs.1,29,165). This data is provided by the digital coin platforms and portfolios that they trade with Bitcoin, such as Coinbase or Kraken.
The valuation made to this market indicates that, at this price, about $33 billion is in circulation.
Is Bitcoin will become one day the universal currency?
In recent weeks, Bitcoin has been able to surpass all expectations ever imagined as to the value that a digital currency might one day be worth. Currently, a Bitcoin is on the market for $2069, which is a historic value and also making history in this type of currency.
For the first time, the digital currency has managed to surpass the $2,000 mark after a sudden rise in recent weeks. In addition to its value, its "credit" also becomes significant, attracting investors' attention more and more, although it is not yet a declared assault on political and legal issues regarding the acceptance of this currency in view of the effects it might have on Currencies.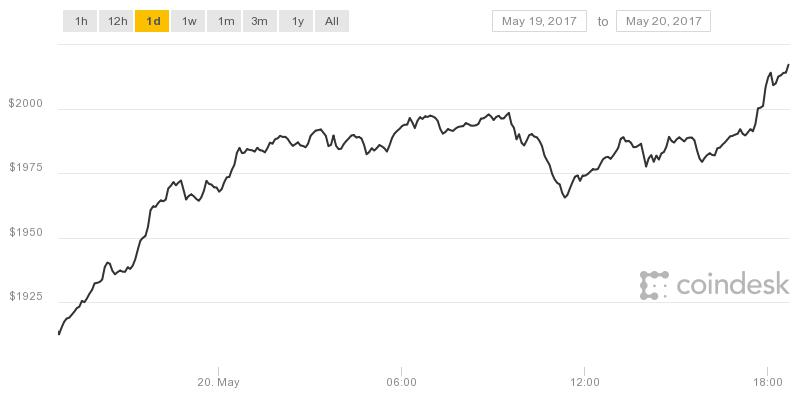 The CoinDesk, which is a site specializing in news about digital currencies – founded by Shakil Khan and then bought by Digital Currency Group – quotes Arthur Hayes, CEO and co-founder of BitMEX leveraged platform for digital currency, which believes that since Bitcoin has exceeded the mark of 2 thousand dollars, the rate of appreciation of the price will accelerate dramatically.
Similarly, Charles Hayter, co-founder, and CEO of CrytoCompare believes that it is an important psychological milestone that Bitcoin has hit the $ 2,000 barrier, this will generate more interest and this will further increase the price.
Bitcoin is worth more than gold
In truth, this coin is in focus for the wrong reasons, as it has always been. As the currency of payment of the crime, it will hardly (at least in the next decade) be regarded as serious in the world. WannaCry's global cyber assault has infected more than 200,000 computers in about 150 countries, and affected users have been intimidated and "forced" to pay a ransom between $ 300 and $ 600 in the anonymous currency. This is the only way your encrypted and encrypted data was returned. Many people have paid as well.
The currency based on the BlockChain computer platform, which appeared in January 2009 and has already risen more than $ 1698, has left "rich" those who bet at the time in this currency. Today is worth more than the gold, which is currently trading at 1233 an ounce.
One day the miners will be others, the tendency is the mining of Bitcoins, an activity that is even more somber and anonymous than the currency itself, having, however, ferocious rules for the regularization of this coin.
So, what do you think about this new valuation? Simply share your views and thoughts in the comment section below.