Easy way to restrict the internet access in any specific app in android mobile with the help of the method discussing here to save bandwidth and also the better internet speed in your android.
F
or Android users, we are here with the excellent method for How to Block Internet Access in Specific Apps on Android. Today there are lots of apps installed on your android device that uses the internet access as the most of the apps installed on the device works on the internet. But the worst thing that you can face with these apps is the slow internet and sometimes these apps may distract you lot. And at that time you must be looking for any solution to handle this to restrict internet access for a specific app. To sort out this problem, I have started a detailed guide. As in this guide, I will tell you the way by which you can easily restrict or block internet access to any app on your android mobile. So have a look at complete guide discussed below to proceed.
Also Read: Free Android Apps for Kids to Keep Them Busy
How to Block Internet Access in Specific Apps on Android
Here we are discussing all the possible ways that you can use to block internet access in specific apps in android phone, just use these methods to proceed.
Also Read: How to Make WhatsApp and FB Messenger Online All the time In Android
#1 Using Inbuilt Feature Of Android
Here in this method, you will have to restrict the app internet access manually in particular app with the app settings. Follow the steps to proceed.
Step 1. In your android phone proceed to Settings -> Data Usage and there click on three dotted buttons and then select the option Restrict Background Data.
Step 2. Now this will restrict the apps to use the background access to data.
Step 3. In the latest version of Android, there is the option Data Saver you can enable it and select the apps to un-restrict from data access.
#2 Using Third Party Apps
Now its time to use some of the amazing third-party apps that will work specifically for apps and is more customizable according to user wish.
First of all download and install this app on your android mobile.
Now launch the app when you are done and then you will see the option Firewall Rules, simply tap on it.
Now there you will see the list of all the apps that are being installed in your device and in front of every app there will be two sign, one of Wifi and other of a cellular network, Simply tap on them to disable the access.

Restrict Internet Access To Apps In Android

Now come back and then turn the Firewall on and a popup will appear on which you just need to tap on ok button.

Restrict Internet Access To Apps In Android
Also Read: How to Share Screen Between Multiple Android Devices
Using NetGuard
This is another best and popular Android app that can block internet access to any app. NetGuard provides simple and advanced ways to block access to the internet – no root required. Applications and addresses can individually be allowed or denied access to your Wi-Fi and/or mobile connection.
Step 1. First of all, download and install NetGuard on your Android smartphone from Google Play Store.
Step 2. Once installed, open the app and you will see the main interface of the app. NetGuard will list out all the apps that are installed on your Android.
Step 3. Now select the app, that you want don't want to consume internet. Simply unselect the 'Allow WiFi', 'Allow Mobile'.
Step 4. If you want to block all apps by once, then you just need to open the 'Settings' and then enable the option 'Block WiFi by default' and 'Block Mobile By Default'
That's it, you are done! This is how you can use NetGuard to block internet access in Specific apps on Android.
Also Read: How To Get Android Nougat's New Navigation Keys Right On Android
NoRoot Firewall requires NO ROOT. It protects your personal information from being sent to the Internet. NoRoot firewall notifies you when an app is trying to access the Internet. All you need to do is just press Allow or Deny button. NoRoot Firewall allows you to create filter rules based on IP address, hostname or domain name. You can allow or deny only specific connections of an app.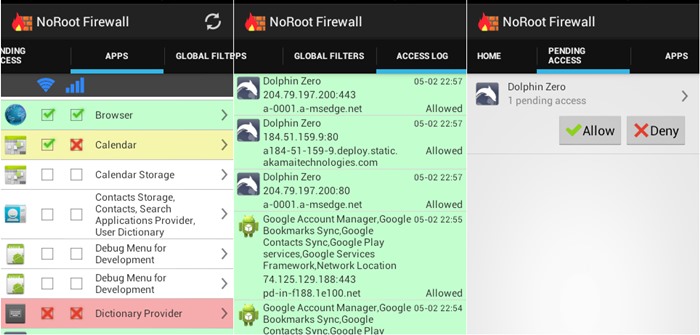 Also Read: Turn an Old Android Phone into a Dedicated Chromecast Remote
So above are the possible ways for How to Block Internet Access in Specific Apps on Android. By using this method, you can save internet bandwidth to get the full internet speed. So must try out these apps. And hope you like my work, keep on sharing with others too. Leave a comment below if you have any related queries with this.
AUTHOR