A few days ago, we shared an article discussing changing the chat theme on Instagram. You first need to update the Instagram DMs to enable the chat theme on Instagram. After sharing that article, we have received multiple requests from our users asking how to change the chat theme in Messenger.
Messenger and WhatsApp are the most popular instant messaging apps, and they are both owned by the same company, Meta. Both the instant messaging app allows you to exchange text messages, make voice & video calls, share status, and more.
In this article, we will share a step-by-step guide on how to change the chat theme on the Messenger app for Android. The messenger app also has a feature that allows you to apply custom themes to the chat. So, if you are a Messenger user looking for ways to liven up your boring conversations, you are reading the right article.
Note: Although we have composed the article by keeping Android users in mind, iOS users can also enable custom chat themes on Messenger. The settings might vary slightly on the Messenger app for iOS, but the process is almost the same.
Also read: How to Share Your Location With Facebook Messenger
Steps to Change the Chat Theme in Facebook Messenger
1. First, open the Google Play Store on your Android smartphone. Search for Messenger and update the app on the Google Play Store.
2. Once updated, open the Messenger app on your Android and open a chat where you want to apply a new chat theme.
3. Next, tap on the profile name of the other person you are chatting with or the (i) button.
4. On the profile page for the other person, scroll down and tap on the Theme option, as shown in the screenshot below.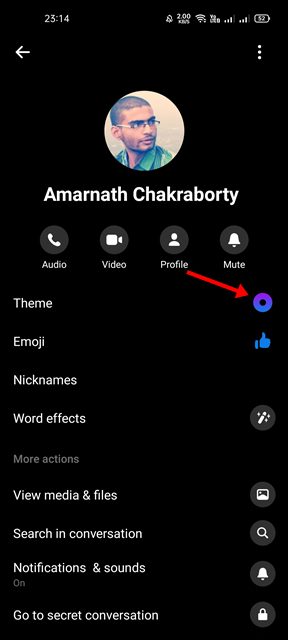 5. Now, you will see a new pop-up asking you to customize your chat. You will find many themes here.
6. You need to tap on the theme you want to apply.
7. Some of the themes have word effects. For example, here, I have used the Lunar New Year theme. The article has word effects for – Tiger, Luck, and Happy New Year.
8. You can type those words and send them on the chat to see the new effect.
That's it! You are done. This is how you can change the chat theme in the Messenger app for Android.
Also read: How to Hide Messages on Messenger.
It's pretty easy to change the chat theme of the Messenger app for Android. I hope this article helped you! Please share it with your friends also. If you have any doubts about this, let us know in the comment box below.