Facebook is right now the most used social networking site. Facebook has more users and offers voice and video calling features than other social networking sites. You can share files, upload photos/videos, and more on the platform.
Since our Facebook account holds lots of information about us, we first need to take proper steps to safeguard our account. You can set up two-factor authentication for security, which requires SMS verification for account login.
Secondly, you can add a different email account to your Facebook account for account recovery. Setting up a secondary email address on Facebook is pretty straightforward. And not only that, you can even make your secondary email primary on Facebook.
Also Read: How to Turn off Facial Recognition Feature of Facebook
Steps to Change Your Email Address on Facebook
So, if you feel that your email account is hacked or you no longer have access to it, it's best to change the Email address on Facebook. Hence, in this article, we will share a detailed guide on changing your Email address on Facebook. Let's check out.
1. First, log in to your Facebook account on your computer. Next, click on the drop-down arrow located in the top-right corner.
2. From the menu that appears, click on the Settings & Privacy option.
3. From the following menu, click on Settings.
4. On the General Account Settings, click on the Edit button next to the Contact.
5. Click on the Add another email or mobile number option.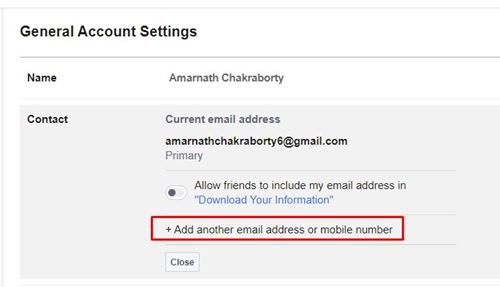 6. Now, you will see an Add Another Email Window. On the New Email field, enter your new email address. Once done, click on the Add button.
7. Now, you will be asked to enter the account password. Enter the password and click on the Submit button.
8. On the next prompt, click on the Close button.
9. Open the email address you have added to your Facebook account. Just click on the Confirm button. You will receive a confirmation message.
10. Now, open Facebook again and open the General Account Settings option. Next, click on the Edit button behind the Contact. Next, find the email address you have added and click on the Make Primary button.
That's it! You are done. This is how you can change your Email address on Facebook.
Also read: How to Recover Deleted Facebook Posts.
So, this guide is all about changing your Email address on Facebook. I hope this article helped you! Please share it with your friends also. If you have any doubts about this, let us know in the comment box below.