A few years ago, the only things associated with the phone number were calls & messages. However, now with the internet, many apps are linked with our phone numbers. One such app is known as WhatsApp.
WhatsApp is right now the best and most popular instant messaging app available for Android and iOS. Just like every other instant messaging apps, WhatsApp requires your phone number for account creation.
Let's admit; there comes the point in life where we have to change our phone numbers. Changing phone numbers is easy, but things could be a little stressful when dealing with WhatsApp. If you change your phone number, you will lose your entire WhatsApp chat history.
Also Read: How to Enable & Use Disappearing Messages On WhatsApp
Change Phone Number in WhatsApp Without Losing Chats
To avoid such issues, WhatsApp has a 'Change Number' feature for Android and iOS users. The feature allows you to change the phone number linked with your WhatsApp account without losing the chIn. This article will share a detailed guide on how to change your WhatsApp number without losing your chat history. Let's check out.
Step 1. First of all, open WhatsApp on your Android device.
Step 2. Now tap on the 'Three-dots'.
Step 3. From the list of option, select 'Settings'
Step 4. From the Settings page, tap on 'Account'
Step 5. Under the account page, tap on the 'Change Number' option.
Step 6. Now on the confirmation page, tap on the 'Next' button.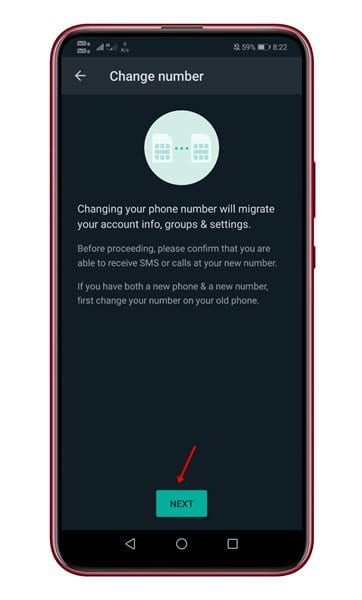 Step 7. Now you will see a screen like below. Enter the old & new phone number and tap on the 'Next' button.
Step 8. On the next page, you will be prompted to verify your new phone number. For the verification, WhatsApp will send an OTP to your new number. Just enter the code and the new number will be linked to your Account.
That's it! You are done. After the verification, your old chat history will continue to be available on your phone with the new phone number.
So, this article is all about how to change WhatsApp phone number without losing chats. I hope this article helped you! Please share it with your friends also.