If you are using an Android smartphone, you may already know how customizable the operating system is. With proper apps, you can customize all visual elements of your Android smartphone.
For example, you can use live wallpaper apps to set live wallpaper on your Android, icon packs, etc. Starting with Android 7.0 or above, you can also make items on the screen larger or smaller.
You can change the size of the icons on your home screen to make them easier to read. Using Android 9 or above, you can resize icons from the Settings app. Users using older versions of Android need to rely on third-party apps to resize icons.
Change the Size of Icons on Android
Hence, if you are interested in changing the size of icons on Android, you are reading the right guide. Below, we have shared a step-by-step guide on resizing icons on Android smartphones. Let's get started.
1. Open your Android app drawer and tap on the Settings app.
2. On the Settings app, tap on the Personalisations option.
3. On the Personalisations, tap on the Icons.
4. Now, use the slider underneath the icon to adjust the icon size. Once done, tap on the Apply button.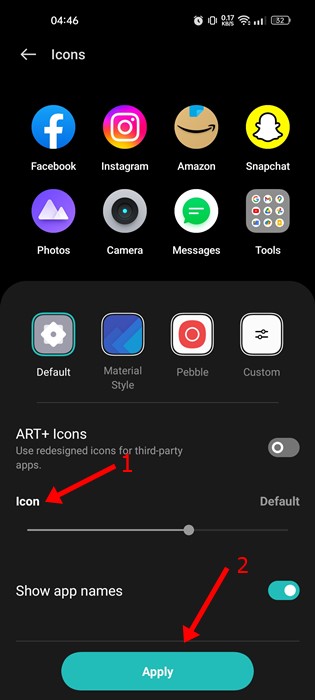 Note: In some Android smartphone the option to resize icons resides on Settings > Display > Advanced > Display Size.
On Android 12, you also have another option to resize the app icons. For that, follow some of the simple steps we have shared.
First of all, open the Settings app.
Next, tap on the Wallpaper & Style > App Grid.
The default grid set in Android 12 is 5×5. You must choose something like 4×5, 4×4, 3×3, or 2×2. As you select fewer columns and rows, the icons will increase in size.
That's it! This is how you can change icon size on an Android smartphone.
Change Icon Size on Android using a Launcher App
Well, if you're using an older version of Android, you need to use third-party launcher apps to change the icon size. There are many third-party launchers available on the Play Store that can change the icon sizes. Here we have listed a few best ones.
Nova Launcher is probably the best and most highly-customizable launcher app available for Android smartphones. You can change the icons' size and apply custom icon packs with Nova Launcher for Android.
While not as customizable as Nova Launcher, Microsoft Launcher still lets you change the icon size on your Android. Resizing icons is pretty easy with Microsoft Launcher, and you can even change the icon size that appears on your Android App drawer.
Go Launcher offers you three different resizing options for icon size. You must long-press the Home Screen and choose Settings > Icons. On the Icon Settings screen, you will find three options – Big, Default, and Custom Size. If you want to manually adjust the size, select Custom size.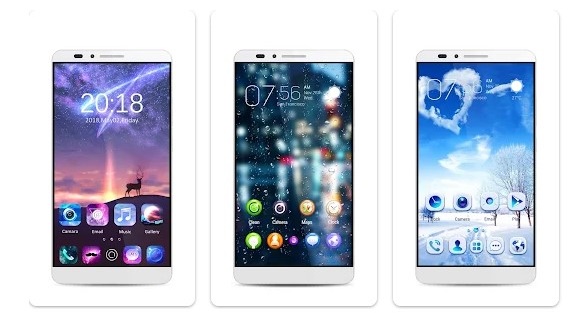 Apex Launcher is another great Android launcher app on the list which allows you to change the size of icons. The launcher app for Android provides you an option to adjust the icon sizes from 50% to up to 150% of the default icon size. You also get other customization options with Apex Launcher.
Also Read: 10 Best Android Icon Packs
So, these are some of the best ways to change the size of icons on Android smartphones. If you know any other ways to resize app icons on Android, let us know in the comments below.