Often when shopping online, we get confused after seeing different prices for the same item. Currently, there are hundreds of online stores on the web selling the same item at different prices.
In this competitive marketplace, it can be hard for regular users to pick up their items at the best price. Yes, coupons are always an option to pick up our favorite items at an affordable price, but what if there is no coupon code for your product?
In such a case, it's best to use Chrome extensions. Several extensions available for Chrome can enhance your online shopping experience and help you save money. With these Chrome extensions, you will get the best deals on your selected products.
List of 10 Best Chrome Extensions for Online Shopping
Not only that, but these Chrome extensions will also tell you about the ongoing offers, best deals, discounts, coupons, and more. So, in this article, we will share a list of the best Google Chrome extensions for online shopping. Let's check out.
Well, RetailMeNot Deal Finder is one of the top-rated deal finder extensions available for the Chrome web browser. The extension automatically finds the best promo codes and cashback as you shop online.
What's more interesting is that RetailMeNot Deal Finder allows you to double up on deals. You get the option to combine available coupon codes and RetailMeNot cashback offers.
If you are searching for a Google Chrome extension to help you save online, then look no other than Capital One Shopping. Capital One Shopping is one of the most useful Chrome extensions you can use today.
It automatically applies the available coupons for your selected product at checkout. Also, you earn Capital One Shopping rewards while you shop. You can use the earned rewards and redeem those for gift cards.
If you only shop from Amazon, you might find Keepa very useful. It's an Amazon Price tracker extension where you can see the price history of any product.
On Keepa, you need to add your product, and it will show a complete history of the product price from the day it was listed. You also get the option to set your desired price. The extension will notify you whenever the product reaches the price you have set.
The Camelizer is pretty much similar to the Keepa extension that had been listed above. With The Camelizer, you can easily view the historical pricing data of any product listed on the Amazon website.
However, on the downside, The Camelizer supports only Amazon United States, Canada, Europe, and Australia.
Ibotta is a Google Chrome extension that will help you earn real cashback as you shop online. It shows you exclusive offers from hundreds of online shopping sites.
Apart from the Cashbacks, Ibotta also shows the best deals and coupons codes available for products. Ibotta currently supports more than 300 retail chains, movie theaters, restaurants, and more.
Avast SafePrice is a price comparison and coupon extension made by leading security company Avast. This lightweight Chrome extension lets you find the best deals and discounts for nearly every product you want.
After installing the extension, you just need to search for the item you are looking for in your favorite store. Avast SafePrice will automatically check other reputable online shopping websites and give you the best available price and coupons.
Coupert is one of the best most useful Google Chrome extensions that you can use right now. After installing the extension, you just need to shop online as you regularly do. Coupert will automatically find coupons and apply the best coupons at the checkout page.
Coupert supports almost all major shopping websites you can think of, like Walmart, Booking.com, eBay, Aliexpress, and more.
Honey is one of the best and oldest shopping extensions available out there. This one automatically finds and applies the best promo codes at the checkout page. The good thing about Honey is that it works even on the Amazon website.
You won't believe it, but Honey right now supports over 30,000 shopping websites where it can apply the promo codes.
Rakuten is a Chrome extension that can help you get cash back for shopping. The extension offers you cashback and coupon codes on popular stores like Macy, Target, Gap, PetSmart, and more.
You can even rely on this Chrome extension to compare cashback offers. You can check the shopping site's cashback rates right on the search result page.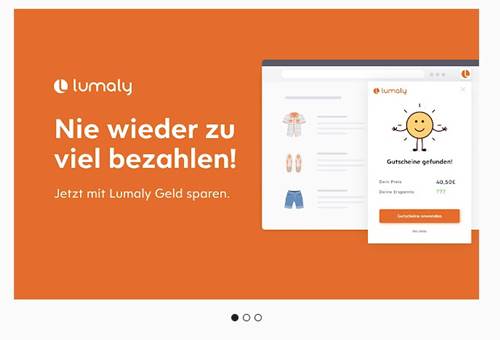 If you are searching for a Chrome extension that can help you find and apply coupon codes at online shops, look no other than Lumaly. You just need to install the extension and shop as usual.
On the checkout page, Lumaly automatically attempts to apply the coupons. If it finds any working coupon, it lets you know.
You should start using these Chrome extensions to enhance your online shopping experience and save money. I hope this article helped you! Please share it with your friends also. If you have any doubts related to this, let us know in the comment box below.